It has been close to two years that 32-year old Priyanka Sen has moved to Hyderabad with her husband, Sourav. All this while, the couple — both IT industry employees — had been living in a rented 2 BHK apartment in Jeedimetla. But since Sourav's promotion 6 months back, they have been thinking of buying an apartment closer to their offices in Gachibowli.
They were home hunting in the city's top residential areas with good connectivity and well-developed social infrastructure. They eventually zeroed in on a 3 BHK ready-to-move flat in a new residential complex in Narsingi. Priyanka is mostly glad that she doesn't have to drag herself through long commutes every morning. She says, "This was a great decision. Both our offices are barely 20 minutes away and I can reach anywhere in the city so easily". "Also the social life here is brilliant," adds Sourav.
Topping the high-liveability charts consistently, Hyderabad boasts of a bright property market driven by positive government policies, infrastructural developments, and IT industry boom. Tech giants, Fortune-500 companies, and multinational companies are increasingly choosing the Pearl City as their base while the startup activity here is witnessing a sustained growth rate. No wonder, the city is one of the most preferred real estate destinations in the country at this point. Overall, Hyderabad's property market has turned into a magnet for end-buyers and investors.
Just like Sourav and Priyanka, more and more homebuyers are stepping into the property market with the aim of finding a home that caters to their needs, lifestyles, and budgets. That said, let us highlight some latest buying trends and patterns in the market by putting our reports and data-backed observations into perspective.
Top Hyderabad Property Market Trends
Demand for premium, high-value property increasing – Compared to most Indian cities, and even metros, Hyderabad property market trends towards upper and upper mid-level projects. The demands are higher in the premium segment compared to the mid-range or affordable segment.
According to our data for the six month period from January to June 2019, out of the total buyer enquiries in Hyderabad, properties within 1.51-2 Cr price bracket attracted the highest percentage of enquiries (27.72%). Second in demand are projects that fall within the price range of 1.01-1.5 Cr (16.64%), while projects under 91 Lacs-1 Cr price range are the third most enquired category at 11.71%.
3 BHK homes experience the maximum demand – If we look at the BHK-wise demand, the 3 BHK category has received the maximum amount of attention from buyers, with a total percentage of enquires at 46.46%. While 2 BHK comes second with 42.65% of enquiries, 4 BHK is the third in demand with 10.83% of enquiries.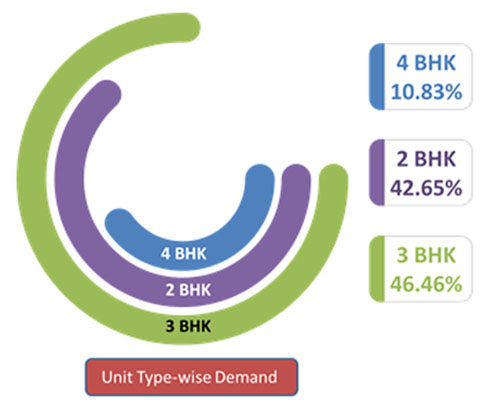 People are looking for bigger homes – Quite contrary to the concept of downsized urban living, Hyderabad's home buyers are interested in spacious properties. In fact, this Tier-I city has surpassed major metropolises in its demand for bigger homes. Our data for area-wise demand shows that, out of the total buyer enquiries in Hyderabad, properties of 2300 sq. ft. and above attracted the highest percentage of enquiries (28.44%).
While properties within 900-1500 sq. ft. accounted for a combined percentage of 32.71% of enquiries, 700-900 sq. ft. properties generated the least interest with 5.10% percentage of enquiries. The data reflects the trend of high demand for independent villas and bungalows compared to small apartments.
Top property pockets –In our findings, western Hyderabad occupies the highest interest among buyers. Narsingi, Kondapur, and Kismatpur emerged as the top three locations that attracted a combined buyer enquiry of 44.42%. The south-western suburb of Narsingi witnessed 18.39% of enquiries, while the percentage of enquiries for Kondapur and Kismatpur were found to be 13.83% and 12.20% respectively. Driven by the expansion of commercial markets and IT hubs, residential development has gone up radically in these locations along ORR.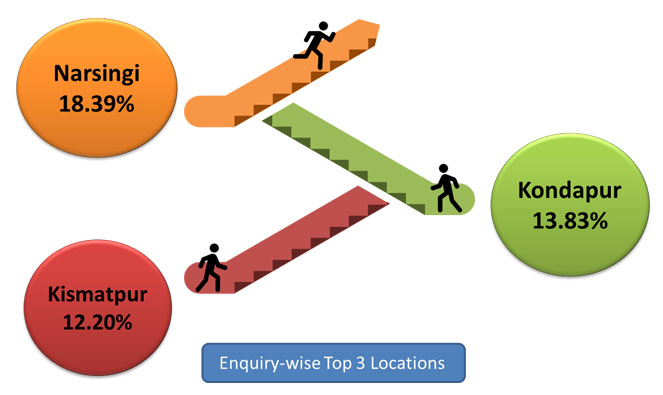 Other locations that attracted some interest include Tellapur, Financial District, Mokila, Kukatpally, and Narapally. Increasing job opportunities in IT, banking, insurance, and other financial services continue to be the main attraction of these micro markets.
Now that we have seen some of the hottest property locations in Hyderabad, let's break them down further to unearth the patterns of buyers' interests and demands in these locations.
Narsingi – This south-western Hyderabad region, according to our data, witnessed the maximum number of queries for 2 BHK properties (49.03%) followed by 44.85% enquiries for 3 BHK properties. The budget-wise demand in this location is dominated by premium and luxury properties within the bracket of 90 lacs-2 Cr and above (52.78%).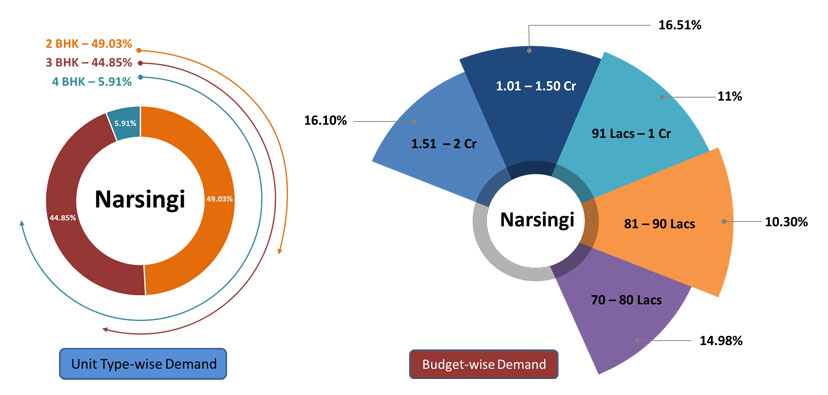 Kondapur – Located in the north-western part of Hyderabad, Kondapur generated maximum enquiries for 3 BHK properties (46.07%), followed by 43.50% enquiries for 2 BHK properties. In terms of the budget-wise demand, 21.68% of enquiries in this location were generated for properties within the range of 1.51-2 Cr and 27.24% of enquiries are for properties worth 1.01-1.50 Cr. The 70-80 lakh price segment commands a percentage of 14.91% of all enquiries in Kondapur.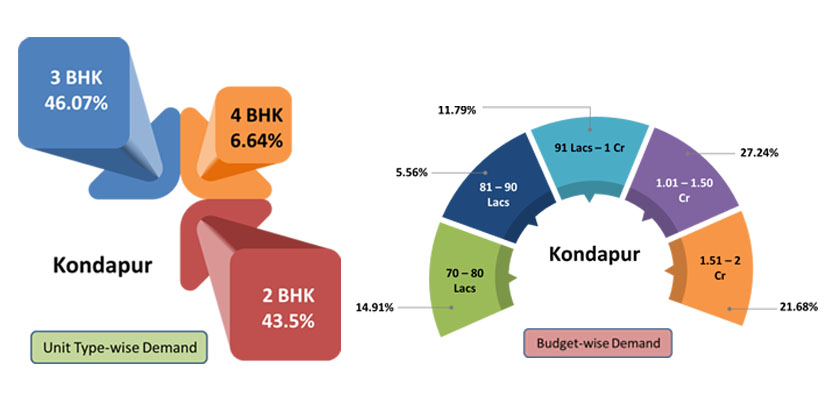 Kismatpur – A census town in the west of Hyderabad, Kismatpur had the most amount of enquiries for 2 BHK properties (49.46%) followed by 39.02% enquiries for 3 BHK properties. Out of the top three locations as per our data, Kismatpur had the highest percentage of enquiries for 4 BHK properties (11.52%).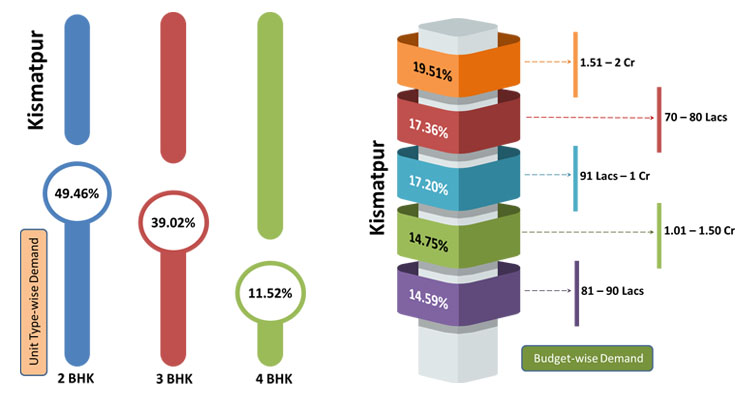 In keeping with the Hyderabad property market trends, we've seen so far, properties falling under the price range of 90 lacs-2 Cr and above rule the budget-wise demand in this location (53.92%). But upper mid-level properties are also high in demand (24.58%).
Interestingly, if we only consider the properties above 1 Cr, then Tellapur is the top location to receive the most percentage of enquiries in this segment (86.02%).
Summing it Up
With greater economic stability and burgeoning business activities in Hyderabad, the city is attracting residents who can enjoy higher disposable incomes and as a result, wield a higher purchasing power, which is enabling them to buy premium homes of their choice. Consistently developing connectivity and the deluge of MNCs and global companies are also reasons behind Hyderabad's growing status as a top property market that's seeing good price appreciation in the luxury segment.
If you're a homebuyer who is looking to purchase a premium property or an investor who would like to make the most of this lucrative investment destination, now is the time to put your foot in Hyderabad's vibrant real estate scene! Get in touch with us today to know how we can help you do that.