"We will eat out every day during the Pujas," declared 11-year-old Ritoja, daughter of Subir and Alpana Chatterjee, on the last day of school before it closed for Durga Puja.
"Yes, we will, my dear," said her mother, "And we will leave for Lucknow for our holiday on Dashami."
"Don't forget the community lunch in the complex. I love eating bhog too," declared Subir.
"We can eat out only in the evenings," he stressed further.
"Awesome," Ritoja shouted in joy.
The Chatterjee family loves traveling but had to get cooped up in their home for the last 2 years.
Finally, those days are gone.
Not only the Chatterjee family, but every resident of Kolkata is looking forward to Durga Puja 2022, with unprecedented wistfulness.
Durga Puja is Much beyond a Religious Festival
Durga Puja is a unique cultural extravaganza that encompasses worshipping the Goddess, food, music, pandal hopping, adda, and travel.
This is the time when every household, every locality, every village, every town and city of West Bengal comes alive for the 4-day-long celebration.
Gated communities prepare for the Pujas in their special ways. Apart from the Puja, offering anjali, eating bhog, community lunch, and cultural events, the overpowering feeling of togetherness overwhelms everyone.
Street Food Galore in Kolkata
Kolkata is the Mecca of street food.
There is no other city that can boast of such a huge variety of street food. Street food stalls are everywhere in the city, and citizens patronise them a lot.
During the Pujas, they are everywhere, especially near every puja pandal.
Puchka, momo, ghugni, chat, sweets, ice creams, rolls, and noodles — you will get all of these everywhere. If you have not gorged on street food at this time, you have missed half the fun.
Restaurants are Overbooked
Cook at home or eat out?
This is a dilemma that haunts everyone during the Puja days. And it is not difficult to come to a decision.
If you have got a cook at your home, it is most likely that she will be on leave during the Pujas.
Moreover, if you live in a gated community, puja organizers will demand the participation of women in Puja arrangements. Of course, there is no need for cooking as there are community lunches. Eating out in between hopping from one pandal to another is the best bet for dinner.
Nowadays, it is even easier with online food delivery apps. You can order food from your favourite restaurant sitting at home.
But having dinner in a restaurant has its own charm. You will not fail to notice the queues outside any restaurant during these days.
A Time to Indulge in Sweets
This is the time when you suspend your weight management diet. Gyms are forgotten temporarily too as they are closed.
It feels great to throw caution to the winds and gorge on sweets and savouries.
Sweets, luchi and alur tarkari is the essential breakfast during the pujas.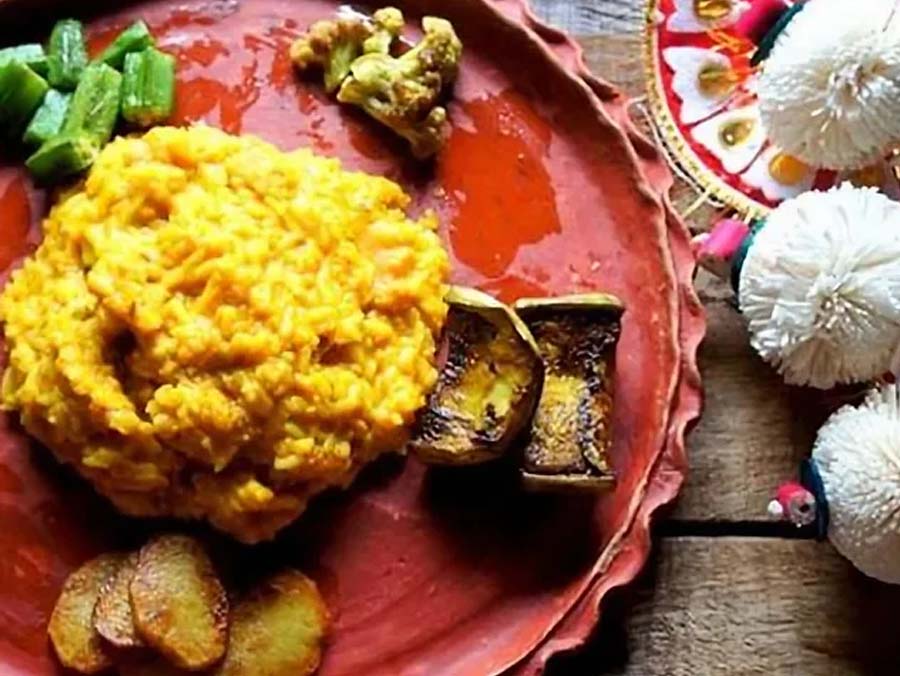 For many of us, the arrival of traditional chandrapuli announces the arrival of the Goddess.
For the more traditionally prone, sandesh and rasagolla still rule the roost.
Beyond Digha, Puri, Darjeeling
Bengalis plan for the Puja holiday travels in the month of January.
In any case, you need to plan early as there is a massive demand for train and plane tickets. Even hotels, resorts, and homestays are fully occupied in the Pujas.
Moreover, travel was restricted during the last 2 years and this year everybody is looking for revenge travel.
Every destination in West Bengal is expected to be flooded with tourists.
But Bengali travelers are no longer restricted to popular destinations close by. They travel to all the states of India and even abroad.
If you are involved in your community or home Puja, it is not easy for you to escape during the Puja days. But you can travel as soon as the Puja is over.
This is one of the best seasons to travel in India as the rains are gone and roads are repaired, and there is greenery everywhere. Even the heat subsides and it is easy to move around.
Always plan months in advance if you plan to travel during the Pujas.
Time to Kick the Ordinary, Escape the Drudgery
The spirit of Puja is not limited to the spiritual, anjali, bhog, and pandal hopping.
Durga Puja is the time when we rejuvenate our spirit. We look forward to the next year's puja as soon as this year's Puja is over.
We escape all the drudgeries of everyday life and walk in the clouds during these days.
The spirit of the holidays is everywhere.
Pujas are the time when we go back to our roots, the essence of Bengali culture. Our family values. The idea of togetherness.
In the gated communities of Kolkata, these days bring everybody together in one large family. There is the joy of making the Puja a success and sharing responsibilities.
We leave our small existence and seek something much bigger these days.
The quest will continue forever, in every Durga Puja that will come in the future.