If there is one city that offers a variety of cultural experiences to its citizens, it must be Kolkata.
Kolkata is a melting pot of a variety of cultures, customs, and festivals. It creates an amazing synthesis yet the individual elements retain their identity.
There is a valid reason why Kolkata is called the City of Joy. Kolkatans just need an occasion to celebrate.
Although Durga Puja is the biggest festival in Kolkata, various other festivals are celebrated with equal gusto.
Whether it's Diwali, Holi, or Christmas, Kolkata has made all of them her own irrespective of social, racial, or religious boundaries.
Even if Kali Puja was traditionally performed in the city, Kolkatans have adopted Diwali as their own festival although it was seen earlier as a North and West Indian festival.
Goddess Kali — Kolkata's Patron Deity
It was a long time ago when Dakshineswar Kali Temple was the centre of liberal religious thinking in Bengal.
The other major Kali Temple in the city is at Kalighat.
There are also other Kali Temples in the city, the one at Chitpur being particularly notable, and various myths are associated with them.
Bengalis are particularly devoted to Goddess Kali and Kali Temples were established in cities like Delhi or Shimla by Bengalis.
Kali Puja is celebrated with huge fanfare in the temples and pandals in North Kolkata and Barasat.
But these days things are changing.
The intense religiousness of Kali Puja is giving way to Diwali celebrations and there is a major benefit — all communities can celebrate it together.
Is Kolkata becoming far more liberal and cosmopolitan in the residential complexes?
Let's find out.
Diwali Celebrations are Gaining Ground
Earlier, Kolkata used to have a different composition in different areas from now. Most of it was divided into paras, or localities, with primarily individual houses.
Of course, there were a lot of people who lived on rent in these houses but there were various considerations before a tenant was chosen.
Sometimes, even neighbours had a say in this.
But now, there is a shift.
With the proliferation of apartments, the composition of people living in them has become more cosmopolitan. Gated communities took this phenomenon one step forward.
The traditional division of the populace between Bengalis and non-Bengalis is busted.
In any gated community, people from different states of India happily live side by side.
Therefore, the celebration of festivals is becoming more varied, more colourful.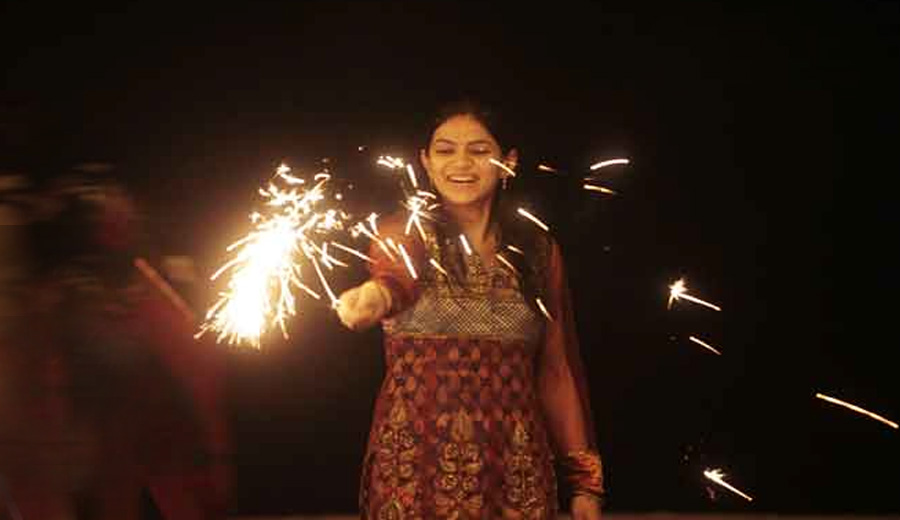 And there is no doubt that Diwali is getting precedence over Kali Puja, although some communities organise Kali Puja even now.
It Starts with Dhanteras
One of the biggest examples of this shift is evident in the enthusiastic adoption of Dhanteras by Bengalis.
There was no tradition of Dhanteras in Bengal, although there was the bhut-chaturdasi.
But now, you will not fail to notice serpentine queues in front of jewelry shops on Dhanteras day.
Buying jewelry, not strictly a Bengali custom, has gone mainstream in Kolkata.
Diwali Home Makeover
It was said that Diwali was the day when Lord Rama returned to Ayodhya after defeating Ravana and completing 14 years of living in the jungle.
That day, the people of Ayodhya decked up their homes, lit them up with diyas.
The tradition continues to this day. Diwali is when people clean their homes, decorate them, and light up with various forms of lighting.
Togetherness in Gated Communities
As we have discussed earlier, gated communities have become large extended families and they share their joys and sorrows with each other. These communities celebrate together as one large family.
So you will see 12-year-old Bappa going to his friend Rakesh's home to gorge on the Diwali dish that Rakesh's mother serves.
And 14-year-old Sharmistha trying her hand at drawing a Rangoli at Nidhi's home.
My Favourite Ways to Celebrate Diwali
There are myriad ways to celebrate Diwali but some are timeless, and some are creative and modern.
Keeping in mind the special needs of a gated community, these are my favourite ways of Diwali celebrations.
Follow these and your Diwali will be happier and more enjoyable.
Communicate the Legends of Diwali to Children
In India, there is a meaning attached to every festival and one must try to inculcate those teachings. A few legends about Diwali include the return of Lord Rama to Ayodhya, the coming back of Pandavas to Hastinapur, the release of Guru Hargobind by Jehangir, the birth of Goddess Lakshmi after Samudra Manthan, etc.
It is a great idea to communicate these stories to children to educate and entertain them.
Design Rangoli
Rangoli making is quite an old tradition in Indian history. During Diwali, people decorate their homes with colourful rangolis.
Nowadays, you can also get creative inspiration from hundreds of YouTube videos.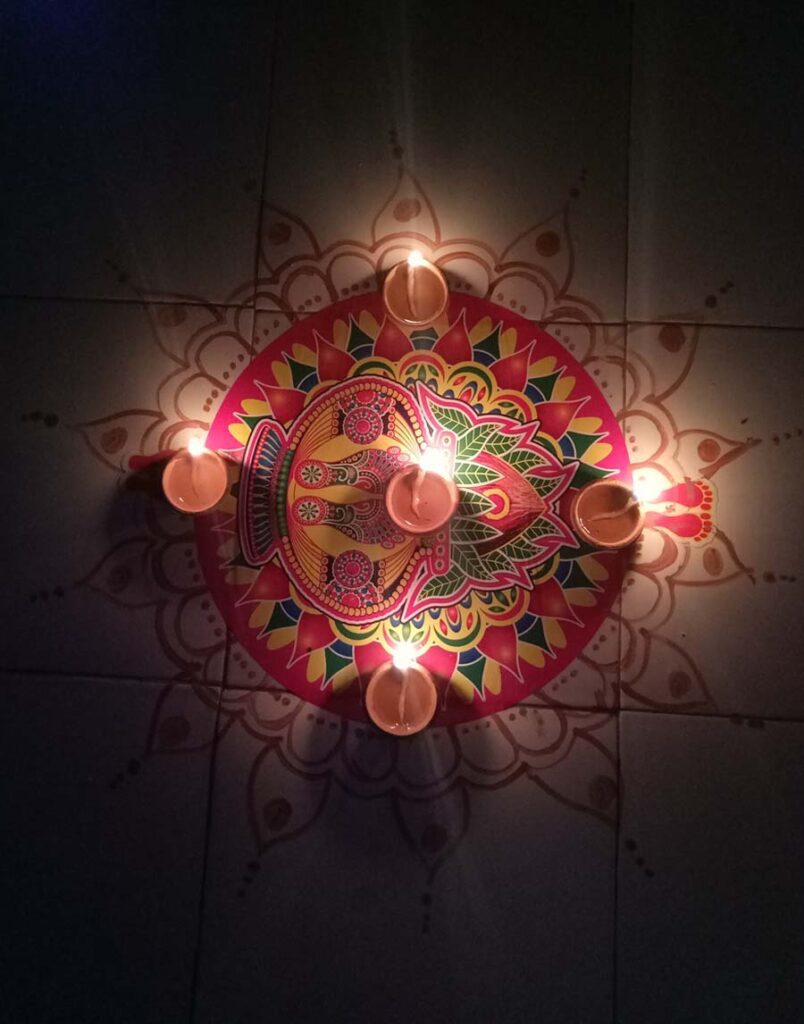 If you live in a gated community, you can organize a rangoli-making competition or such a competition can also be organized among the family members. You can keep a reward for the winner just to make the competition a little more serious and more enjoyable.
Buy Earthen Diyas to Help Poor Artisans
People who sell these diyas by the roadside are quite poor and it is only during these festive seasons that they get a chance to earn a little more than their regular income. Therefore, try to buy earthen lamps (diyas) from these people to make your celebration more inclusive.
Organise Lakshmi Puja
Apart from the spiritual angle, organising Lakshmi Puja inside your housing complex can create a sense of togetherness.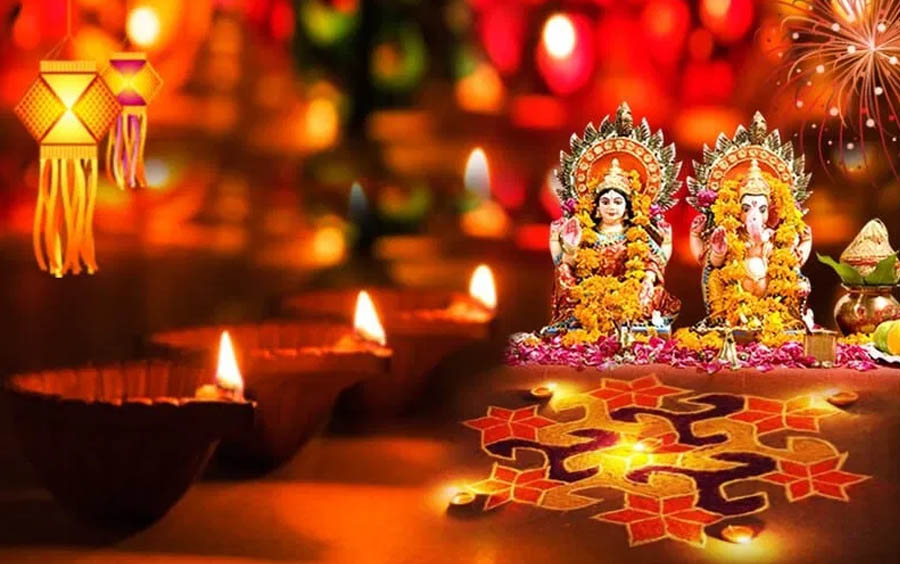 Pujas double up as occasions of social interaction these days. Make sure there is enough prasad to share with everyone.
Burst Crackers together with Children
Bursting crackers with children will make you immensely happy as you witness their happy and smiling faces. Their shouts of pleasure will take you back to your own childhood.
Moreover, being with children while they burst crackers will ensure their safety as you can keep an eye on them.
Give Gifts to Your Family, Friends, and Neighbours
Everyone loves to receive gifts. You know how elated you are when you receive gifts from anyone.
This Diwali, make a special plan to give gifts to your family members, especially children.
In fact, it is also a great idea to give gifts to your friends, colleagues at workplaces, and neighbours.
Some of the common gift ideas are sweets, artifacts, dry fruit boxes, Ganesha idols, wall hangings, etc.
Spend Time with Your Fellow Community Members
Most gated communities have a social club these days and it can an excellent venue to socialize on Diwali day, or even organise a Diwali party.
The idea is to strengthen the bond between neighbours.
So, keep your mobile phone aside and play cards or any game such as musical chairs, guessing the movie names, antakshari, etc.
Why not sing a song, and have some food together?
There can be creative ways to spend Diwali.
But it is good to remember that Diwali is a festival of togetherness, of family values, of the triumph of good over evil.
Living in a gated community gives you that feeling of togetherness in these days when nuclear family is the norm.