Religions and cultures harmoniously blend in Bengal's Naya village, where the mud walls of every hut is a vivid canvas with diverse psychedelic paintings on them. On some walls you will find mythological tales painted in flashy colours, while on some other walls you will come across illustrations of luminescent yellow tigers, their tongues coloured in bright red, glowing green crocodiles devouring their prey, owls with oversized eyes, sunny flowers, or multi-coloured birds in a loving embrace.
The picturesque Naya village, nestled in Pingla, West Midnapur, looks like a gigantic art gallery. The village is home to around 250 patachitra painters (scroll painters), who have been artists for generations. 'Pata' comes from the Sanskrit word Patta, meaning cloth, and 'Chitra' means image. The scroll painters are called Patachitrakars, or Patuas – folk artists. Even in this age of computers and internet, the gifted folk artists of Naya village have preserved Bengal's rich and versatile folk-art tradition.
What's promising is that still today, every child born in Naya village somehow learns to sweep the brush. The new generation draws inspiration from their award-winning forefathers, such as scroll painter Manu Chitrakar, who has been a part of international projects like I See the Promised Land. A narrative-style graphic novel biography of Martin Luther King, Jr., the musical prose, I See the Promised Land, features spectacular illustrations by Manu Chitrakar and the voice of celebrated American singer-writer Arthur Flowers.
While that's an interesting piece of trivia picked from the rich visual arts culture in Bengal, the world of the art galleries in Kolkata have been shaped up by the waves of artistic styles and forms, as they evolved through years, decades, and centuries.
Art Traditions in Pre-Independent Bengal
British colonial rule had a great impact on Bengal's art. As was the case in the rest of India, the European advent was marked by a relative insensitivity to folk art and native art traditions. Art was mostly commissioned and curated by the European settlers.
As such, the Patachitra became a catalyst for changing attitudes towards folk art in Indian culture during the pre-Independence era. In fact, the ideals of folk culture were closely connected with India's fight for independence through the Swadeshi movement. However, it wasn't until the 20th century that the Kalighat paintings started getting featured in structured exhibits such as museums and private art collections.
At the time, Indian art was facing a serious threat from western culture. Thus the need to preserve traditional styles and subjects in Indian art led to a new revivalist movement in art.
The artists, together, introduced the revivalist art style, inspired by the paintings of Ajanta and Ellora, Mughal, European, and Japanese techniques. Mostly done in watercolour, the Bengal School of Art's unique revivalist style, portraying literary, historical, mythological, and Indian religious themes, captured the nationalistic zeal of the time. The art form spread throughout the country, and the Bengal School was recognized as modern India's first art style.
Gaganendranath Tagore, the elder brother of Abanindranath Tagore, Jamini Roy, and Nobel Laureate Rabindranath Tagore strived to go beyond the predominant art styles to attain artistic individuality and independence. Gaganendranath was India's first cartoon artist, who depicted the social and political realities through his illustrations. He was also the first Indian artist to perceive paintings as manifestations of colour, light, line, and form. Some of his 'light and shade' paintings of structures and building interiors portray the Cubism style of visual art, which was the most influential European art style of the 20th century.
Though many notable artists of the 20th century were applying new ideas to Bengal's traditional art form, Jamini Roy redefined the folk-art style by bringing it to the forefront of the mainstream arena. By dropping the three-dimensional light and shade perspective of western naturalistic art style, Roy embraced the flat colouring, two-dimensional arrangement of folk-art, introducing a more refined format of modern Indian painting, developed out of folk mannerisms.
While many of the works by these artists were gaining audience and fame at international platforms, there wasn't yet an organised art exhibition scene in India, especially by and for Indian artistes.
A New Era for Bengal's Art and Art Collectors
The Second World War and the Great Bengal famine of 1942, in which thousands died of hunger, stirred the conscience of artists in Bengal. The socio-economic unrest gave birth to a new breed of artists, who came out of historical and mythological depictions to portray the horrific reality of life in their artistic work.
Influenced by social challenges, prominent artists and printmakers of Bengal, such as Ramendra Nath Chakraborty, Mukul Dey, Gopal Ghosh, Atul Bose, Bhola Chatterjee, Gobardhan Ash, Annada Dey, Abani Sen, Haren Das, Safiuddin Ahmed, Zainul Abedin, many other artists of repute gave a new dimension to Bengal's art with their varying styles — a free-flowing blend of east and west.
Consequently, artists of Bengal established groups like the 'Rebel Centre of Art' and 'Young Artists Union'. These were some of the earliest art groups in India, but the Society of Contemporary Artists is the only surviving group in Bengal today.
During this period few Indian art collectors came into the picture and started to form their own private collections. Among them, the notable names are that of Basant Kumar and Sarala Birla, the founders of The Birla Academy of Art and Culture in Kolkata. While initially these collectors were focused on European and Western art, they turned their attention to purchasing mostly Indian Art by the later part of the 1940s.
The New Wave of Art Galleries in Kolkata
As the art collection caught momentum among Bengal's private collectors, there was also a rising trend in public exhibits, propelled by the likes of the art section of Kolkata's Indian Museum and the Academy of Fine Arts.
Artistically inclined minds of Kolkata, in the 1980s, frequented places like the Academy of Fine Arts and the Government College of Art & Craft to gather food for thought. Things, however, began changing from the 1990s, as many art galleries started coming up in the city. Today, the cultural and intellectual capital of India, Kolkata, with an increasing number of art galleries, offers viewers a bouquet of choices to witness the artistic movements of Bengal from the 18th century till date.
The Centre of International Modern Art (CIMA), Genesis Art Gallery, Masters Collection Art Gallery, Experimenter Art Gallery, Galerie 88, Chitrakoot Art Gallery, and Aakriti Art Gallery among others are promoting budding arts, contemporary arts, and are also featuring artworks of established artists, to showcase Bengal's deep artistic roots.
Up and coming art galleries in Kolkata like the Art Rickshaw is making attempts towards creating a holistic space for artistes and art lovers in the city while making art more accessible, inclusive, and impactful for the masses.
Kolkata's proposed modern-art museum — the Kolkata Museum of Modern Art (KMOMA) —is the first-of-its-kind in Asia. It is a joint venture initiative of the centre, the West Bengal government, and a private enterprise. Planned on 10 acres of land in New Town Rajarhat, KMOMA will feature an Academic Wing, a Far-Eastern Gallery, a Western Gallery, and a National Gallery, which will exhibit artworks of Bengal and the world from the 19th century to the present period.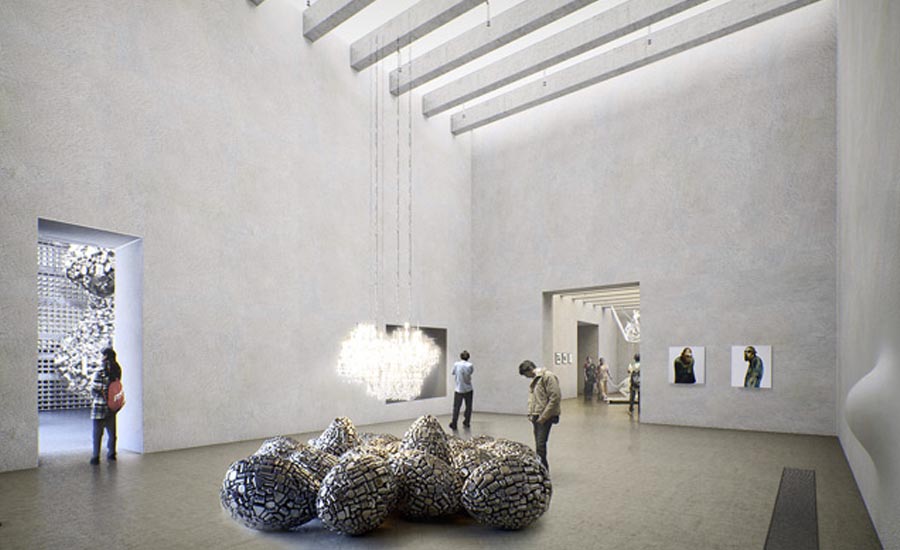 The art galleries of today are aiming to make visual arts achieve more visibility among people. While the modern art market is quite money-driven, many young and contemporary collectors are breaking away from this trend. As Priyanka Raja, the owner of a new art gallery, Experimenter in Kolkata's Ballygunge Place, aptly puts it: "The only reason to open a space in the art world is to benefit the ecosystem that it supports and grows with. It's an intuitive decision that isn't fuelled just by ambition or economics."
Art Made Highly Affordable
Even 10 years back, collecting art used to be the pursuit of a privileged few. It was considered elite to possess art objects because it was mostly beyond the reach of everyone. That's no longer the case. Over the last few years, the acceptance of art objects as an investment has increased even among the middle-class buyers and as a result, contemporary art sales have gone up. This is increasingly due to a deluge of relatively affordably priced art in the market.
Some of Kolkata's art galleries, namely, Centre of International and Modern Art (CIMA) and Emami Chisel have begun organising exhibitions of affordable artworks on a regular basis. They even feature creations by renowned names such as Jogen Chowdhury, Prabhakar Kolte, and Lalu Prasad Shaw.
Of course, this isn't a totally novel concept because affordable art has been the attraction of the annual art fair held at Santiniketan for many years now. The art fair, held on the birth anniversary of the master artist Nandalal Bose, is famous for its eclectic collection offered at throwaway prices. For instance, you could easily lay your hands on a K.G. Subramanyan print for an unbelievable 100 bucks.
With art becoming more accessible, it has certainly become more mainstream as well. For example, interior decorators now recommend modern artwork, paintings, photography, and sculpture for home decor. And people too are more interested in finding and acquiring art objects to reflect their taste and refined choices.
Side by side, there has been a rise in the online art galleries where art enthusiasts are not restricted by the size of their pockets. Kolkata Art House is one such place where you can find a decent piece for anything between a few thousand rupees and a couple of lakhs.
This trend of affordable art isn't just encouraging more people to purchase art but also giving a huge boost to budding artists. The demand for their works in the international art markets is also growing. Plus, with Indian contemporary art gaining prominence both in India and abroad, they are getting more opportunities to showcase their work.
All in all, this is a good time for Kolkata's art scenario where more and more people are becoming a part of it, helping the city live up to its moniker of 'Culture Capital'. And, it won't be far from truth to say that the art galleries in Kolkata are the foremost drivers of this change.