Healthy living has come to the fore as never before because of the prevailing situation of the Coronavirus pandemic. Stress on personal hygiene, sanitized surroundings, regular cleaning of homes have become a way of life in the evolving scenario and is expected to remain so in the foreseeable future.
We know that there's a definite association between clean, orderly, and sanitary surroundings and good mental and physical health. Cleaning, decluttering, and getting organised have been shown to improve mood, and actually strengthen relationships. Even if you hate cleaning, there's probably a part of you that also dislikes coming home to a dirty house after a long day at work. Women who characterised their homes as cluttered proved more susceptible to fatigue, stress, and depression, according to a study published in Personality and Social Psychology Bulletin.
However, the need to deep clean your home is often neglected because of the grueling workload and the time it takes.
Let us explore how you can deep clean your home without a huge effort for a healthy living environment.
Deep Cleaning is Different from Regular Cleaning
Deep cleaning is a process of cleaning your home from dirt and dust and thus restoring a hygienic environment. It is different from the routine cleaning of a home. While, a routine cleaning involves removing of dust from areas within our reach such as floors, slabs, and lower walls, deep cleaning involves micro-level attention towards cleaning and looking onto areas that are far beyond our normal reach such as ceilings, hard to reach corners, and even heavy furnishings. It also involves a thorough cleaning of the kitchen and bathroom. Gadgets, faucets, tiles, and fixtures collect dirt over time and need a thorough cleaning to bring them back to the former shine.
Start with One Room First
The effort to deep clean your home can be substantial and it can be extremely tiring. Deep cleaning involves a lot of moving of different objects in the home before and after the cleaning. Never try to clean the entire home in a day, even if you hire a professional service.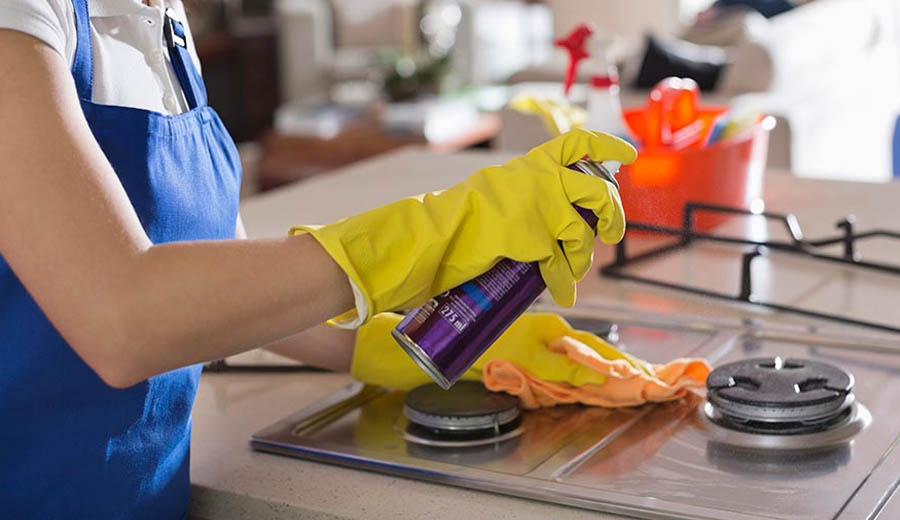 It is prudent to plan this over a few days or weekends. Start with one room first and shift to other rooms later on.
Each Room Needs Special Attention
When you deep clean your home, you must give attention to detail in every room. Let us consider some crucial areas which need special attention.
Kitchen: Clean sink and drainage pipes, window tracks, and walls with liquid soap and glass cleaners. Clean gadgets like microwave cooker, stovetop, chimney, toaster, dishwasher, and refrigerator as per the respective manufacturer's instructions. Degreasing of surfaces needs additional effort in the case of Indian kitchens. A disinfectant spray and insect control treatment can round it off.
Dining, Living and Bedroom: Dust and clean with a damp cloth, vacuum clean beds, upholstery, and mattresses, edge carpets after vacuum, wash bed sheets and curtains, clean glass surfaces with glass cleaners, especially clean hard to reach corners. Treat upholstery, carpets, and curtains with anti-mite treatment.
Washroom: Scrub the sink and removing grout from tiles, clean and polish mirrors, taps, clean and disinfect faucets and shower panel, and scrub the floor.
Balconies: The floor must be cleaned and brushed to make it non-slippery, do a thorough algae treatment, clean and polish the railing.
Inculcate Cleanliness in Your Daily Life
It is extremely important to inculcate the habit of cleanliness in your daily life. However, cleanliness is the responsibility of each and every individual living in the home. Especially, you must train your children to adopt healthy habits and cleanliness.
In order to inculcate the virtue of environmental cleanliness deep into the children, they must be taught not to spill food while eating. They should not throw bits of papers or garbage on the floor. Children should be advised to keep their things in proper places like toys and books. You must insist that they should wash their hand thoroughly with soap before and after every meal and take a good bath every day.
Cleanliness is only essential to enhancing the quality of living these days but it is extremely important to ward off diseases, especially contagious diseases. You must deep clean your home to clear off the accumulation of dirt which becomes breeding ground of pathogens over time.