Hyderabad property market is on overdrive these days as buyers are seeking high-value, bigger homes in the locations of choice. As we go through our report of July-December 2020, we are pleasantly surprised to unearth certain findings.
Among other inferences, it is quite interesting to watch robust demand for homes in so-called posh localities. In fact, flats priced at more than 1 crore and even higher are seeing an increased buyers' preference. Bigger homes, 4 BHK, and 1,500 sq. ft. and higher are being highly preferred by the buyers in selected areas.
Let's take a deep dive and explore the amazing findings of our survey. There are also significant changes if you compare the findings of the preceding period.
Shifting Buyers' Preferences
While areas like Banjara Hills, Gachibowli, Narsangi, and Upparpalli are still the favourite locations of homebuyers in Hyderabad, the percentage of enquiries have improved sequentially in all these areas. Obviously, homebuyers increasingly prefer these 4 pockets in comparison with the other locations.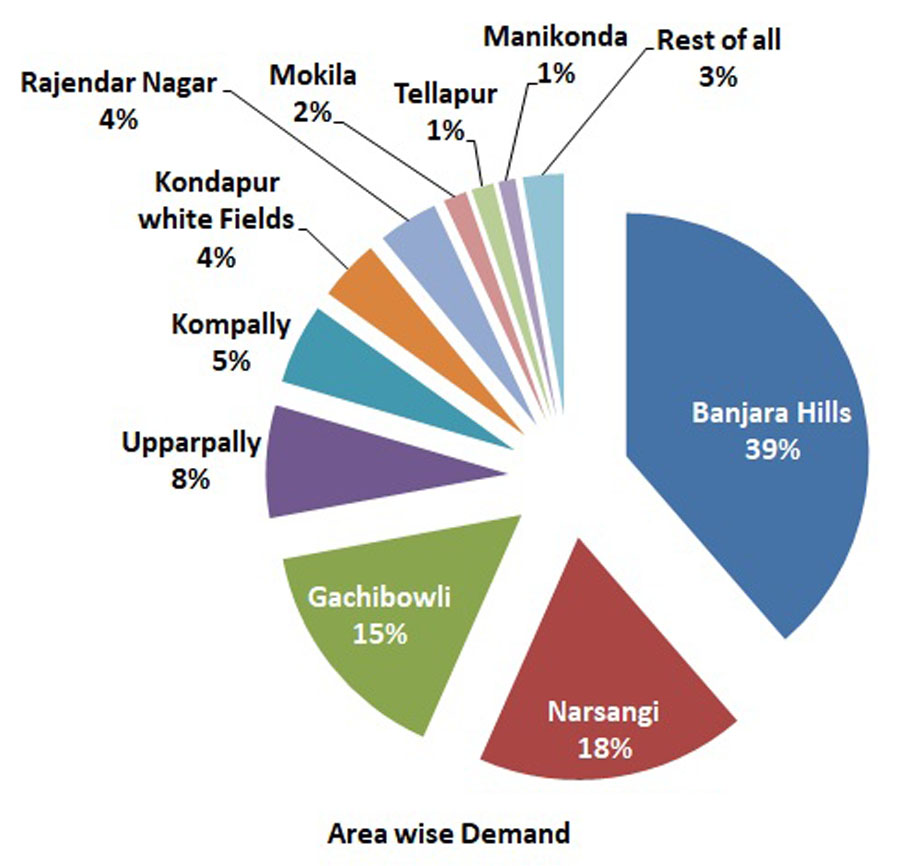 The other interesting finding is that 4 BHK homes are much ahead in demand of 2 BHK and 3 BHK homes. While 46% enquiries are for 4 BHK, 36% enquiries are for 3 BHK. Enquiries for 2 BHK homes are only 18% of all enquiries.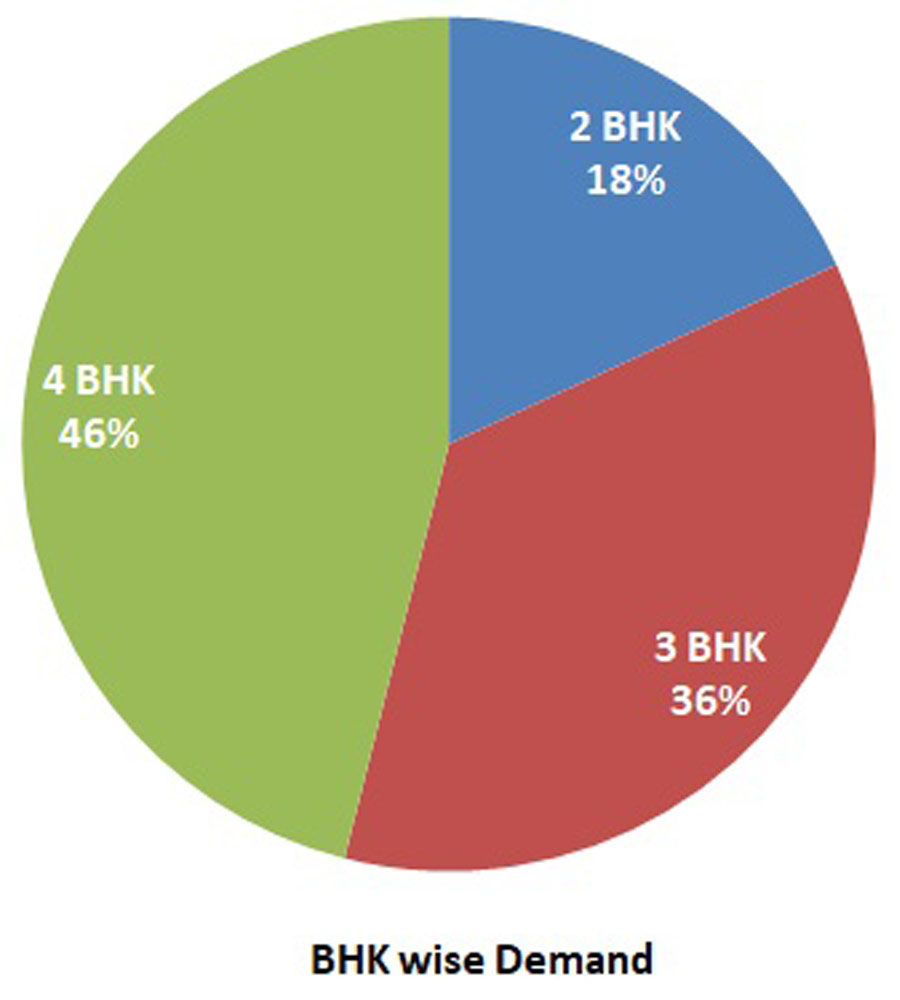 Homebuyers' budgets for homes have also seen an uptick compared to the previous 6 months. The demand for apartments costing between Rupees 1.01 crore and 1.5 crore is 14% in overall demand while flats costing between Rupees 1.5 crore and 2 crore is a huge 40% now. Even the Rupees 2-3 crore segment has seen an uptick and now stands at 14%.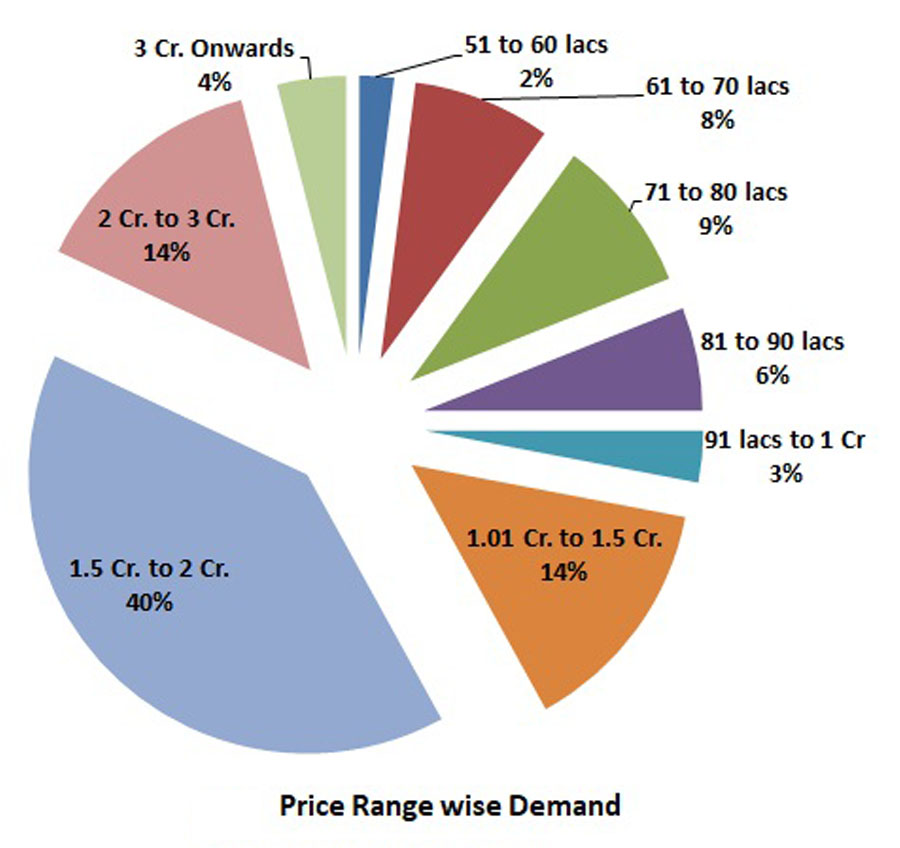 Another interesting trend is that homebuyers are looking for somewhat bigger homes now. The demand for 1500-2000 sq. ft. homes is now 27% of the total demand, while that of 2000-2500 sq. ft. homes is 21%. The demand for 2500-3000 sq. ft. homes is 22%. These 3 segments rule the major part of the demand for homes in Hyderabad. The demand for smaller homes has actually shrunk in the six months under review.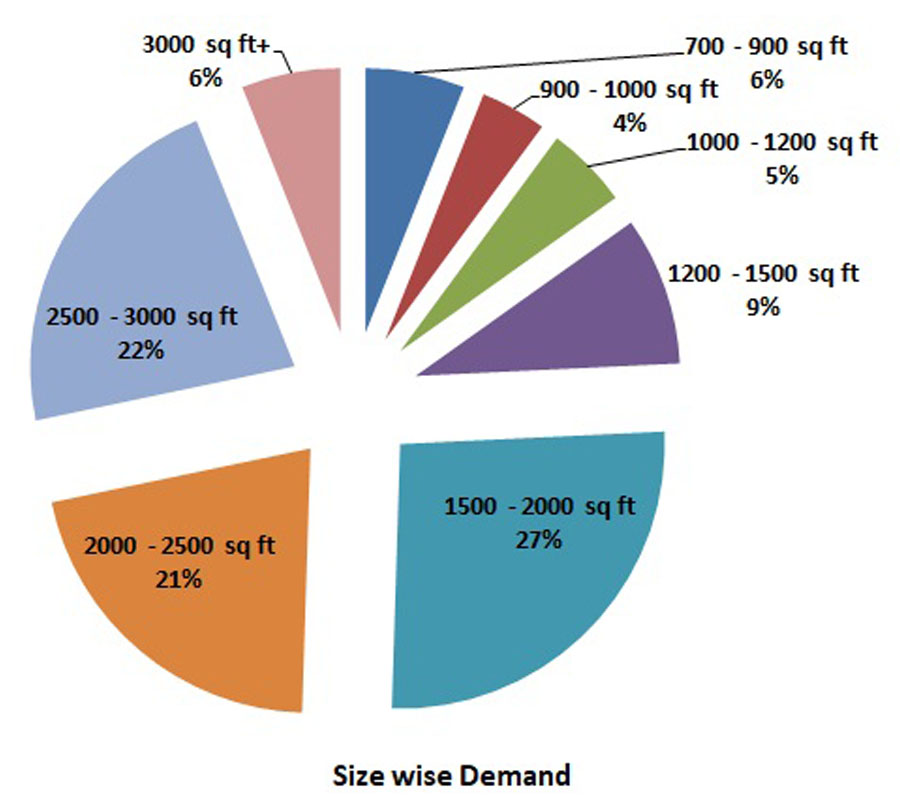 Most Favoured Locations in the Hyderabad Property Market
Let us now look at the demand in some of the topmost favoured locations in Hyderabad vis a vis budget ranges.
Gachibowli and Narsangi dominate most of the demand for new homes in Rupees 51-60 lakh, with Mokila constitute the third position. 44% of overall homebuyers in this price range look for a home at Gachibowli, while 38% of them do so at Narsangi. The demand at Mokila is from 6% of the homebuyers.
Homes in the price point between Rupees 61-70 lakh are also dominated by buyers looking for homes in Gachibowli (46%) and Narsangi (45%). Both together constitute 91% of the demand in this segment.
The majority of the homebuyers in the Rupees 71-80 lakh segment prefer Uparpalli (32%), Gachibowli (28%), Narsangi (15%), and Rajendra Nagar (15%).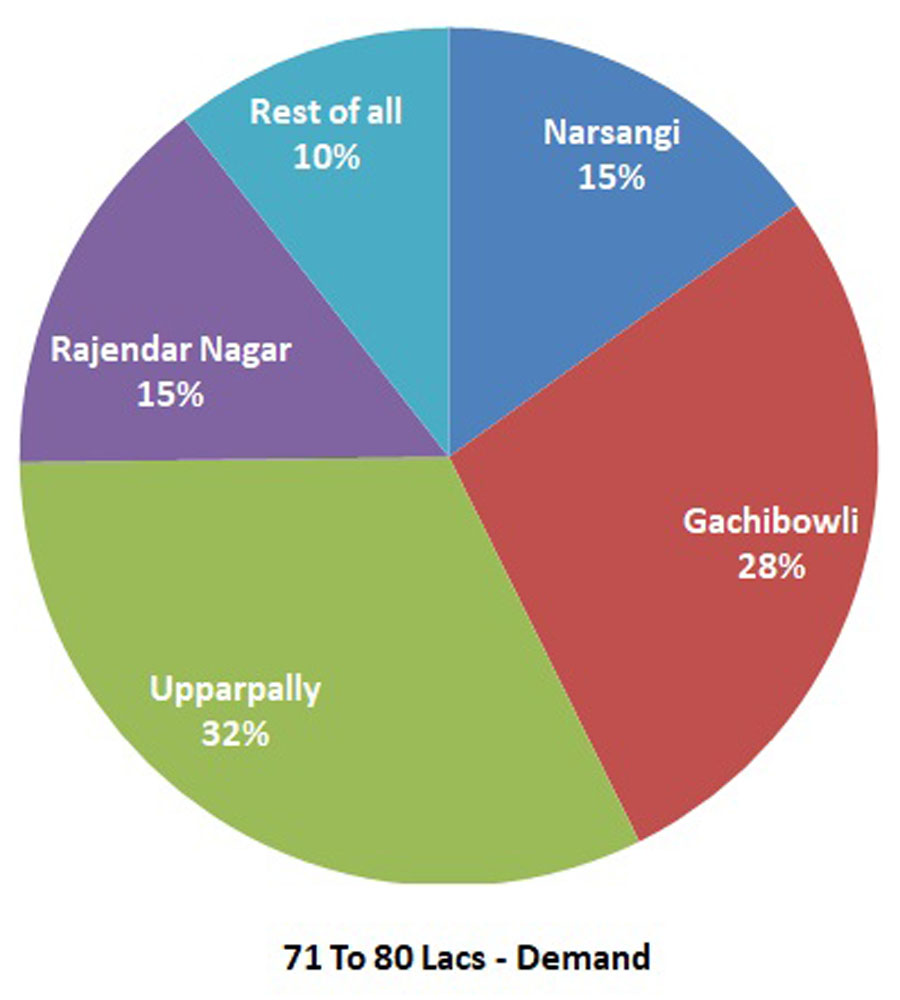 Top contributing pockets in the budget segment of Rupees 81-90 lakh are Uparpalli (32%), Gachibowli (31%), Narsangi (26%), and Manikonda (7%).
The main contributing pockets in the budget segment of Rupees 91 lakh-1 crore are Uparpalli (36%), Gachibowli (28%), Rajendra Nagar (21%), and Narsangi (8%).
Although the majority of homebuyers prefer Narsangi in Rupees 1.01 crore-1.5 crore segment, other locations like Kondapur Whitefield (22%), Gachibowli (16%), and Rajendra Nagar (13%) are also chosen by the homebuyers.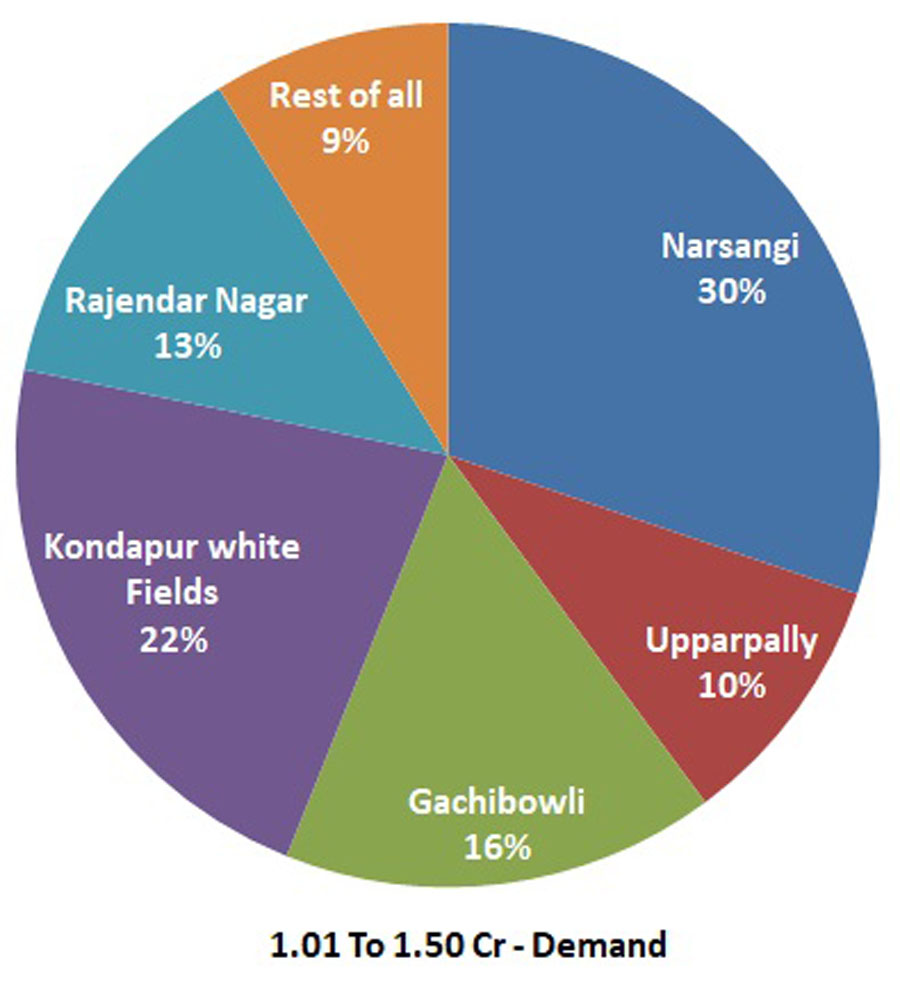 Banjara Hills (90%) dominates Rupees 1.5 crore-2 crore segment overwhelmingly.
Major locations of preference in Rupees 2 crore-3 crore are Kompalli (33%), Narsangi (20%), Banjara Hills (15%) Gachibowli (14%), and Tellapur (7%).
In Rupees 3 crore plus segment, homebuyers prefer Gachibowli (31%), Narsangi (27%), Mokila (15%) (14%), Tellapur (11%), and Jubilee Hills (7%).
Hyderabad Property Market Offers Varied Choice to the Homebuyers
Clearly, Hyderabad is a multi-locational market which is apparent from a balanced share of enquiries by different locations.
Except for select exclusive locations like Banjara Hills where home budgets are in the range of Rupees 1.5 crore-2 crore, and 4 BHK homes measuring 1500 sq. ft. to 3000 sq. ft. are predominantly offered, there are ample opportunities in Hyderabad for homebuyers. From budget homes to high-end luxury homes, Hyderabad has it all.
There is also a balanced demand for different sizes of homes in Hyderabad. 700 sq. ft. homes to 4000+ sq. ft. homes — all have their share of demand in the Hyderabad property market.
We can confidently say that the Hyderabad property market is vibrant, and is expected to do much better in the future.