Our study of the Hyderabad property market during the January-June period of the current year has shown up interesting insights. In spite of the lockdown and Covid-19 related complications, there is enough interest in property investment.
The demand data of the Hyderabad property market has revealed that it is ruled by the power of 3 — 3 BHK homes are predominantly preferred (77% of the overall demand) while 3 locations, viz. Banjara Hills, Narsangi, and Gachibowli together command 53% of the housing demand.
Apart from these 3 locations, property demand is evenly distributed among Upparpalli (8%), Mallapur (7%), Nacharam Village (7%), Kompally (6%), and other locations such as Tellapur (5%), Rajendar Nagar (3%), Kondapur White Fields (3%) & rest all (9%).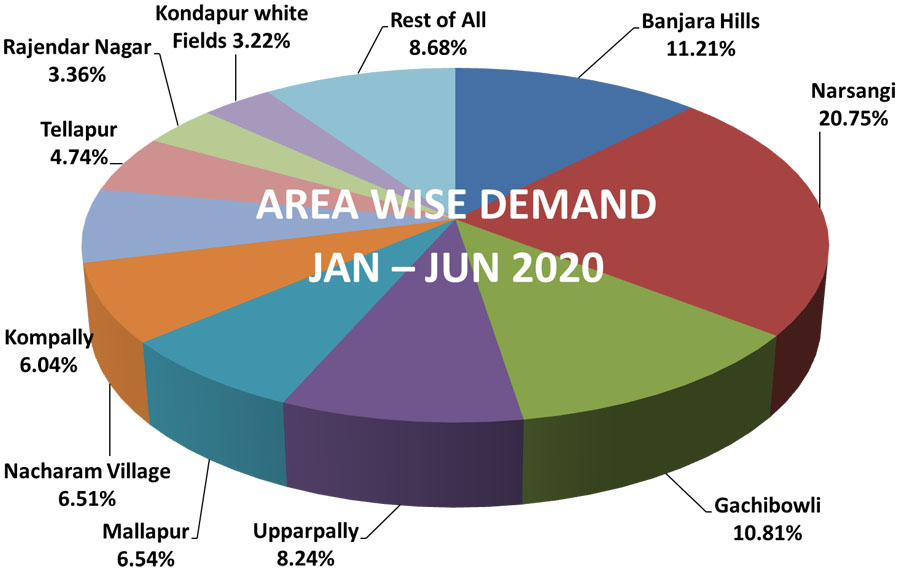 Homes Hyderabad Prefers
If we analyse the demand for homes according to budget, the Hyderabad property market is again ruled by 3 major segments. Homes priced between Rupees 1.5 to 2 cr corner 30% of the market. The 1.01 to 1.5 cr segment has a market share of 18% and the 71 to 80 lakh segment has a share of 17%.
Interestingly, demand for homes based on size is somewhat evenly distributed among 1200-1500 sq. ft. (17%), 1500-1800 sq. ft. (11%), 1800-2000 sq. ft. (15%), 2000-2300 sq. ft. (12%), 2300-2500 sq. ft. (12%), 2500-3000 sq. ft. (15%). There is a marked preference for larger homes in the Hyderabad property market.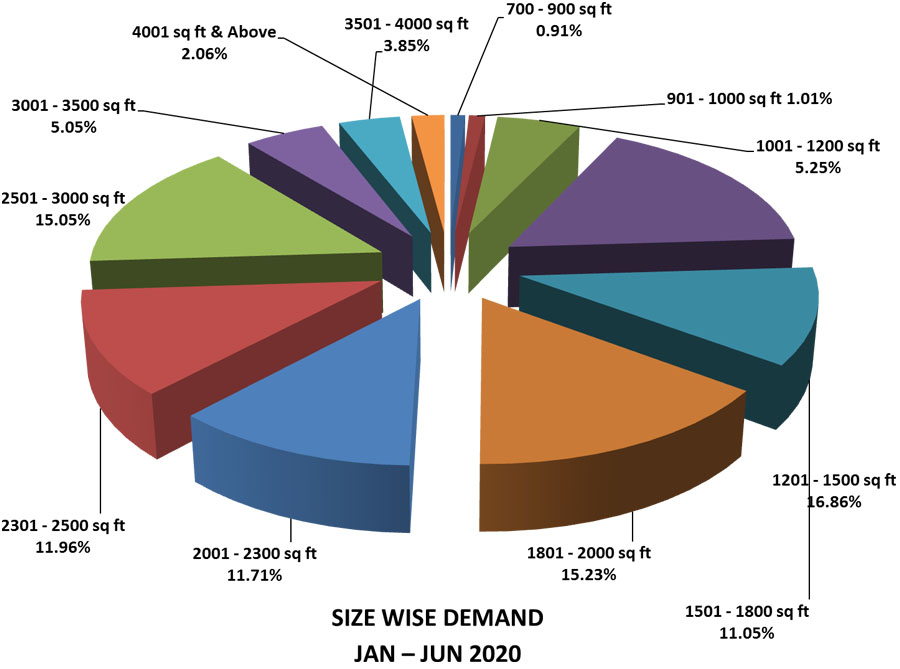 Top Contributing Locations in Hyderabad Property Market
Let us now look at the demand in some of the top locations in Hyderabad vis a vis budget ranges.
Banjara Hills home demand is overwhelmingly (94%) for Rupees 1.5 – 2 cr homes. In Narsangi the demand is mostly distributed among budget segments of 61-70 lakh (16%), 71-80 lakh (22%), 1.01-1.5 cr (23%), 1.5-2 cr (13%), and 2-3 cr (11%).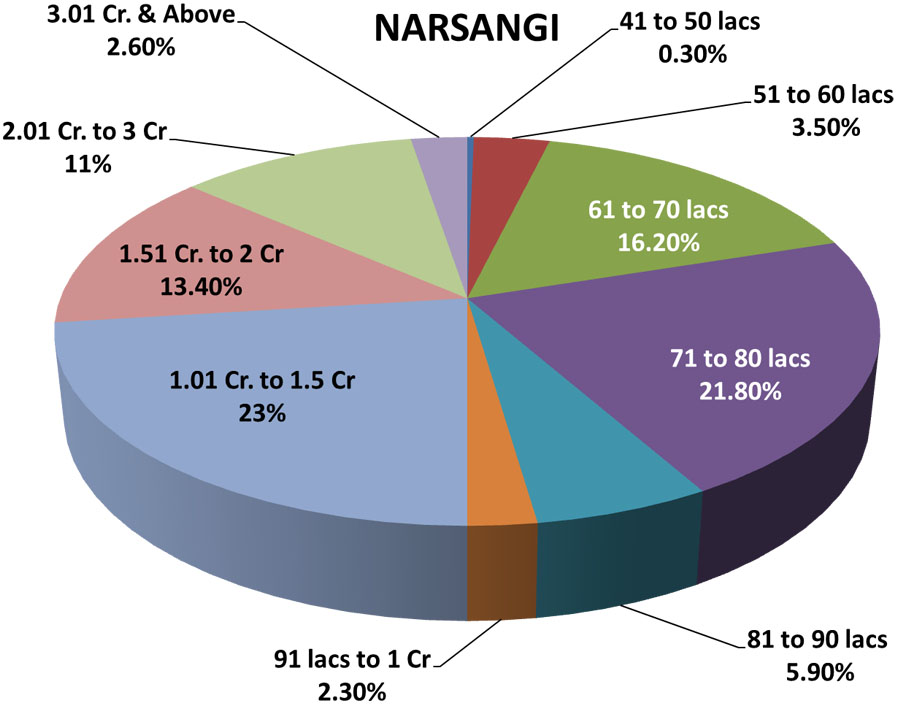 The demand for homes at different price points is also clear in the case of Gachibowli. Rupees 61-70 lakh (13%), 71-80 lakh (13%), 81-90 lakh (14%), 1.01-1.5 cr (30%), 1.5-2 cr (15%), and 2-3 cr (9%) are the major contributing budget segments here.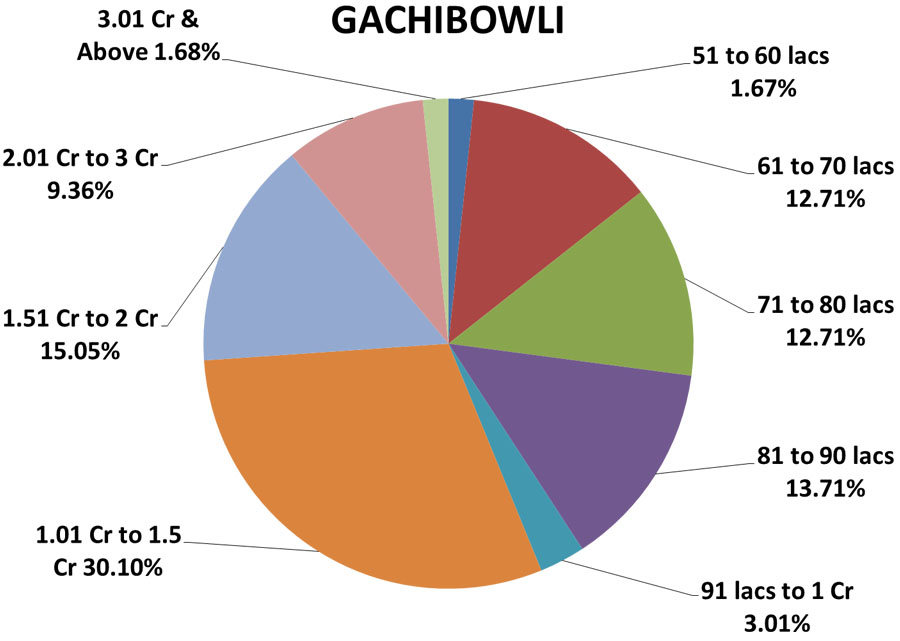 The major budget segments which contributed to Upparpally property demand are 71-80 lakh (40%), 81-90 lakh (20%), and 91 lakh to 1crore (18%).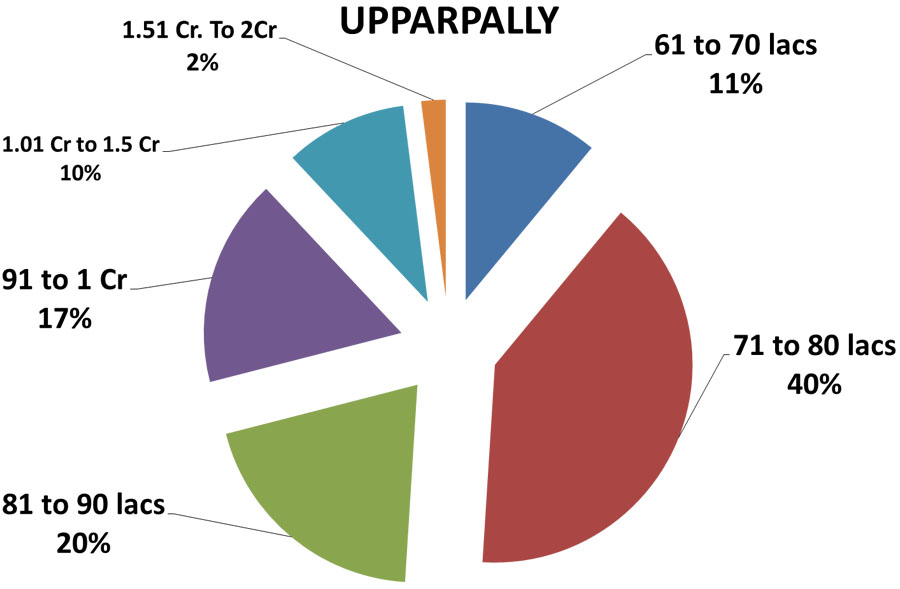 In Mallapur, two budget segments 61-70 lakh (28%), and 71-80 lakh (57%) rule the roost.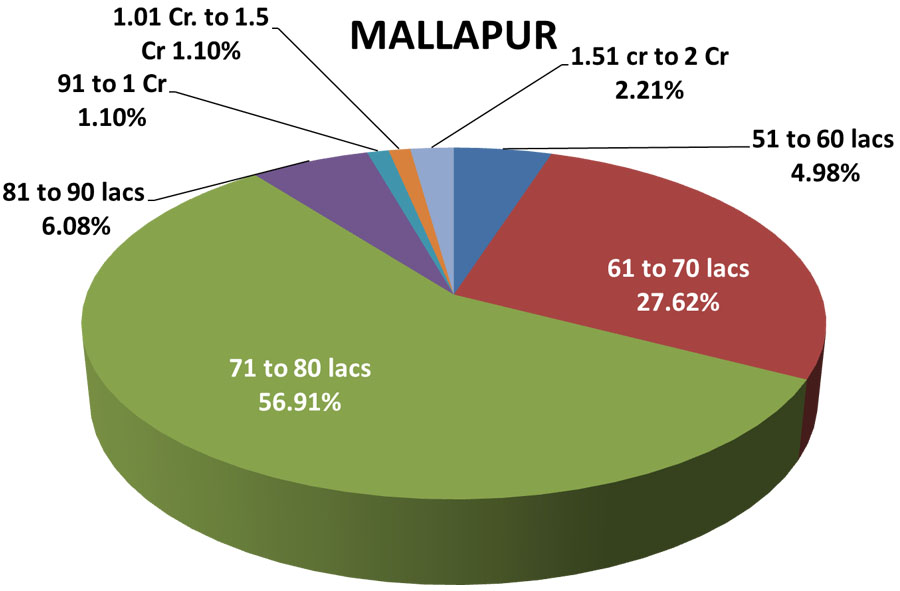 Hyderabad Property Market has Depth and Variation
It is quite apparent from the above data that the Hyderabad property market has depth and variation. Except for locations like Banjara Hills which is predominantly posh location, most other locations offer homebuyers varied choices of homes in different budgets and configuration (2 BHK, 3 BHK,etc.).
Clearly, Hyderabad is a multi-locational market which is apparent from a balanced share of enquiries by different locations.
There is also a balanced demand for different sizes of homes in Hyderabad. 1000 sq. ft. homes to 4000+ sq. ft. homes — all have their share of demand in the Hyderabad property market.
From the above data, it is clear that the growing city of Hyderabad is witnessing a balanced growth with property demand well-spread among different locations. Focused, rapid, and large-scale infrastructural development has ensured overall growth. Growth and development are widespread and not restricted to a few pockets.
As we proceed towards unlocking more and more activities from the restrictions due to the Covid-19 pandemic, we can only hope that the demand will further grow in Hyderabad.