Kolkata property market is upbeat as it convincingly came out of the slowdown in the last 6 months. Homebuyers have returned aggressively with a huge demand for value. The interest to book new homes, taking advantage of an extremely conducive environment to do so, has seen a huge uptick. Property sale figures currently are even better than the pre-Covid period.
There is a palpable shift of demand to the areas such as Joka and Rajpur-Manikpur –Baruipur, which are attracting the majority of homebuyers. Moreover, the availability of homes in gated communities with myriad facilities is much higher in these locations.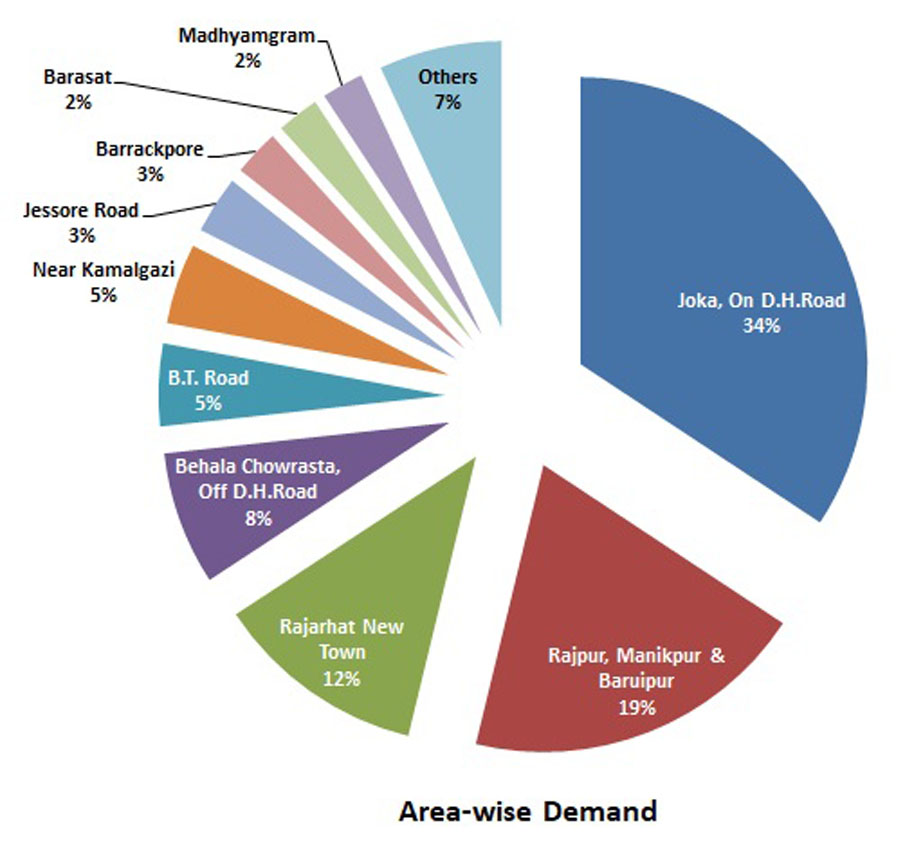 We can clearly see the areas which are dominating the most home demand. Compared to the last 6 months, demand has increased in Rajarhat-New Town and somewhat moderated in the Joka area.
An analysis of the market data for the July-December period of 2020 is offering interesting insights into homebuyers' changing preferences.
Homebuyers' Choice of Homes are Changing
Homebuyers' preference is shifting as most homebuyers prefer gated communities with multiple amenities now. The preference for standalone buildings is lower as homebuyers are often ready to live a little farther away from the city but prefer to live in a residential complex.
Additionally, homebuyers prefer somewhat larger homes now. We are witnessing a higher demand for 3 BHK homes, and there is also an uptick in the demand for larger homes.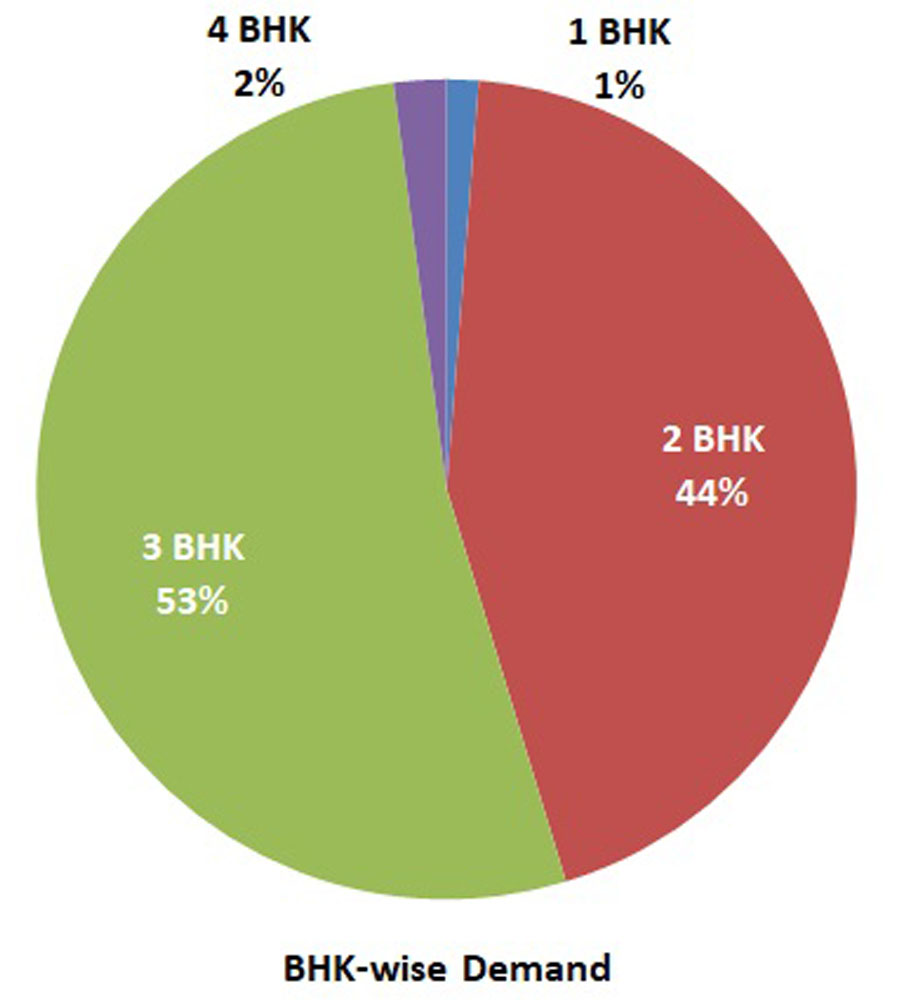 More than 900 sq. ft. apartments are more in demand now compared to earlier.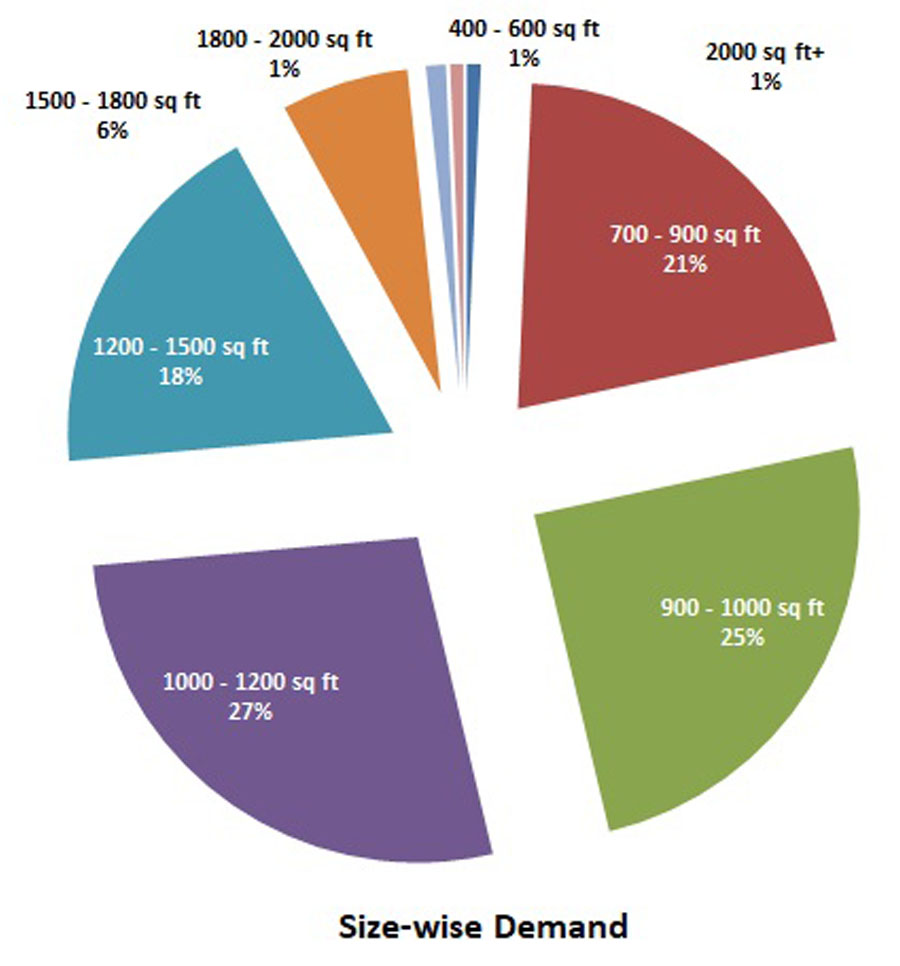 Let's understand the shift in preferences further.
The Shift in Preference in Kolkata Property Market
The preference of homebuyers was of almost equal numbers of 2BHK and 3BHK earlier. However, there is a distinct shift towards 3 BHK apartments nowadays. Homebuyers prefer 3 BHK (53%) much more than 2 BHK (44%).
Budget-wise, the largest 3 demand constituents are homes priced at Rupees 21 to 30 lakh (18%), 31 to 40 lakh (18%), and 41 to 50 lakh (23%). These three segments constitute 59% of all home demands in the Kolkata property market.
Interestingly, the demand for 51 to 60 lakh (10%) and 61 to 70 lakh segments (11%) have increased compared to earlier.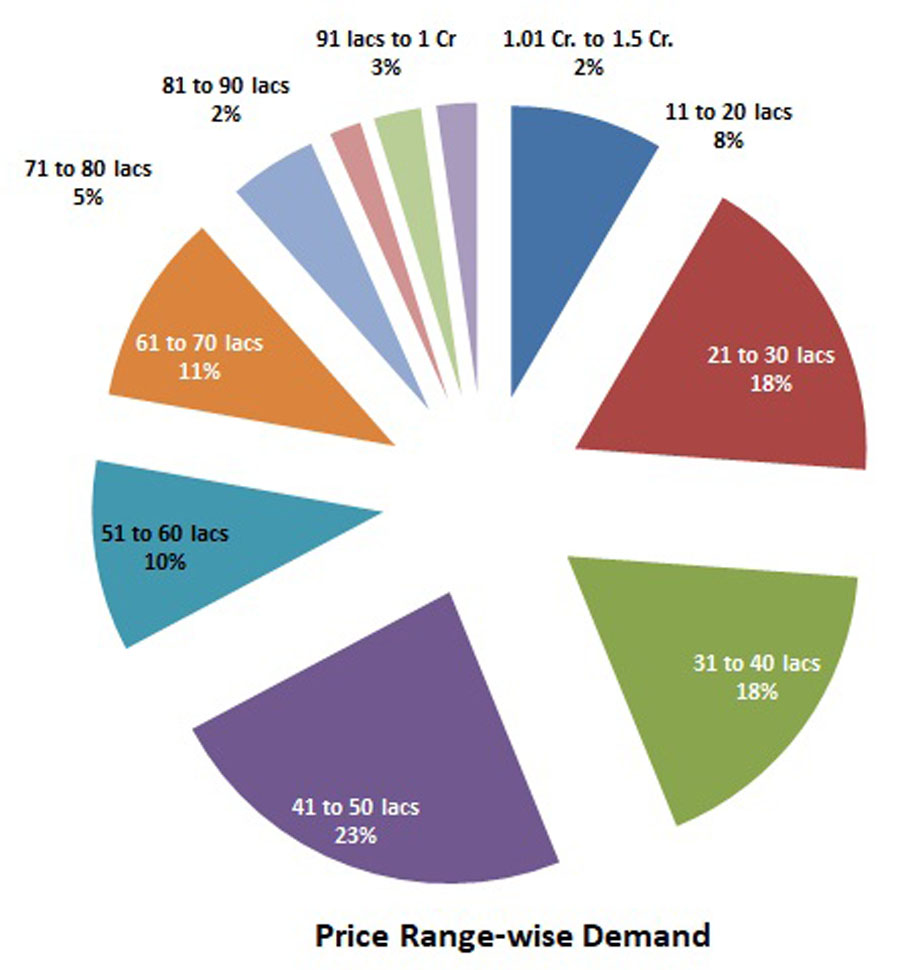 The majority of homebuyers' requirement is 1000-1200 sq. ft. (27%). The demand for homes with 900-1000 sq. ft. (25%) and for 1200-1500 sq. ft. (18%) has increased while the demand for homes of 700-900 sq. ft. has witnessed a substantial decrease from 27% to 21% (from Jan-Jun 2020 to Jul-Dec 2020). Obviously, homebuyers are looking for larger homes.
Budget and Location Demand
Homebuyers who want to buy a flat within Rupees 21 to 30 lakh, Joka (55%) and Raipur, Manikpur, and Baruipur (32%) are most preferred along with Barasat (8%). Obviously, Joka, Raipur, Manikpur, and Baruipur have come out as hotspots of affordable homes in Kolkata.
As we look at the next higher property price slab of Rupees 31 to 40 lakh, the most preferred location is again Joka (30%). However, homebuyers have a good choice of locations such as Rajpur, Manikpur, and Baruipur (21%), Kamalgazi area (10%), Behala Chowrasta (9%), and Barrackpore (8%). These areas are retaining their attraction for the buyers of affordable homes.
Even in the budget slab of Rupees 41 to 50 lakh, the dominant location is Joka (37%). Other preferred locations are Behala Chowrasta (18%), Rajpur, Manikpur, and Baruipur (14%), Kamalgazi (8%), and Rajarhat New Town (7%).
Rajarhat New Town (32%) is the most preferred location for homebuyers with a budget of Rupees 51 to 60 lakh. It is also the dominant location for Rupees 71 to 80 lakh (57%) and Rupees 81 to 90 lakh (38%).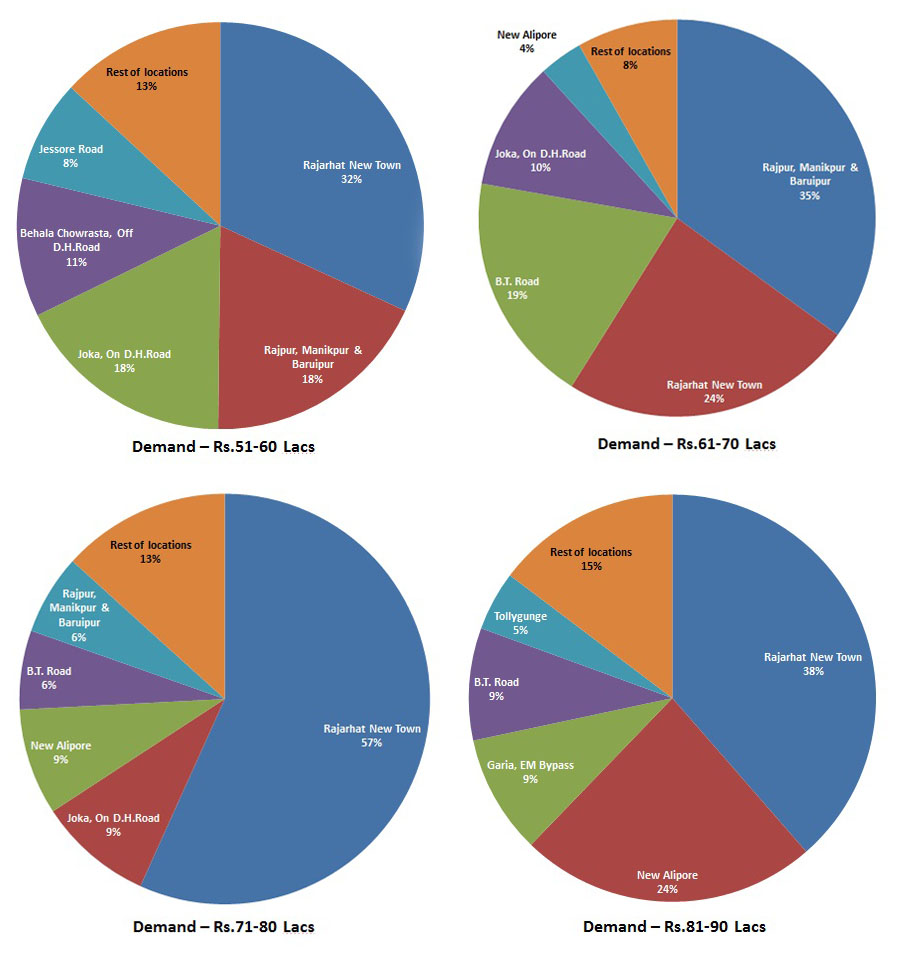 Interestingly, Garia, EM Bypass has emerged as a premium location with a 33% share of Rupees 91 lakh to 1 crore segment and 36% share of Rupees 1.01 crore to 1.5 crore segment.
Howrah and Hooghly
The preference for 2BHK homes has increased in Howrah recently and the demand now constitutes 1 BHK (24%), 2 BHK (40%), and 3 BHK (33%). Budget-wise, the largest demand segment is Rupees 41 to 50 lakh (27%), followed by 11 to 20 lakh (24%) and 61 to 70 lakh (18%). 1000-1200 sq. ft. area apartments are most preferred (44%).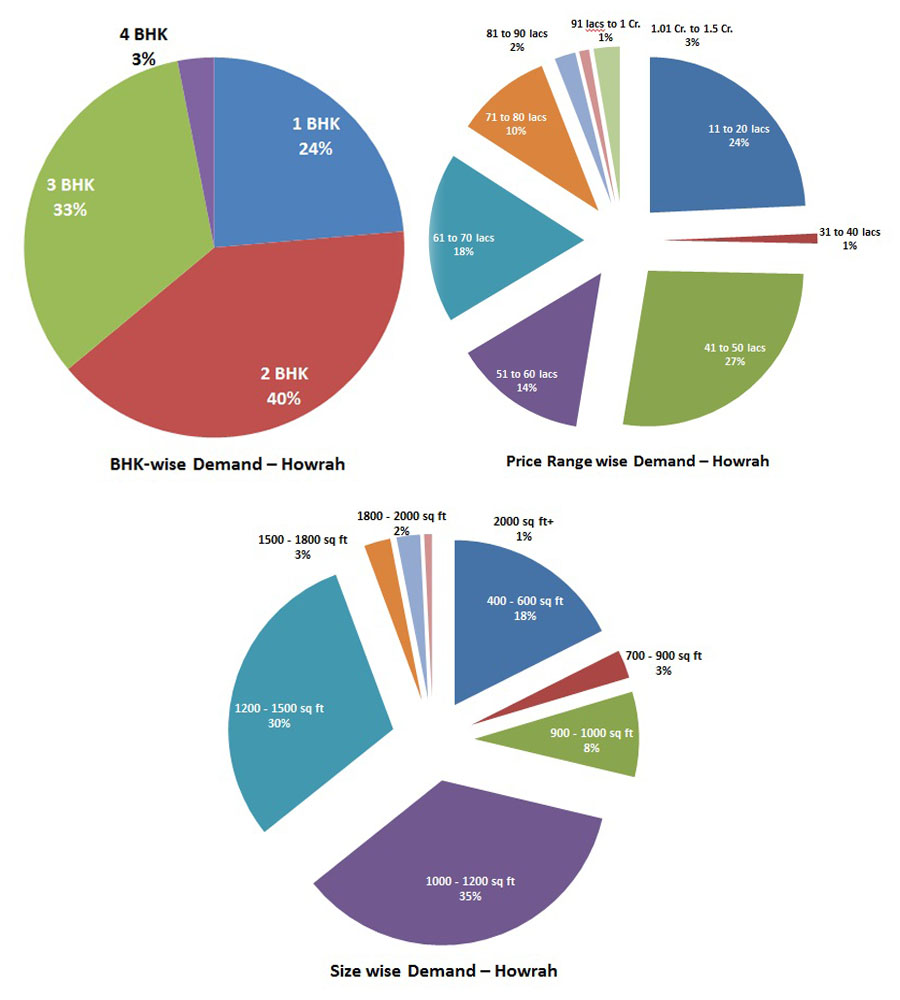 The demand for 2 BHK is the highest (46%) in Hooghly, followed by 3 BHK (32%), and 1BHK (22%). Budget-wise, flats costing Rupees 31 to 40 lakh is the highest (43%) now as the majority of homebuyers have enhanced their budgets. 900 to 1000 sq. ft. homes command the highest demand with a 41% share.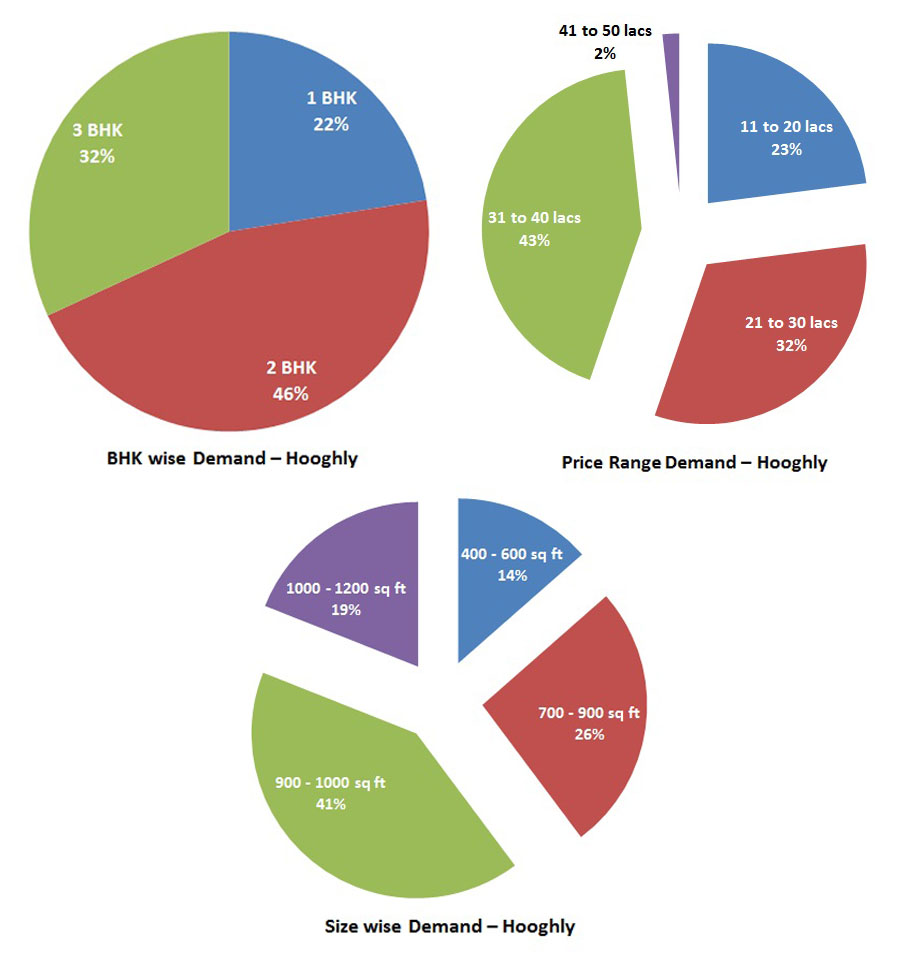 The bounce-back of the Kolkata property market and the shift of customers' choices clearly prove that the homebuyers are preferring larger homes in gated communities, even if the budget is somewhat higher.