Tania Banerjee, a 34-year-old IT employee, was growing tired of commuting from her suburban apartment to her workplace in New Town every day. Waking up at wee hours, battling through the office-going crowd at the station, considering herself lucky if she found a seat at the jam-packed train, and coming home much later than most of her co-workers despite leaving on time — all of this was part of her daily routine. It was the same story with her husband, Atanu, who worked in a government office in Sector-V.
The couple was discussing the possibilities of moving closer to their workplace and were scouting for the right location. Urban Greens — an apartment complex 400 metres from Chinar Park — was an easy selection due to its proximity to both their offices as well as for the quality of living that it offered.
Over the past few years, Rajarhat has turned into a hotspot for realty investment. Thanks to the unique advantages of this location, it has witnessed a spurt of realty developments. As a location that's considered as an entry point to Rajarhat and New Town from the Northern part of Kolkata, Chinar Park is also emerging as a prominent residential hub in Kolkata with many reputed developers investing in this location.
Here are some factors that residents here take advantage of.
Infrastructure: Being well-planned, the area has everything it takes to make the life of the residents convenient and comfortable. There are malls, residential and commercial spaces, and ample public spaces for recreational purposes, while the main central business district (CBD) of the area comprises IT Business Parks and institutional plots. The planned inclusion of commercial and retail outlets elevates the lifestyle of the residents. This is one of the key reasons for the growth of many high-rise residential complexes and mini sub-townships in the area.
Connectivity: The area is excellently connected to all the main locations across the city through VIP road and Rajarhat road. Netaji Subhash Chandra Bose International Airport is very close to this locality and is just 4 kilometres away. Sealdah Railway Station is located at a distance of 12 km through VIP Road.
The metro line from New Garia to the Airport is currently under construction and once operational, it will further enhance the transportation facility. Ongoing plans for extending the circular railway system in this location are also underway.
Job opportunities: New Town and the nearby Sector-V together form what can be aptly called the IT hub of Eastern India. As such, this area is home to several multinational companies such as IBM, Cognizant, HCL Technologies, TCS, British Telecom, Capgemini, Tech Mahindra, and Wipro, etc. The presence of offices means better employment and job prospects, which is a huge draw for homebuyers to make Rajarhat their home.
Social element: The locality has a lot of commercial and retail outlets, malls, shopping complexes, restaurants, and entertainment zones, which makes Rajarhat high on living standards. It also houses educational institutes such as DPS Megacity, St. Xavier's College, Derozio Memorial College and a gamut of engineering colleges, which offers residents the advantage of a good educational facility. The presence of hospitals such as Tata Memorial Hospital, Apollo Hospital, Charnock Hospital, etc. located within a reasonable distance, is also a factor that favours residents.
Find Your Home amidst a Boost in Real Estate Activity
Like Tania and Atanu, if you're keen on looking for a residential property in Chinar Park, you have ample options to choose from in New Town and the adjoining areas. One such project is Urban Greens — an apartment complex surrounded with lush greenery and ample fresh air, Ideal for those looking to reside in a tranquil yet accessible environment, this apartment complex is designed with top-level architectural finesse. But it's not just well-designed but also offers a ton of amenities.
Urban Greens: A Blend of Urban Comforts and Green Living
Urban Greens is a green residential complex near Chinar Park that prides itself on its deft blending of life-enriching aspects such as soothing greenery, ample open spaces, modern amenities, and choices, along with excellent accessibility. This HIRA certified project is developed by the trusted Loharuk Group and is among the few projects that allot 60% of space to parks, landscape, foliage, and open areas.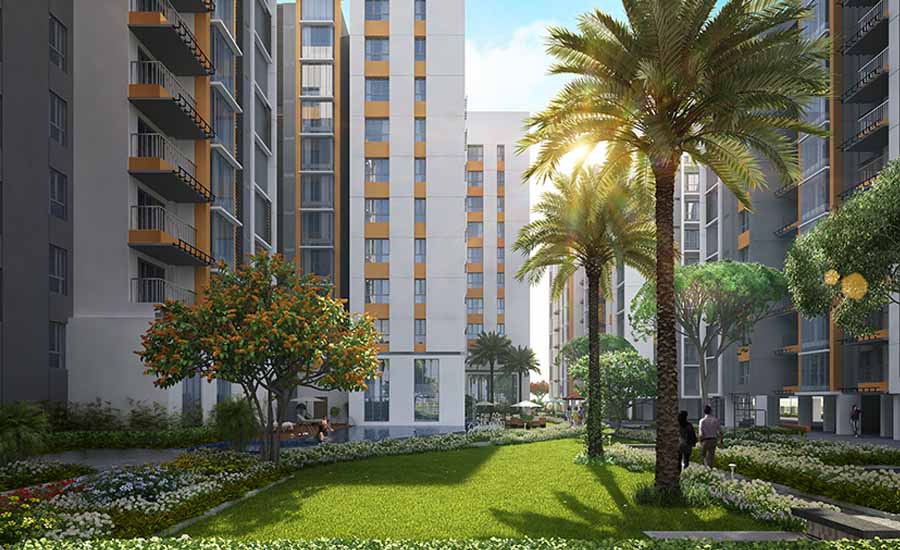 Spread over an area of 2.67 acres, the project incorporates five-storeyed towers with basement parking. Pre-certified Silver Rating by Indian Green Building Council (IGBC), Urban Greens boasts of its green building features, impeccable quality of architecture, and a fine balance of aesthetic and practical design elements.
Green Living Features
Urban Greens has been designed with care to have minimal impact on the environment. As such, the project optimises water usage, energy efficiency, conserves natural resources, generates less waste, and offers open spaces for residents to breathe in the fresh air and live a healthy life.
Some of the project's top green living features include:
Sewage Treatment Plant
Rain Water Harvesting System
Fitness Garden
Central Lawn
Use of recycled/eco-friendly material
High windows guaranteeing better views & cross ventilation
A Home that You Will Be Proud of
Urban Greens is meticulously planned by leading architects to maximize space, comfort and style. It has been built using the best-in-class materials and fittings that not only offers excellent functionality but also breathe elegance.
The complex offers a plethora of premium facilities, including a grand community hall, party lawn, banquet hall, and multipurpose games courts, on-site gymnasium, fitness studio, cafeteria, children's crèche, and swimming pool, to name a few. Living in Urban Greens, you are sure to live the active lifestyle that you desire.
Every Amenity within Your Reach
The location advantage of Urban Greens is an added bonus for residents. It is situated on the Rajarhat Main Road at the Chinar Park crossing, 1 minute from Main Arterial Road, 2 minutes from the entertainment hub – City Centre II, 5 km from the Airport, close to proposed Garia-Airport Metro connectivity. The Eco Space bus stop is merely 3 minutes away from these apartments, while it is 20 minutes from Kolkata Airport and the upcoming metro station is 5 minutes away, which once operational, will further boost the project's connectivity to other parts of the city.
Therefore, when you make Urban Greens your home, you have ample of opportunities to save fuel because all everything you need to fulfill your daily needs is just a walk away. Be it shopping and entertainment requirements, schools, health facilities or even your workplace, there's nothing that not within your easy reach. Plus, living in these apartments gives you easy access to the Central Business District and major IT parks, so you can forget the hassles of long commutes. This means you can ultimately spend less of your precious time on the road and dedicate more hours enjoying with your loved ones.
The project has schools like New Town Public School, Calcutta Public School, and National School within a few minutes' reaches, while its proximity to the University of Engineering and Management and St. Xavier's University ensure the higher education needs of the residents are met.
There are multiple super-specialty hospitals and health care facilities like Tata Medical Centre, Apollo Hospital, Newtown and Disha Eye Hospital — a factor that allows residents to handle any medical emergencies promptly.
Live the High Life with Urban Greens
Get the best advantages of living in Chinar Park and experience green living with Urban Greens. It's a home that you'll cherish while enjoying the benefits of modern infrastructure, a fast-developing urban setting, and accessible amenities — everything without cutting your ties with nature!
For more information or to book a visit, head over to https://m.nkrealtors.com/property/overview/urban-greens-ii. You can also give us a call to know more.