Kolkata's real estate market is witnessing a speedy transformation. The city's property market, coming out from the stagnation post demonetization and GST, has gained much momentum in recent times. With the apprehension about GST getting cleared, New Town is gradually receiving increased buyers' interest in recent months.
For about more than a year, this prospective market did not see an upswing. There have been no new launches in the last 6 months.
The subdued buyers' interest created a pileup of unsold inventory.
There are a total of about 2288 unsold units as on 31st March 2018, while the total unsold inventory under construction stands at about 1801 units & about 487 ready units respectively.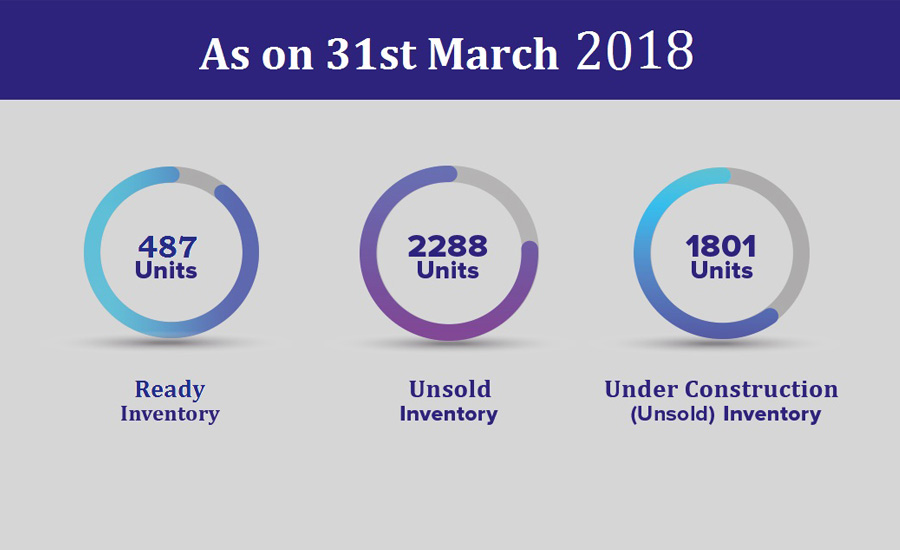 In the fiscal year 2017-18, the average monthly consumption was about 7 units per project and this is now, hopefully, going to increase. Although the sale of apartments varies with every project, very few projects had good sales figures.
It is expected that the average time each project will take to absorb the unsold inventory is about 33 months.
Dotted with mini-townships, highrises, and apartment complexes, the landscape of New Town Rajarhat features the best housing projects in the city today. From low-priced homes to luxury flats, and super-luxury apartments, property investors and buyers can choose from a range of options this market offers.
The chart below shows a price-wise statistical representation of the total launched inventory of Newtown Rajarhat.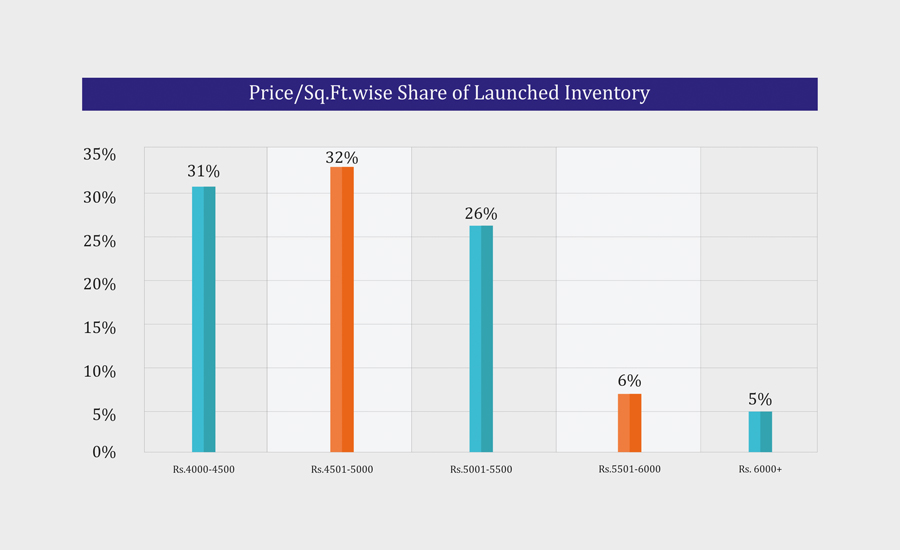 Price-wise Sold & Unsold Inventory till 31st March 2018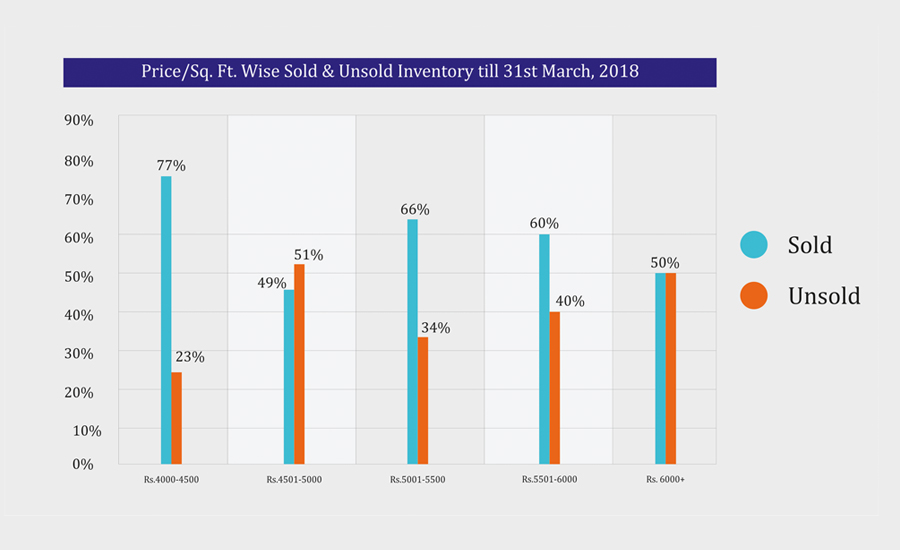 Connectivity Advantage
Proximity to Kolkata's two major roads – the EM Bypass and the VIP Road – adds convenience in connecting New Town to other parts of the city. These two arterial roads, connecting New Town with other parts of Kolkata, allow fast and smooth movement of traffic. A few minutes' drive from the Kolkata International Airport, New Town is well-connected through various public transports, including AC bus services. The upcoming Airport New-Garia Metro Corridor will boost up the connectivity of this locality with the southern end of Kolkata.
The analysis of data for influential factors for bookings of Q4 17-18 reveals an interesting insight. In the last quarter, Floor Plan has topped the list apart from the regular top factors of Location and Connectivity. This is quite interesting and indicates that buyers are gradually considering other factors as well while finalizing buying a flat in New Town.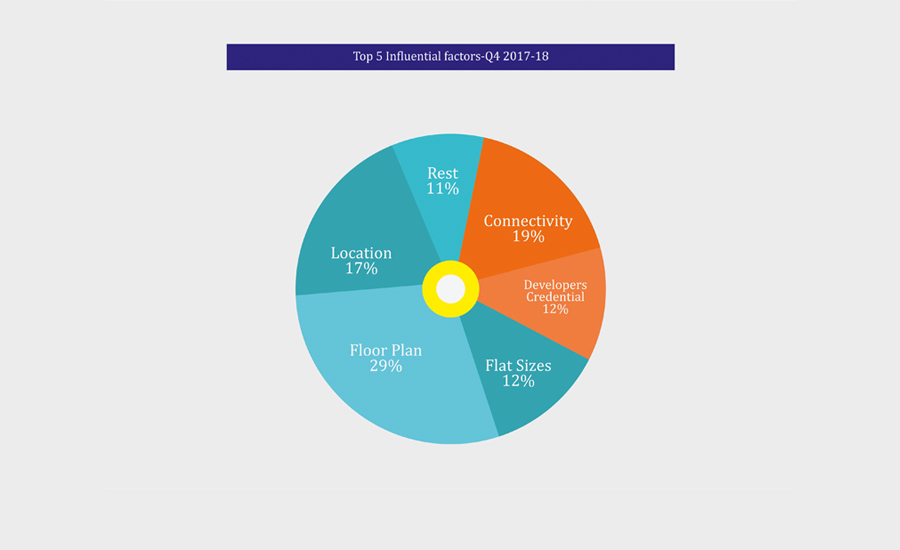 Infrastructure Advantage
The state government of West Bengal promoted the integrated city of New Town Rajarhat to support the housing demand of corporate workforce establishing bases in Kolkata. The planned township today is a home to many, who are experiencing the smooth life with fast traffic, clean environment, and a community of like-minded people. Apart from residential complexes, Newtown features state-of-the-art commercial properties, convention centers, business parks, clubs and a central business district occupied by top-notch multinational companies.
Although schools such as DPS New Town, New Town School are operational now, we expect that prestigious educational institutions, such as IIT Kharagpur, St Xavier's College will also be operational shortly. The state government of West Bengal is planning to make Rajarhat New Town an educational hub. The government has created a land bank of 150 acres for 30 premium institutes to set up their campuses in different parts of the township. While Presidency University, St Xavier's University, Rabindra Bharati University are coming up with their second campuses, Aliah University and Techno India are operational.
Not just educational institutes, the integrated city houses Tata Medical Centre, a reputed cancer research organisation; shopping destinations like City Centre II, Central Mall, Axis Mall, and DLF Galleria; and two posh hotels, Novotel and Westin. Intelligent power-saving LED streetlights with panic buttons, solar panels, water treatment plants, multi-nodal transport hub, e-health clinics, modern art museum, cycling tracks, cultural centres, and a 480-acre eco-park are part of life in New Town Rajarhat. The government of West Bengal nodal body HIDCO is preparing a plan to develop an 8-acre car park in the central business district (CBD) of New Town.
Q4 Gains Momentum
The property market of New Town Rajarhat in Q4 2017-18 looks better positioned compared to the earlier quarters. Market analysts observed a positive trend across different indicators.
Q4 2017, compared to Q3, saw an increase in enquiry, site visits, and booking share by 20%, 38.53%, and 5.30%.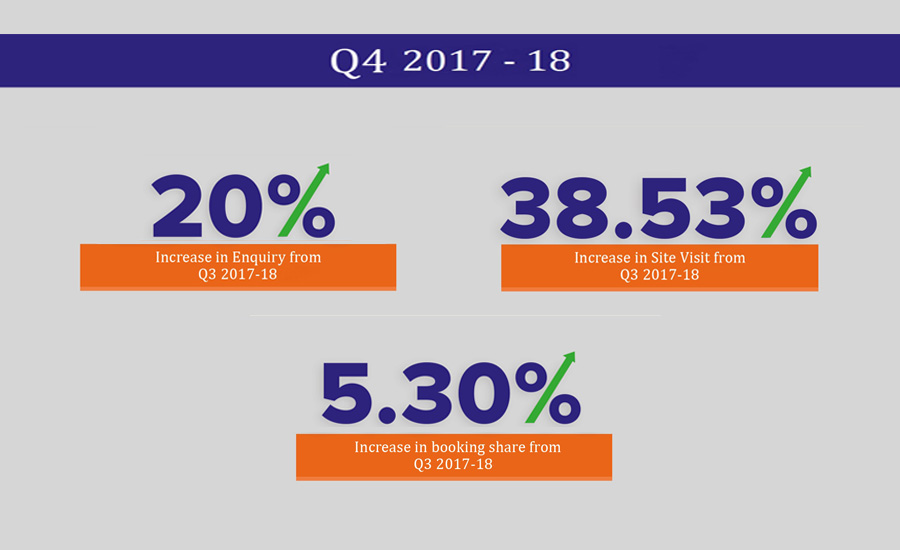 The market viewed an impressive upswing in enquiry, site visits, and booking of budget-class properties between Rs 40 to Rs 50 Lacs.
The enquiry, site visits, and booking of budget properties in Q4 were up by 18.52%, 19.57%, and 13.04% from Q3 2017. Bookings for properties priced between Rs 50 to Rs 60 Lacs increased by 12.82%, as compared to the preceding quarter.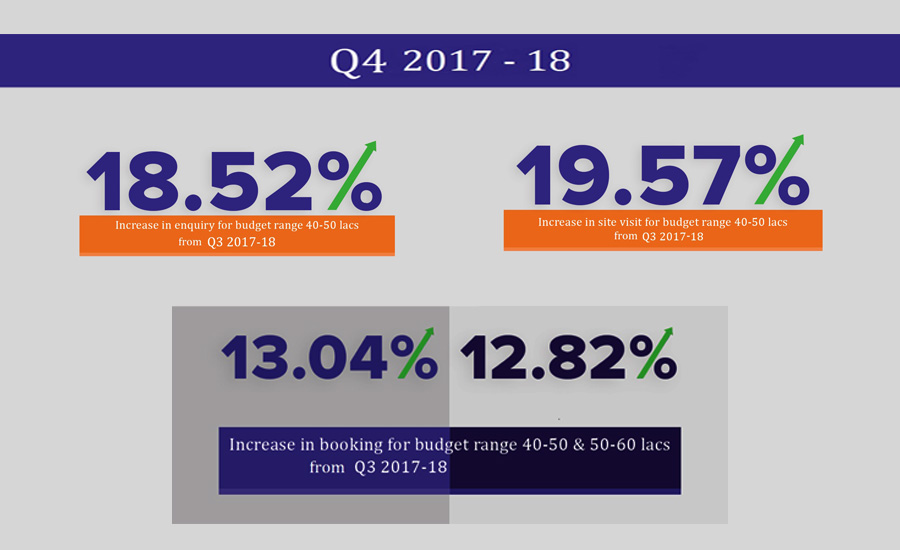 BHK-wise enquiry share in Q4 2017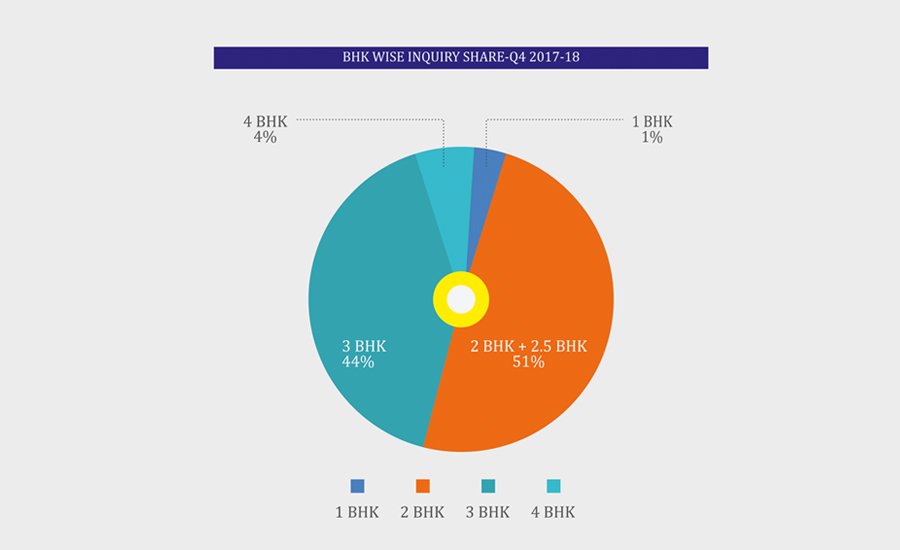 The BHK wise demand trend has been more or less the same for the last 6 months. However, enquiry for 2 BHK & 3 BHK apartments has increased by 12% & 15% respectively in Q4. We expect to see greater momentum for these in the coming months.

Among other factors, hoardings and newspapers were key booking sources for New Town Rajarhat properties in Q4 2017. Featured below is a graph showing the media-wise breakdown of top 5 booking sources for properties in Rajarhat Newtown: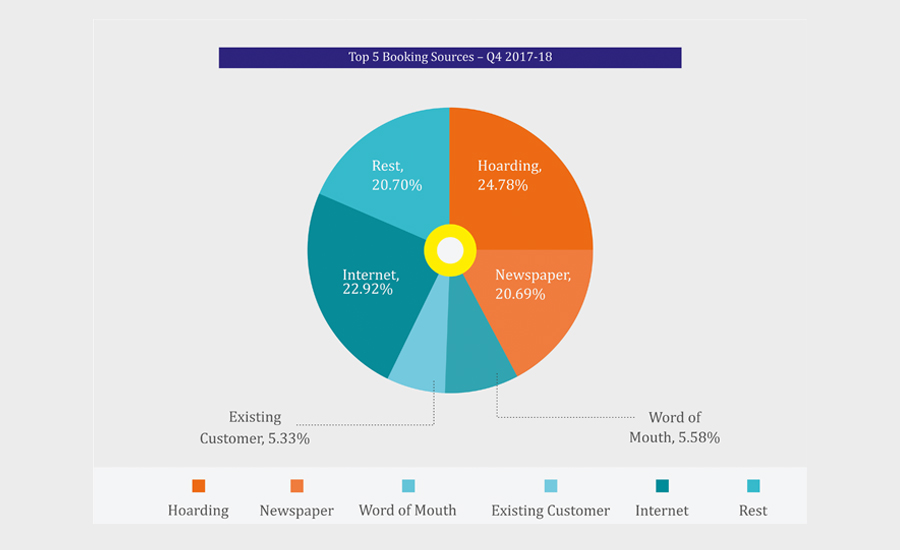 Though the real estate industry hasn't seen a remarkable spike in New Town Rajarhat of late, still further development of this locality is imminent. In addition to many other reasons, the geographic location is also strategic. On one side lies the developed VIP Road along with Airport in the vicinity. On the other, Salt Lake Sector V prospers as the new office hub. Hence, there may be a delay due to multiple factors; however future development cannot be evaded at all.
Moreover, the area already has everything that is required for meeting daily necessities. Whether it's educational institutions, medical facilities, shopping malls, road connectivity, air connectivity, upcoming metro connectivity, you find them all. This can be termed as "a city within a city". Therefore it is imminent that prices of a flat in New Town Rajarhat will see a significant uptrend in the coming days. Buyers will experience improvement in the livability quotient, and early movers will reap the benefits of capital appreciation in due course of time.
Note: While preparing the study, the following things have been considered.
Data of only organized sector has been considered
Only primary sales have been considered
Projects with the price of Rs.4000/sq. ft. and above have only been considered