On a lazy afternoon, Sudeepa, a non-resident Bengali, having made London her home for a decade now, is anxiously waiting for the phone to ring. Rini had promised to come by for a shopping trip to Gariahat.
Shopping is an excuse, (perhaps not), Sudeepa is just impatient to walk down the Rash Behari Avenue sidewalks, hand in hand with her best friend to relive some of the nostalgia of her younger days and to watch the typical chaos unfold on the streets of Gariahat.
Meandering Memories
Walking was such a sublime joy then! Many a memory crowd Sudeepa's mind. Of two young, giggly girls, with oiled hair tied in plaits, devouring phuchkas at the corner stall; of the endless hours at the second-hand bookstalls; of aimless window shopping, bargaining with the street-side hawkers; of that stolen kiss on one of the desolate by-lanes of Hindustan Park. Does he still live in that house? Does the phuchka vendor still run his stall? Does the chhatim tree near the park still turn white in autumn?
Many of those memories that Sudeepa wants to retrace, a lot of what makes up Kolkata's and a Bengali's soul, continue to be alive in the spirit of today's Rash Behari Avenue, glitzy shopping malls and boutique eateries notwithstanding.
Roads that Tell a Bengali Tale
Roads are slices of history that tell tales of yesteryears. History of Kolkata lies hidden in the history of its roads and streets, in the names of numerous lanes and by-lanes that crowd the spatial network of the city.
Rash Behari Avenue, fondly and simply, Gariahat for many people, is one of the three main roads that criss-cross Kolkata from east to west. And, surprisingly what's today one of South Kolkata's upmarket areas didn't have quite a glorious beginning. As history goes, in the early twentieth century, an underground sewerage system was dug in the surrounding fields by the municipal authorities of the city to dispose of human waste into the Hooghly.
A long stretch of the road eventually emerged on the surface and came to be known as Main Sewer Road. The name came to be stuck for a long time even as educated and reputable middle-class professional Bengalis started building homes there. It was on their demand and prolonged insistence that the road came to be named after Rash Behari Ghosh, the famous Bengali lawyer, and philanthropist.
Rash Behari Avenue, in its journey through the stages of history, through the daily living of commonplace Bengali lives by its sides, has come to acquire its distinct identity today; an identity deeply steeped in the quintessential Bengali middle-class milieu. Rash Behari Avenue has witnessed the transition from being a make-shift road above an underground sewer to being a cultural hotbed and one of the poshest residential areas of Kolkata.
Paradigm Shifting, but in Chaotic Waves
If the 20th-century Rash Behari Avenue was all about unabashedly slurping tea from the saucer and leaving the tea-cup to raise a storm in, its 21st-century version speaks of a mute struggle between retaining the area's typical Bengali essence on one hand and accommodating in its fold, the sweeping changes of the modern times, on the other.
This pleasant tree-shaded avenue is home to clusters of reputed aquatic sports clubs, schools, rich apartments, and a couple of old-fashioned much-loved single-plex theatres.  The avenue and its elderly residents, still speak of how the area was the hub of Bengali culture, more accurately, Kolkata culture. Many noted poets and singers had made it their homes. The area is still dotted with reputable cultural institutions giving tuitions in Rabindrasangeet or Bharatnatyam or Manipuri dance; festivals like Dover Lane Music Conference, a thing of the past now (having shifted to Nazrul Manch recently) was the pride of the local residents.
The challenges are many with the demography of the area changing fast. Luxury flats come up in place of old-fashioned sprawling houses. Rash Behari Avenue is no different. But the Bengali middle-class residents, successful professionals in their fields, are trying their best to hold on to the erstwhile "para" culture. An integral part of Bengali ethos, "paras" (localities) are fast vanishing from the city's character.
Durga puja festivals that throng the area are instances when the isolated lifestyle of the modern youth in posh apartments is pushed back by the exuberance of the autumnal festivities and community takes up the front seat. "It is being increasingly difficult to bring everyone together to organise a good Puja! None of the young men want to be at the helm of the show!" rues a senior resident. But the crowd that swarms the streets during Durga Puja speaks of a different story.
So Much More than a Shopping Street: an Unforgettable Experience
Rash Behari Avenue, for the longest time, has been the destination for exquisite and traditional saree shops famous for authentic Bengali cotton and exclusive south silks. Afternoons are less dramatic, but the evenings at Rash Behari Avenue explode with activity. The pavements, home to a flooding crowd of make-shift shops, hawking everything from crockeries, decorative pieces to costume jewellery and other utilities of daily needs, come alive with thronging buyers. They jostle against each other, murmuring "dekhi ektu" (side please!) as they check out the goods that lie on the streets or hang from poles. While prices of these non-brand goodies are kept economical, the hawkers-street is not for those who shy away from bargaining.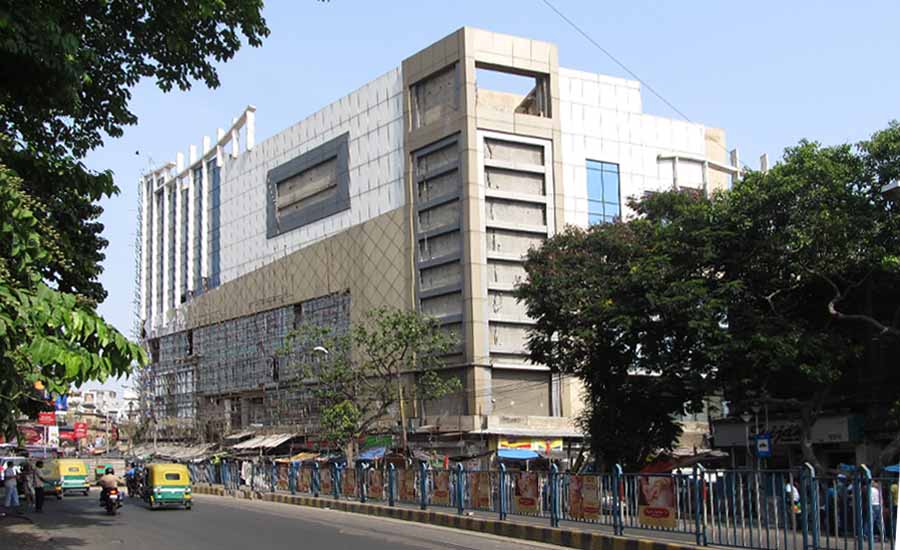 Bargaining is an art here and every Bengali family has a star "bargain-er" who is often towed along on shopping sprees at these Gariahat stalls. With one of the most popular and glitziest shopping malls in eastern India (Lake Shopping Mall) on one end and the old-world charm of Gariahat bazaar, bustling with fresh fish and green produce, standing on the other end, Rash Behari Avenue of today evokes a scene of happy contradiction.
Perfect End to a Never-ending Love Story
As the rumble of a tram, hurtling down Rash Behari Avenue, jolts Sudeepa out of her reverie, the phone rings. Rini is here. A stroll down the avenue lanes, sipping hot cha in maatir bhar and lots of gossips will be a perfect culmination to her never-ending love story with Kolkata and Gariahat.