60-year old Bikash Dutta's Poila Boishakh (Bengali New Year) starts with a sprint to the market as opposed to the leisurely strolls he takes with his bajaar-er bag on other days. There's simply no time to waste today — the fish and meat will be flying off the market at record speed and he needs to get the best stuff before that happens.
Behala resident, Sudhin Banerjee spends the first day of the year at Tarapith temple, offering his prayers to the Goddess. This is a tradition he has been following for many years now.
Vedant Shah, a class 10 student from Bhowanipore looks forward to Poila Boishakh — more aptly, the feasts that come with it — even if he is not a Bengali. "Every year, my bong friends invite me over to their celebrations of Poila Boishakh, and honestly, the food is the main attraction for me", grins the teenager.
But that's not all— Poila Boishakh means a lot of fervour and enthusiasm for Bengali families living outside of Bengal.
65-year old Krishna Lahiri wakes up at the crack of dawn in her Domalguda (Hyderabad) apartment. She has instructed her maid to arrive early and finish the cleaning so she can offer her prayers and seek blessings for her family's well-being in naba barsho. Then, she starts preparing the customary payesh (kheer) and a special breakfast of luchi-alur dom-chholar dal for family and guests. In the evening, the family heads out to enjoy the cultural festivities organised by the Hyderabad Bangalee Samity.
For Delhi resident, Ahona Sinha, the special Poila Boishakh spread is a bit more elaborate. Her husband, Atanu, rushes off to the CR Park fish market in the morning to lay his hands on the best golda chingri (jumbo prawns), the freshest pabda (Indian butterfish) and chitol (clown knife fish), while his trusted butcher gets the best cuts of mutton ready for him. Come evening and Ahona will roll out a lavish spread of Bengali delicacies for guests at the dining table today.
Never a day goes by that London-based architects, Ratul and Subhasree don't talk about Calcutta, their families, neighbourhoods, and all those places where their college love blossomed. So no wonder that Poila Boishakh holds a special place in their heart. The day starts with a gathering of friends joining the duo at their Wembley apartment. Music, poetry, adda is followed by generous helpings of authentic Bengali dishes that Ratul lovingly cooks from an old recipe diary of his grandma.
As a day that holds such significance for the Bengali community, there's an interesting history as to how Poila Boishakh came to be.
The History of Poila Boishakh
According to some historians, the origin of Poila Boishakh dates back to the 15th Century. Chroniclers state that during the Mughal reign of Bengal, the collection of agricultural tax was as per the Islamic calendar. But the Islamic lunar calendar did not match with the harvest time in Bengal, making it difficult for the farmers to pay taxes before gathering in the crops.
To make things easier, Mughal Emperor, Akbar, instructed Fathullah Shiraz, the Royal Astronomer, to design a special harvest calendar that combines the solar Hindu and lunar Islamic calendars. Since then, the people of Bengal follow the new harvest calendar, where the first month of the year is Boishakh. Poila, in Bengali, means first. So Poila Boishakh is the first day of the year's first month.
The Day is All About Culture, Tradition…and Of Course, Food!   
Transcending social, political, and religious influences, Poila Boishakh is a celebration like no other. Observed on the 14th or 15th of April, it is a celebration of people that reflects Bengal's unifying spirit.
In both the Bengals, West as well as East (Bangladesh), Poila Boishakh is a day for good food, new clothes, cultural functions, and traditional fairs.
On Poila Boishakh (also known as the Chaitra Sankranti), many Bengali families in India consider it customary to visit temples. Every year, Kalighat and Dakshineswar temples witness a sea of people offering prayers to Goddess Kali.
It's also a ritual among some families to offer puja to Goddess Laxmi and Lord Ganesha, seeking happiness and prosperity for the coming year.
In many parts of Bengal, men and women in traditional attire participate in early morning processions (Prabhat Pheri) to welcome the first day of the New Year. Cultural programmes, showcasing Bengal's talented artists and performers are the day's main attraction.
Evidently, food is integral to Poila Boishakh celebrations. While elaborate home-cooked meals consisting of traditional Bengali dishes has been the norm, these days, many families prefer to dine out on this special day.
Top restaurants in Kolkata lay out a special menu of irresistible Bengali preparations for Poila Boishakh, such as Mutton Kosha, Shorshe Ilish, Daab Chingri, Bhetki Paturi, accompanied by fragrant basanti polao and fluffy luchi. Not to forget an array of vegetarian delights like Shukto, Mochar Ghonto, Chhanar Dalna, Dhokar Dalna and a variety of unforgettable desserts such as Aam Doi, Chhanar Payesh, and more.
In Bangladesh, the scenario is not too different. Most Bengalis there start their day with a namaz, followed with an enthused exchange of greetings. The meal to share with friends and family on Poila Boishakh is Ilish Maach and Panta Bhat (fermented rice). This simple dish is a show of gratitude to the natural world, especially Mother Earth, who sustains all life.
Dhaka's Mongol Shobhajatra — an event organized by Dhaka University's students and teachers — is a huge attraction for localities as well as tourists. UNESCO, in 2016, declared the vibrant event an "Intangible Cultural Heritage of Humanity".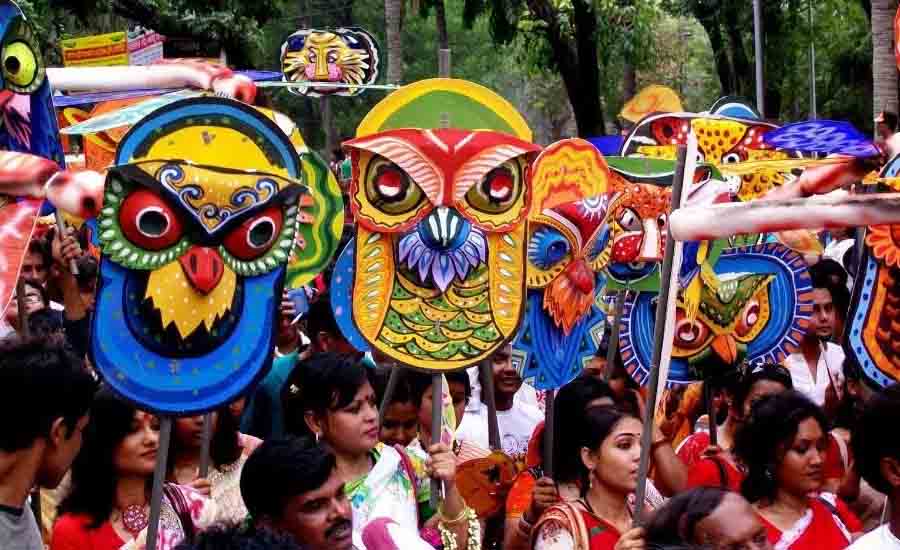 A Busy Time for Businesses
Poila Baisakh might be just one day, but the preparations start ahead of time. The last month of the Bengali calendar (Chaitra) is especially a tremendously busy phase for businessmen and traders. This is when most of them hold end-of-year stock clearance fairs — popularly known as the Chaitra Sale. The heavy discounts offered during this time attracts massive crowds in popular Chaitra Sale destinations in the city such as Gariahat, New Market, and Hatibagan.
Poila Boishakh is significant for businessmen in terms of Halkhata (or opening of a new ledger). Traders consider this an auspicious day to start new accounting books. Priests chant Mantras of prosperity and draw a Hindu Swastika on new accounting books, marking the beginning of new businesses in the new year.
During this time, publishing the Panjika (Bengali almanac) is a big business, with dozens of publishing houses competing with each other for their share of the Panjika. Nearly every Bengali household gets a new almanac for the new year.
Tollywood — the hub of Bengali film industry — also celebrates Poila Boishakh in a grand way. On this day, most Bengali film producers perform the Mahurat (inauguration ceremony of a film) and pray for the success of their films. Kolkata's Tollygunge studio area, on Poila Boishakh, becomes a place of vibrant colours, with directors, producers, technicians, and film stars showing off snazzy fashion trends.
Sports, especially football — one of Bengal's biggest craze — is not untouched by the grandeur of this day. All football clubs in Kolkata, including the titans of Indian football, East Bengal and Mohun Bagan, perform the Bhoomi Puja on Poila Boishakh. Players from each club gather in their respective grounds to start the practice session for the new season. Bhoomi Puja is a gala event, attended by fans, members, and well-known players of earlier times.
Poila Boishakh Goes Global
Not just across India and Bangladesh, the Bengali diaspora across the world observes Poila Boishakh with great fanfare.
Last year, in Tokyo, Japan, locals, and Bengali expats gathered to celebrate the 19th Bangladeshi Boishakhi Mela and Curry Festival in Tokyo's Ikebukuro Nishiguchi Park. The event, exhibiting Bengali traditions and food, attracted around 12000 people.
Brooklyn, New York, also celebrated Poila Boishakh with great pomp and splendour. Hundreds of people, sporting colourful masks, walked the streets of Brooklyn in a morning procession that also featured an all-female drumline. Here's a glimpse of Brooklyn's 2018 Poila Boishakh celebrations.
The Tower Hamlets Boishakhi Mela in London, UK, is the biggest Bengali festival outside the Indian subcontinent. In 2018, over 40,000 people attended the Tower Hamlets Boishakhi Mela, which included colourful processions, cultural programs, and loads of fun activities.
The Sydney Boishakhi Mela began as a small-scale cultural event, but now it is a grand affair. The Boishakhi festival, which includes theatrical performances, live entertainment, and lavish fireworks, attracts over 20,000 people. Check out this epic promo video of the Sydney Boishakhi Mela.
Evidently, Poila Boishakh is a revisit to the roots and the rich culture and heritage that Bengalis, no matter where they are, keep close to their heart.