The mercury dipped just in time to set the perfect mood for Christmas in Kolkata. No other city in the country celebrates Christmas like the City of Joy does and in fact, it's something that the likes of award-winning author Amit Chaudhuri believe is "better than even the London Christmas"!
A vibrant phenomenon in Kolkata's multicultural fabric, Christmas has been one of Kolkata's prime indulgences since long. And, the place that takes centre stage in the celebrations is Park Street, which dons a carnival-like atmosphere.
The Street that Never Sleeps
Though it's always throbbing with life, Park Street – which for some is an interesting blend of New York's Times Square and London's Oxford Street – oozes even more festivities all December long. The glowing lights, the murals telling Christmas stories, the foot-tapping live music, pavements lined with rows of fake Christmas trees, and the crowds with their red Santa or reindeer antler caps — it all adds to the magic.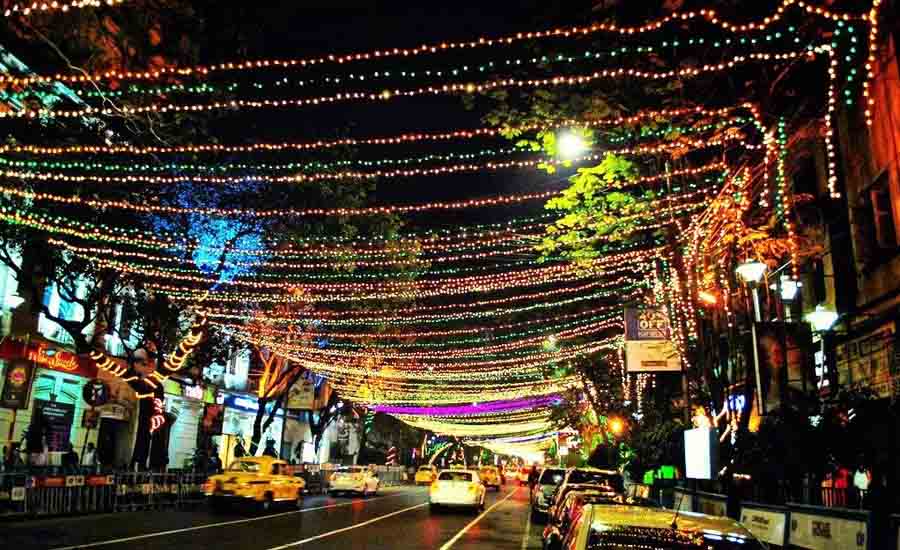 Until the late 1960s, the Christmas festivities on Park Street were carried on predominantly by Kolkata's large Anglo-Indian population. But now, it's a festival celebrated by all, regardless of religion or class. In many ways, just like Durga Puja, Christmas in Kolkata has transcended beyond religion to become a part of the city's soul. Even the elements associated with Christmas — such as the Midnight Masses at the city's cathedrals, singing carols, nightlong parties — have been embraced in a way that has led to the secularisation of the festival.
Gastronomic Delights
Food is an essential part of Christmas traditions across the world. And, Christmas in Kolkata is not an exception. Thanks to its impressive culture around food, the city offers great gastronomic experience during this time of the year.
All the popular restaurants at Party Street deck up and give their frontages a festive look. Delicacies like turkey, duck, and chicken roasts, mulled wine, and desserts make their presence in Christmas special menus and buffets.
As the evening falls, carols from the nearby Allen Park fill the air and the delectable aromas from the many restaurants and food stalls set up on the pavements wafting through the streets.
However, if you wish to sample a taste of Kolkata's Christmas specialties, it's best to line up early or book a table because be warned  — people come in hordes to eat at the restaurants, braving the serpentine queues. And, while you're at it, make sure not to miss the and warm mulled wine at Trincas and Oly Pub, and lavish Christmas platter with roast duck, turkey, and pies at heritage restaurants like Moulin Rouge.
And, when we're on the subject of Christmas, can cakes be far away?
The several bakeries outside New Market are at their busiest at this time of the year. Orders pour in and the shops sell out their cakes at blazing speed. One of the most revered makers of cake in the city is Nahoum's, a Jewish bakery dating back to 1902. Their rich fruit cake and plum cakes are a big hit during Christmas, while a variety of puffs, pastries, puffs, and fudge — everything crafted from old family recipes — are in great demand.
For some people, Christmas is not Christmas without the cakes and baked goods from Flury's, the iconic restaurant on Park Street. Their signature fruit, plum, and Dundee cakes, as well as yule logs, are some of the bestsellers.
While these are some of the most popular food options, there are some authentic Anglo-Indian fares — all good things that come to those that seek. And, if you do, it will take you to the narrow lane sandwiched between Hare Street and Bow Bazar Police Station. It's called Bow Barracks.
The Taste of Anglo India at Bow Barracks
Bow Barracks — the official homes of the Anglo-Indian population in Kolkata — is made of rows of old red brick housing estates. All throughout the Christmas week, the residents of this place set up stalls selling traditional food like vindaloo, cutlets, rose cookies, and of course, cakes. One of the most sought-after Christmas specialties that you get here is authentic home-made wines. They come in different flavours like ginger wine, grape, plum, and raisins and prepared using family recipes. Also, a must-visit is J N Barua, a cake shop dating back to the British days, which sells mouth-watering cakes and cookies.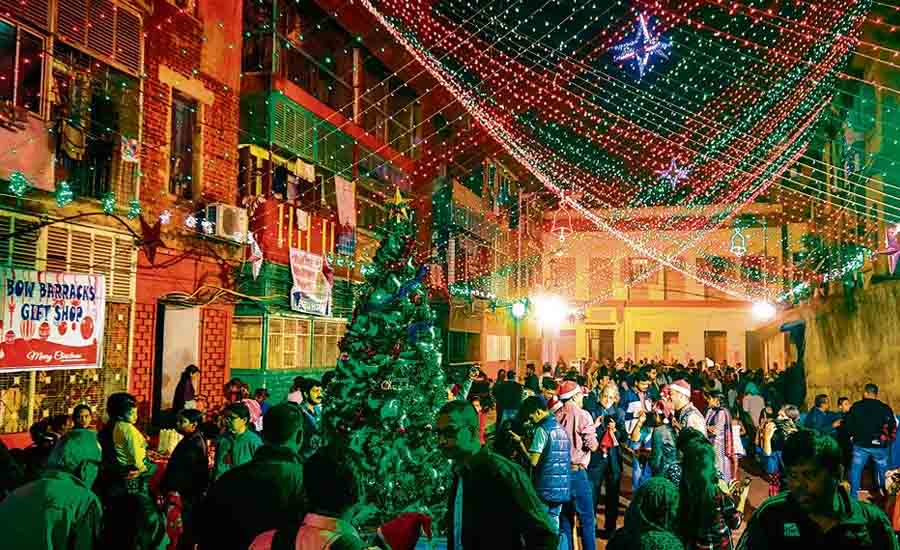 Amidst the strings of lights, open-air live music, singing and dancing, and Christmas balls, Bow Barracks is the place to be is you wish to feel Kolkata's Christmas in its truest sense.
Time to Make Merry
Christmas in the City of Joy is never a bore because you can have fun here in umpteen different ways. You could join the crowd on Park Street, or take a walk to St.Paul's Cathedral and attend the midnight mass and sway to the lilting choirs and carols. You could hop into various cake shops to sample tasty bites or line up for a lavish Christmas meal in one of Park Street's heritage restaurants. You could head to Bow Barracks and be a part of the age-old Anglo Indian Christmas celebrations, or if contemporary is your style, you could get into any of the city's clubs and pubs throwing jazzy Christmas parties.
If that's not the best part of Kolkata's Christmas, then the string of year-end festivities that follow certainly is. This is the time when the city hosts a wide range of events — be it fairs, exhibitions or food festivals.
So, come Christmas and it's time for a special extravaganza in the city that extends till well after the New Year eve and often throughout the winter. This is what makes Christmas one of the most awaited celebrations for Kolkatans — a time to feel joy and cheer!