Mahalaya has just past and the countdown for Bengali's biggest celebration of the year, Durga Puja, has already started.
Only it's much more than just a celebration; it's a gamut of intense emotions that transcends age, border, and boundaries. Remember the Tree of Souls in the movie Avatar that allowed all of the Na'vi to unite as one? Well, that's something like what Durga Puja does — it ties together nearly every Bengali living on the Planet. During these 4-5 days, they experience a wave of euphoria that goes beyond customs, rituals, reasoning, and logic.
Take the case of Sunayana Ganguly. The architect at a Chicago-based agency is in her 40s and left Kolkata a couple of decades ago. But as they say, you can take a Bengali out of Bengal, but not Bengal out of a Bengali. She is one of the organizers of a Durga Pujo near her apartment in Downtown Chicago and simply cannot imagine spending this time of the year without partaking in pushpanjali, bhog, and other Pujo shenanigans.
For Sunayana, Durga Puja is certainly special, but it is also a part of her identity, as much as it is for Bengalis across the globe. Her Mahalaya morning begins with the faint strains of 'Mahishasura Mardini' recited in Birendra Krishna Bhadra's propitious voice. And, this experience is something that defines perhaps every Bengali's Mahalaya morning.
Now, one may ask: Does every generation of Bengalis celebrate 'pujo' (like Durga Puja it's fondly called) in just the same way? Of course, not. Every generation has its own perception of pujo and their own special ways of celebrating, shaped up by the social, economic, and political environment they have grown up in. But even then, certain things don't change. Take, for instance, the "pujo pujo gondho" — no matter the generation, it's something a Bengali will always experience.
What is the 'Pujo Pujo Gondho'?
While the literal meaning of the phrase can be loosely translated to 'the fragrance of Puja in the air,' the actual meaning is loaded with imageries, memories, senses, and feelings associated with Durga Puja. Interestingly, when you utter these words, the montage that conjures up before a Bengali — irrespective of their age — would more or less be the same. The sweet smell of Shiuli flowers, the view of 'kaash phul' dancing in the autumn breeze, the cotton-like clouds floating in the Autumn sky, the idols of Maa Durga and her kids taking shape at kumortuli, shopping for 'notun jama' (new clothes), the rhythmic beats of the dhaak…and so on.
Essentially, Durga Puja is what every Bengali grows up and grows old with. The Bengalis' excitement around Pujo has remained unfazed through eons, but how they celebrate it has gone through some changes through the years.
Durga Puja Celebrations, Memories, and Nostalgia
Ask Manicktala resident, Kalyani Banerjee about her Durga puja experience and her childhood memories would flare up in front of her eyes. Her sweetest Pujo memories revolve around 'notun jama' — the new clothes she got from her parents and relatives as a child, and how her cousins, school friends, and neighbours would compete in terms of the number of clothes they got, always inflating the number to make others jealous. "Nowadays, youngsters are shopping all around the year. I don't know if Pujo shopping feels any different to them," wonders the 45-year-old school teacher.
Living in Bangalore, 38-year-old financial analyst, Saikat Bhaduri, reminisces his childhood days in suburban Kolkata. For him, Durga Puja is the time he misses his city the most. "The arrival of the long-awaited 'pujo shopping day' was almost a pre-Puja celebration for us cousins," he recollects. "We would take a train to Kolkata and then, a taxi to New Market. Hopping from shop to shop and buying clothes and shoes, the 'pleasantly hectic' day would end with Nizam's chicken roll and cold drinks." Sharing his current Durga Puja routine, he says "We mostly visit the puja pandals at various Bengali associations in the city. Though it doesn't match up to the experiences we used to have back home, the bhog and food we get here is really good".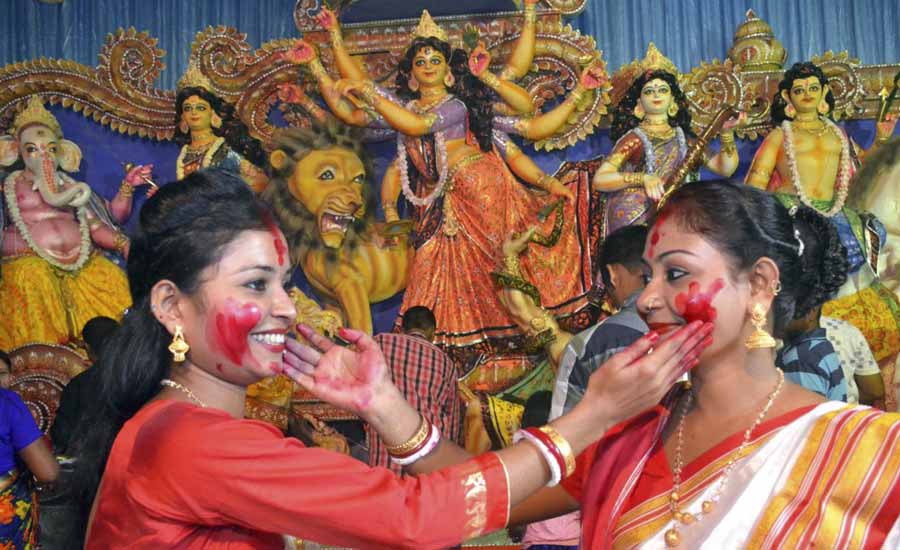 Jatin Guha, a professor in a Kolkata college believes Durga Puja is getting bigger, but only in size and opulence. What strikes the 55-years old the most is, how the nature of Pujo, not just in Kolkata but other parts of India too, has changed. "It has become more of a showcase, with themes, big-budget sponsorships, star inaugurations and expensive stalls set up inside the pandal campuses," he says. Recently, he was flabbergasted to read that the Durga Puja economy is worth Rs 1 lakh crore!
He's not entirely wrong. With globalization, Pujo celebrations started exhibiting a blend of capitalist values coupled with a display of cultural pride. And these aspects are reflected in the ways the younger generations celebrate the festival.
Gen Y's Puja Trends: Colourful but Contrasting
Born the 90s, 28-year-old Satwik is certainly part of Generation Y. For Satwik, adda during the days of Puja takes centre stage because Durga Pujo, for people of his age, means catching up with friends who live outside Bengal and make an effort to return to home at this time of the year. During Durga Puja, Satwik, just like his peers, meets up with friends, has night-long pandal-hopping sessions, and heads to restaurants and street-side stalls, gorging on all kinds of delicacies the city has to offer.
Satwik's way of experiencing pujo is decidedly very different from that of his next-door neighbours, Mr. and Mrs. Mitra. The couple have often regaled them with their Puja tales of yesteryears — how as children they would take part in rituals, how they would compete at picking shiuli flower from the garden, how everyone got their Pujo clothes sewn from a local tailor, and how Pujo special food meant bhog and Bengali traditional meals made by their mothers. Dining out wasn't even a thought.
In fact, Satwik remembers how during last year's Durga Puja at their apartment complex, Mrs. Mitra, a fiery Bangal pointed out that the two asuras — "Every year the idol of asura gets bigger and more muscular and this year, they've got two of them. What's the point? Maa Durga seems to fade in comparison!"  Mr. Mitra joked, "It's the effect of global warming and pollution, you see. Hence, two asuras. But Maa Durga can fight them off. No worries."
Gen Z's style of Durga Puja: It's All About Social Media and Technology
For a 1st-year college student, Ahona, Mahalaya mornings kick off the "war of notifications" that will go on over the next 4-5 days. Apart from photos of her friends from school and college on the WhatsApp group, most of the photos and videos come from her cousin, Priyanka.
17-year-old Priyanka is a social media savvy teenager for whom Pujo is incomplete without posting a series of selfies and live videos on Facebook and Snapchat. She religiously captures every moment in her Instagram stories and 'vlogs' her Pujo experiences — everything from pandal hopping to street food hogging — on her YouTube channel. Young people of Generation Z, such as Priyanka, are simply unaware of the time when the Internet, social networks, and smartphones did not exist.
Living in a digital environment, Gen Z young-adults like 20-year-old, Siddharth Sharma are the ones who push Pujo organizer Kaku to build a website or a mobile app for their para's Durga Pujo. They actively promote their Pujo on Facebook, Instagram, and YouTube, taking potshots at each other, arguing to establish that their Puja Pandal's theme is the best in the city.
Under the influence of Internet celebrities, Durga Pujo's fashion choice of generation Z is focused on gender fluidity. Their fashion preferences are dominated by graphic shirts, colourful sunglasses, sporty casuals, and street-wear. Though, traditional sarees and kurtas with a trendy twist are quite in vogue too!
Differences Exist but the Spirit Hasn't Been Lost
Durga Puja has developed from traditional to digital, and concepts and trends have changed over the generations, but it would be preposterous to trash or dismiss the new ways. For example, one of the most welcome changes recently has been the launch of various mobile apps to assist pandal hoppers and to help people enjoy a safer Puja — all in the spirit of positivity and inclusiveness that Durga Puja stands to represent.
While the exhibitionism may have taken over certain aspects of Pujo, its cultural significance and what it means to every Bengali has largely remained the same. The excitement, emotions, feelings, and sentiments that Bengalis — irrespective of their generation — display during this time of the year says it all!