Retired school teacher, Mala Roy enjoyed feeding flocks of sparrows and mynahs on the terrace of her Chetla home before it was turned into an apartment. Now she doesn't get to spend much time with her winged friends. "The mess of bird feed upset some of my neighbours, so they complained to the president of our flat owners' association. Since then, I don't feed them here. But I do it sometimes when I go out to take a walk."
"I remember our terrace used to always be the grazing ground for birds", reminisces the 62-year old bird lover. "Sometimes an occasional oriole, sterling, or barbet would swoop down and it would be fun to watch them. There aren't as many birds in Kolkata these days as it used to be."
She isn't wrong. Many ornithologists believe that the biodiversity-rich city of Kolkata once had around 350 bird species. The figure kept plummeting over the years because of massive urbanization. Today, people can rarely see birds like Rufous Woodpecker, Marshall's Iora, Paradise Fly Catcher, Brown Crake, Blue-eared Kingfisher, Ring Dove, Pigmy Woodpecker, Spotted Duck, and Chestnut Bittern.
The director of Kolkata's Alipore Zoo, Asish Kumar Samanta also agrees that there has been a considerable fall in the number of migratory birds that the Kolkata zoo was famous for. A sharp rise in air pollution is the main reason birds are no longer coming to Kolkata. Birds of migration have also stopped frequenting the Rabindra Sarobar and Santragachi Lake, Samanta says. Unrestrained garbage dumping in Santragachi Lake and Rabindra Sarobar is worsening the quality of water, making the lakes unfit for migratory birds.
While it may not seem like a matter of grave concern, our detachment from the birds of Kolkata can have deeper consequences.
Bird Song is More than What Meets the Ears
The melody of birdsong fills the hallways of Alder Hey Children's Hospital in Liverpool. Award-winning sound recordist, Chris Watson recorded the morning chorus from a local park with an intent to de-stress young patients when they are receiving injections or undergoing surgery. Doctors at Alder Hey agree that Watson's morning chorus, called "Wild Song at Dawn", provides a therapeutic experience for young patients.
Europe's busiest and largest children's hospital is not the only place where birdsong sounds are being used to uplift the mood of people. Birdsong recordings are also being used in transport hubs, where anxiety and noise levels are high. For instance, the Schiphol Airport in Amsterdam uses birdsong in their lounge so that flyers can relax before boarding their flights.
The airport was recently voted third best at the World Airport Awards. According to airport officials, playing birdsong through speakers concealed in real trees, helped Schiphol Airport to secure a good or excellent rating from almost 95% of its passengers.
The 'birdsong experiment' was also carried out at a primary school in Liverpool after the lunch break, when students usually feel drowsy. Results revealed in the experiment showed that the birdsong soundscape helped students to concentrate and be alert after they had their lunch break.
While the sounds of random conversations and traffic noises make it difficult to concentrate, birdsong makes it easier. Experts believe that natural sounds, such as songs of birds, not only help people to relax physically, but it also energizes them cognitively. This means that the mind stays alert, even when the body experiences a deeply relaxing state.
Birdsong makes people feel relaxed and reassured because humans, over thousands of years, have learned that they are safe when the bird sings. People need to worry when birds stop singing, says sound expert Julian Treasure. Julian recommends everyone to listen to birdsong recordings every day, for at least a few minutes, to fight depression, anxiety, and low moods. Even better, if people can go out and get a feel for the real thing, she states.
A 2014 study links positive values with the sounds of birds in an urban setting. According to the report, most residents prefer and appreciate urban centres, where one can hear birdsong. Therefore, urban planners should think about designing more green spaces for hosting and preserving diverse bird habitats to offer city residents a recreational experience.
The Reason for the Decline
The increasing density of the human population is a worldwide concern these days, especially for conserving biodiversity. Ever-decreasing green spaces because of rapid urbanization are ruining the biodiversity of urban dwellings, and Kolkata is no different. The city's expanding infrastructure is continuously adding a variety of pollutants in its soil, air, and water, adversely affecting the survival of many species of birds of Kolkata.
Kolkata's poor air quality index is affecting both nestlings and adult birds. Sometimes the impact is sex-specific, as some female birds are more vulnerable to air pollution than their male counterparts. Besides air pollutants, excessive human interference, sound pollution, and metal poisoning are significant contributors responsible for the declining survival rate of many birds of Kolkata.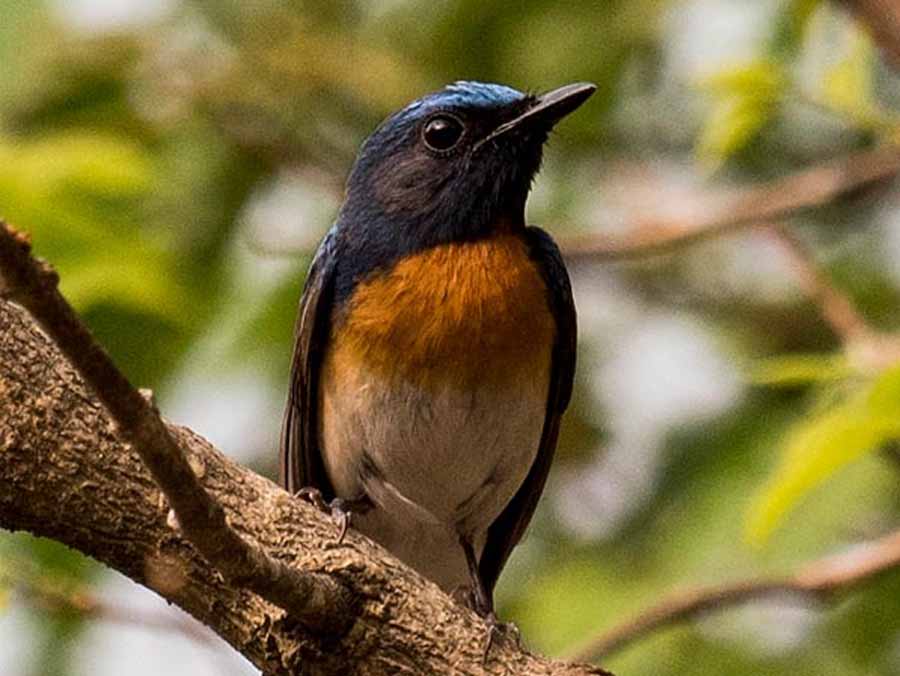 Adding insult to the injury is the illegal trade of birds. Here, in Kolkata, illegal sale of birds is common in certain markets like Galiff Street in the north of the city, Moulali in central, and Boral market in the south). This is also responsible for bringing down the population of many rare bird species.
Still, There is Hope for the Birds of Kolkata
Although many birds of Kolkata have vanished in recent times, the city still nests in fascinating varieties in its parks, water bodies, and wetlands. Rare birds like Brown Shrike, Kestrel, and Long-legged Buzzard are being frequently spotted in areas like Rajarhat-New Town. Bird watchers also recorded sightings of the Indian Spotted Eagle and Red-necked Falcon, which, according to them, is an unusual sight in Kolkata. A nature enthusiast even spotted a Woolly-Necked Stork in the grasslands near the Mother's Wax Museum. The 15-acre natural lake in HIDCO's Eco-Urban Village is also registering a constant flow of visitors.
The People's Green Society surveyed the city's well-known parks and identified 56 bird species flocking to green spaces like Tallah Park and Deshapriya Park. The NGO, working on environmental issues, also conducted a survey of Kolkata's water bodies and found 30 varieties of birds. Some tree birds and waterbirds spotted by the NGO include the White-breasted Kingfisher, Teal, Heron, Honey Sucker, Sparrow, Flycatcher, Tailor Bird, Woodpecker, Bulbul, Pigeon, Pied Mynah, Parrot, Magpie Robin, Egret, and Drongo.
The People's Green Society submitted their survey report to the Kolkata Municipal Corporation and the state forest minister on Forest Day.
It is the Responsibility of Both the Government and Citizens to Save the Birds of Kolkata
Community-based initiatives, planned reforestation, and restoration of green spaces can help increase the city's bird count. Setting up of bird kitchens at various parks will also improve the bird population in Kolkata. Bird kitchens will bring in more birds to the city, and preserve the current population, as birds won't have to visit other places for food. In addition, concerned authorities should make use of vacant lands and turn them into bird habitats.
If the government and citizens come together to take these steps, it is likely to boost the city's much-needed bird population.