40-year-old banker, Mohan Amte has lived in Hyderabad all his life but doesn't remember any fear of a water crisis in the city even a decade back. "Back then, there was ample bore-well and piped water to meet the needs of our family and other households in our neighbourhood", recalls the resident of Srinivasa Colony. "But now, we have to mostly rely on water from tankers for our daily needs. This is costing us a lot."
That's the story you'd hear from most Hyderabad residents. As Amte pointed out, there wasn't any major water shortage in the city before but things are changing fast and the dread of a water crisis is palpably real.
The monsoon deficit for Telengana stands at -29% presently and if the rains play truant further then according to a report fielded by a national daily, Hyderabad could be staring at a water scarcity akin to the Chennai water crisis. However, the Hyderabad Metropolitan Water Supply and Sewerage Board (HMWSSB) officials reassure that though reservoir levels have dropped, if like last year the state receives its adequate share of rainfall in the months of August and September there will be no cause for worry.
So, is the danger clear or is the clock really ticking on Hyderabad's water crisis? In any case, after the Chennai wake-up call, the fact that we do need to save water is crystal clear and some ground facts should spur us to become water crusaders like many responsible citizens of the city.
The Ground Facts of Hyderabad's Groundwater
In Chennai, hospitals are desperately relying on the unobstructed supply of water tanks for continuing treatment. TN Ravishankar, Chairman of Sudar Hospitals in Chennai, agrees that the costs are offloaded to patients but without a long-term solution, the water crisis could worsen. The government is getting water by trains but it is reserved for drinking and not hospitals. Chennai was among the Yeri (lake) districts but rampant neglect and wanton disregard of its water bodies have caused the disappearance of 150 water bodies along with canals and supply routes.
Similarly, Hyderabad has about 1500 of 3000 lakes left, while only 185 remain under the Greater Hyderabad Municipal Corporation. Most of them have fallen prey to encroachments, weeding and domestic waste problems leading to the extinction of water bodies. These natural water bodies are an important part of the cycle of replenishing groundwater levels. The four main reservoirs that supply water to Hyderabad and surrounding areas are Nagarjuna Sagar, Sriveda Yellampally, Osmansagar, and Himayatsagar. While, the Manjeera and Singur reservoirs, which once were used for water supply are now used as cattle grazing beds.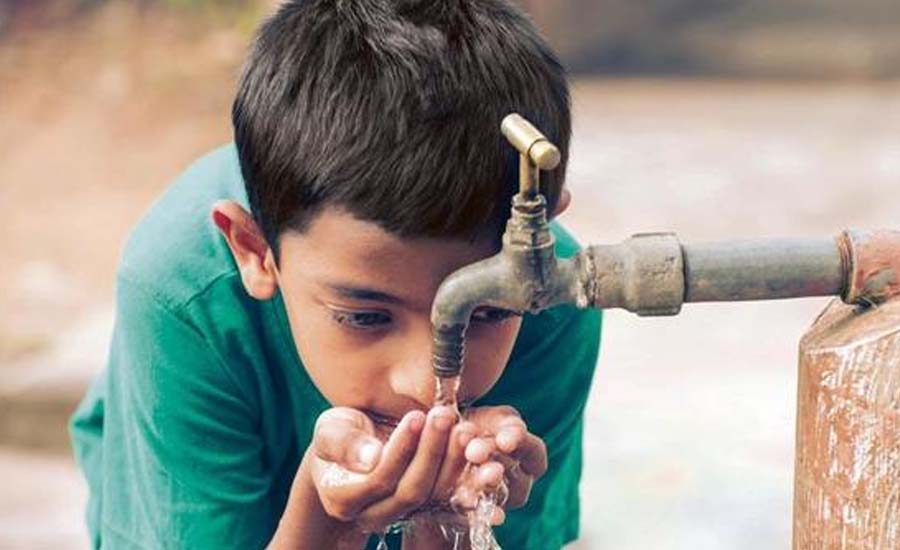 The precariousness of the water situation can be gauged by the fact that Nagarjuna Sagar reservoir has a dead storage level at 510 ft but presently the level is already at 507 ft with continuous pumping of water from it. In the deficient monsoon, the Yelampally reservoir is only seeing an inflow of 472 cubic feet per second (cusecs) while the outflow volume is greater at 587 cusecs. The ground situation is truly alarming and it is time concrete steps are taken.
Saving Water in Homes and Offices
In Chennai, residential apartments are receiving a rationed supply, offices are encouraging employees to work from home, and malls are asking water-intensive outlets to either tighten the belt or shut shop, it is that bad—all these to tide over the water crisis with a view to limited consumption of water. These are some of the places where we as responsible citizens can make a difference. Tollywood actress Samantha Akkineni had issued a Twitter challenge in view of the worsening water crisis. It was to use a single bucket of water throughout the day for all purposes on July 21 which was a day prior to the World Water Day that falls on July 22.
Here are some tips to cut on water consumption at home:
Reuse the water used in cleaning vegetables and fruits to water gardens.
Collect the water run-off from RO filters and ACs to reuse in cleaning utensils, mopping floors, vehicle cleaning, etc.
Avoid showers and use buckets to limit as well as to keep track of water usage.
Do not run washing machines unless they are fully loaded.
Install water-saving nozzles in all outlets at home.
Install rainwater harvesting units, however simple, in your premises like roof, balconies, under run-off pipes, etc.
Check for water leakages in indoor plumbing
Abdul Mujeeb is a resident of Sainikpuri and actively practices rainwater harvesting. He stores up to three buckets of water simply by putting them out on his terrace and yet saves up on household usage. The Telangana state's mandatory move to construct rainwater harvesting and conservation units in all residential complexes with more than 200 sq. mt of the plot area is a welcome one for Mujeeb. The HMWSSB is offering training guidelines to all interested RWAs and also pursuing awareness campaigns with zeal.
In offices, remind yourself to:
Install low-flow toilets,
Sweep instead of mopping every day,
Carry your own drinking water,
If there is a landscape that needs watering, do so in the mornings when cooler temperatures ensure ground seepage rather than evaporation.
Recharging the Water Levels
Many areas such as Hyderguda and other outlying fringe areas experience water shortage on a year-round basis, while areas such as Ameerpet, Srinivasa Colony, SR Nagar, etc. have seasonal water crisis situations when bore wells dry up. The reason behind both these problems is the rapidly diminishing water level that has caused an upsurge in the monthly water expenditure for the citizens in these areas. While HMWSSB charges Rs 500 per tanker, a resident in Beeramguda pays anything from  Rs 800 to Rs 1,000 to private players for supplying water every day.
Reusing and recycling water are important in conservation, but another vital part is replenishing the groundwater levels by recharging the natural water table. Water should be sent back to the ground rather than letting them flow off to the drain. And, the best way to do this on an individual level is through recharge pits. It helps rainwater to percolate underground and can be fitted with minimum real estate and labour charges. All run-offs can be directed towards this pit and aid in recharging.
Water Conservation Warriors
Kalpana Ramesh first questioned the norm of using tankers, and then she started conserving on a household level, cut to the present and she is a Go Green activist with various awareness campaigns, lake cleaning drives, etc. under her belt. She started with rainwater harvesting, recharging pits and then moved on to grey water (resultant flow from basins, showers, and sinks) filtration. Soon, she encouraged whole communities to practice rainwater harvesting and consumption to finally give up the dependence on tankers.
Subash Reddy and his commitment to water resource conservation made him give up his job to set up Smaran. He focuses on economical rainwater harvesting structures that take into account local specifications and terrain with a focus on poor and rural communities who sustain themselves on resource-based livelihood. Smaran fills the gap between awareness and implementation by expert customization.
Earth Fokus, the brainchild of two engineering graduates, Arun and Roshan, has come up with brass nozzles that cut down water wastage by almost 95%. These nozzles work on the atomization principle to turn the water into a mist-like spray that can save up to 35 litres per day.
A water crisis, therefore, is not something that should immobilize us or break our spirit. Of course, the situation is alarming but it is also a tipping point where we can take steps to turn around the situation. As evident from the examples of water crusaders, change is only a step away. If each and every one of us resolve to do our own bit, conserve however minimum we can, the tide can be turned.
Citizen participation is essential for every single change, be it rainwater collection from individual roofs or maintaining of water bodies. Thus, we need to make ourselves responsible for every drop of water we use and save every drop we don't.