It's a great time to be a homeowner. The current home loan rate is at its lowest standing at 7.90%. With a loan value amounting to Rs 30 lakh, this low interest rate for the affordable housing segment makes buying houses more financially logical rather than renting.
The trends of the housing market in Kolkata from the second half of 2019 support this fact with actual data.
This is the Best Time for Homebuyers in Kolkata
A lot of people are grabbing this opportunity as most of the supply was recorded in the Rs 41-50 lakh price range in areas with the highest demand. These areas are:
Rajarhat-Newtown where 2BHK units ruled;
Joka-DH Road the share was — 2BHK units at 38%.
Jessore Road (Dumdum Nagerbazar & Doltala) where 2BHK units had a supply share of almost 51%.
Joka-DH Road: the share of 3BHK units was at 26%;
Manikpur-Southern Bypass where the supply of 3BHK units was the most;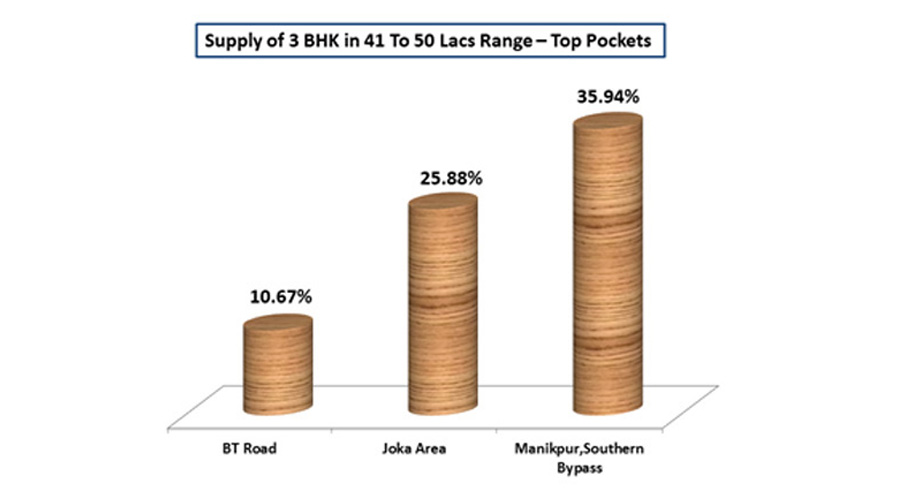 The Ramchandrapur-Southern Bypass area, however, clocked more options in the Rs 21-30 lakh price range. Here, almost 71% 3BHK units were supplied compared to 51% 2BHK units. Finally, BT Road area registered the highest supply in the Rs 61-70 lakh price range comprising 3BHK units.
The 2 pockets with the major supply of 3 BHK units but with a contrasting price range.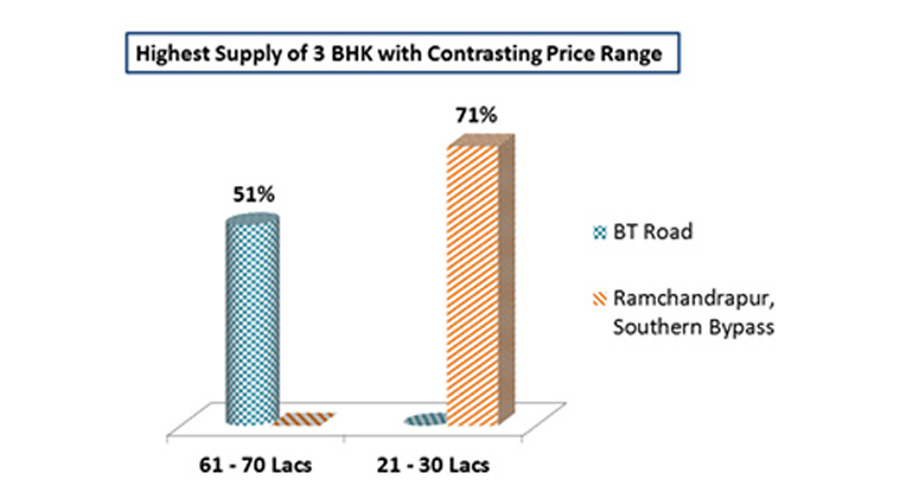 Pocket-wise Joka, DH Road and vicinity have got the highest demand with 39%. Apart from the above, areas near Kamalgazi-Greenland, Madhyamgram, Barrackpore, and New Alipore also received many inquiries from potential homebuyers.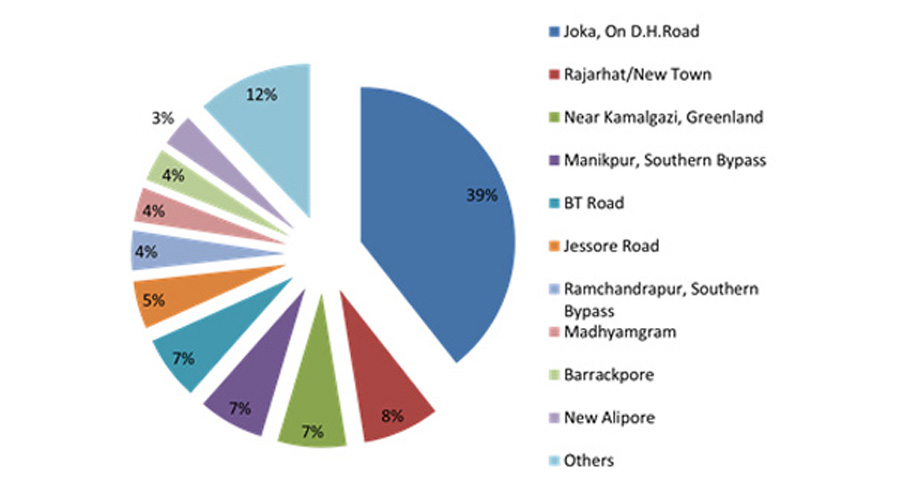 What is the Demand Constitution?
All over Kolkata, property market trends show that the demand is the highest for 2BHK homes with 47% and the 3 BHK just behind with 44%. The slim parts of the pie chart are held up by 1BHK homes at 7% and 4BHK homes constitute just 2% of the demand. This data amply clarifies how the affordable housing segment is driving the demand complemented by lucrative government schemes.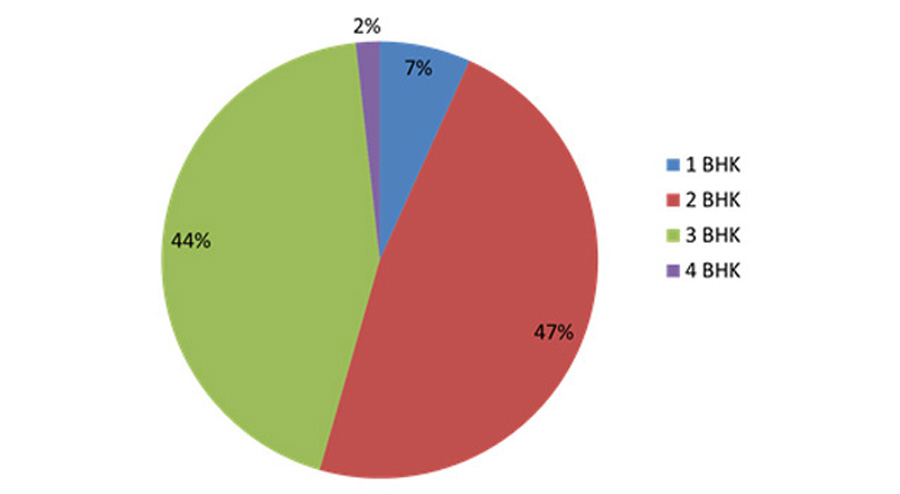 The Pradhan Mantri Awas Yojana or PMAY-CLSS offers substantial loan subsidy making EMIs lower. Beneficiaries in the LIG and EWS category are eligible for a maximum interest subsidy of 6.5% on a maximum loan amount of Rs 6 lakh over a period of 20 years. This interest subsidy amounts to a maximum of Rs 2,67 lakh for each beneficiary in LIG, EWS categories. The scheme offers a 4% interest subsidy on home loans of Rs 9 lakh for a 20-year tenure, to MIG 1 beneficiaries with an annual income ranging from Rs 6 lakh to Rs 12 lakh. MIG 2 homebuyers, having an annual income of Rs 12 lakh to Rs 18 lakh, will get an interest subsidy of 3 percent for the same loan component and tenure. This interest subsidy amounts to a maximum of Rs 2.35 lakh for each beneficiary in MIG categories.
In addition to this, the GST rate for the affordable home segment has been lowered to 1% compared to 5% GST attached to high-value projects. Combined with the fact that various tax deduction eligibilities can be claimed under section 80C, 80EEA and 24(b) of the Income Tax Act.
Under Section 80C, the principal amount to be repaid on a home loan is eligible for a deduction of Rs 1.5 lakh. The maximum deduction under Section 80C is capped at Rs 1.5 lakh. Expenses such as registration charges, stamp duty, and expenses for property transfer, etc. which are directly related to the transfer are also allowed as a deduction under Section 80C.
Section 24B offers a deduction on home loan interest payment, which can amount to up to Rs 2 lakh, and along with Section 80C benefits, the combined benefit is Rs 3.5 lakh.
Moreover, first-time homebuyers of affordable homes can avail of an additional maximum tax deduction of up to Rs 1,50, 000 on their home loan interest under Section 80EEA.  This deduction is over and above the deduction of Rs 2 lakh for interest payments available under Section 24 of the Income Tax Act. However, in this case, there are certain conditions.
Consequently, the market trends show that budget-wise, properties ranging in Rs 31-40 lakh and Rs 41-50 lakh have the highest demand with 21% and 22% share respectively. The properties in Kolkata which are in the budget range of Rs 21-30 lakh have a 19% share of the demand for units while those in the range of Rs 11-20 lakh account for 12% share. Properties in the budget range of Rs 51-70 lakh have only 8% of the demand share while those higher than Rs 71 lakh and above i.e. up to Rs 2 crore recorded demands at 4%-2% only.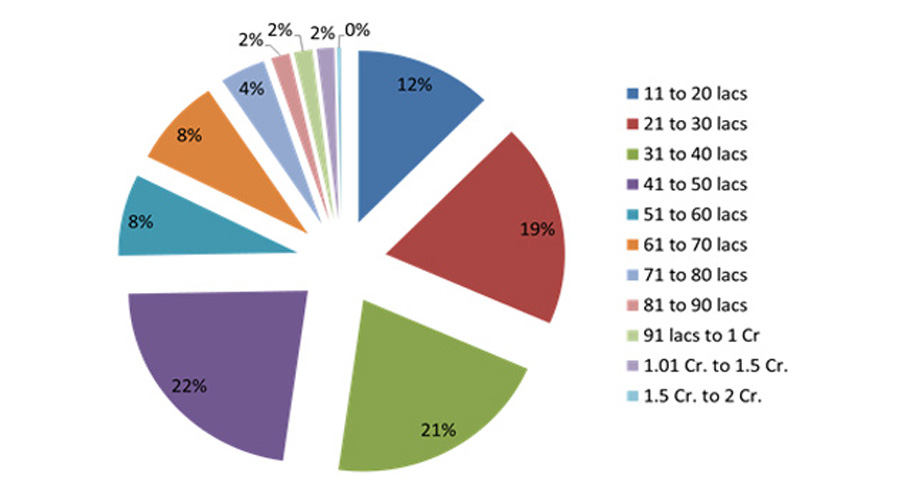 How Big is the Dream Home?
First-time homebuyers have their own budget and size considerations for their new home. The trends of the housing market in Kolkata have shown that homes with a unit size of 700 to 900 sq. ft and then 900 to 1000 sq. ft are equally the most favoured with 26% demand for this size preferences. Following them closely, unit sizes in the 1000 to 1200 sq. ft registered the second most demand at 23%. The smallest unit size of 400-700 sq. ft also were in demand with almost 15% share, while those in the 1200-1500 sq. ft and 1500-1800 sq. ft only had 4% shares each. Unit sizes bigger than 1800 sq. ft have a negligible demand share at 1%.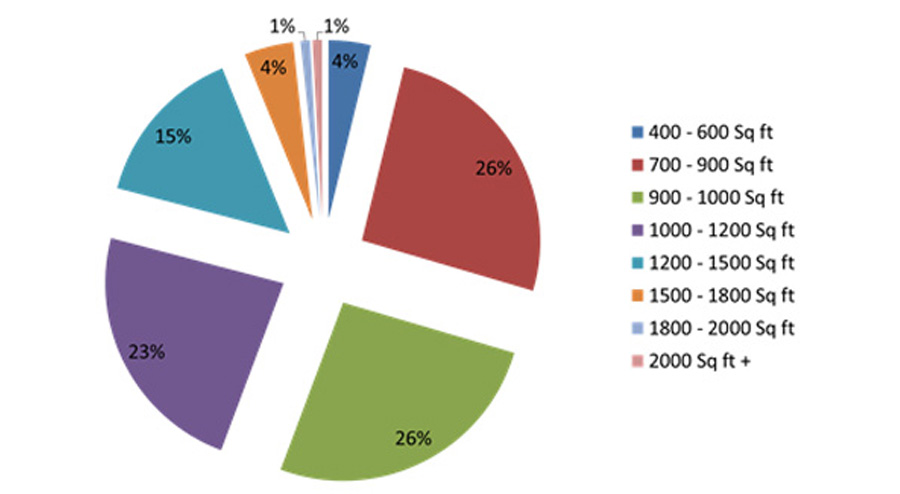 As with the share of inquiries, the Joka pocket area on DH Road had the highest demand for Rs 11-20 lakh and Rs 21-30 lakh range with 93% and 65% respectively. Similarly, Joka also contributed the biggest share in the Rs 31-40 lakh budget range at 28% and the Rs 41-50 lakh budget range at 33%. If we look at the BHK wise demand share of residential areas, Joka and Rajarhat emerge as the top favourites for 2 BHK and 3 BHK property units below 50 lakh.
Rajarhat pocket trumped as the highest contributing pocket for the Rs 51-60 lakh budget range at 23% share while Joka registered 18% share in this range. While BT Road topped the Rs 61-70 lakh at 28% and New Alipore topped the Rs 71-80 lakh at 30%, Rajarhat followed closely behind in both these budget ranges at 26% and 24% shares respectively.
The demand in the higher budget ranges starting from Rs 81 lakh to Rs 2 crore onwards were contributed by BT Road, Garia-EM Bypass, New Alipore and New Town in succession.
The tide is in favour of the affordable housing segment and recognising this fact, the developers are also coming up with attractive offers. Many locations that serve as vantage residential points to the employment centres in the city now have housing options with reasonable rates. Suburbs provide the best living experience in this age where quality time and work-life balance are quite important.