Kolkata property market has left the sluggishness of Jan-March quarter and saw a substantial increase in buyers' interest and bookings in Apr-Jun quarter. It is also expected that the trend will be positive with interest rate reduction announced by the RBI.
Property sales in Kolkata were somewhat sluggish in the last quarter of the financial year 2016-17 due to a variety of factors like demonetization, impending RERA and GST. Buyers were waiting for clarity to emerge before making a buying decision.
Now that the demonetization and its effects are behind us as the property prices did hardly see any dip, homebuyers are increasingly taking buying decisions.
During the six months, Jan-Jun 2017, the buyer interest is maximum in Rs 20-30 lakh (33.39% of all enquiries) and Rs 30-40 lakh (41.09% of all enquiries) segments, followed by Rs 40-50 lakh (8.22% of all enquiries) segment. Interestingly Rs 70-80 lakh segment saw notable uptick in bookings.
While the average booking vs total enquiries was 5.37% in Jan-Mar quarter, it was 9.18% in April-Jun quarter.
Similarly, booking data vis a vis site visits also saw growth from an average of 12.20% in Jan-Mar quarter to an average of 19.30% in April-Jun quarter.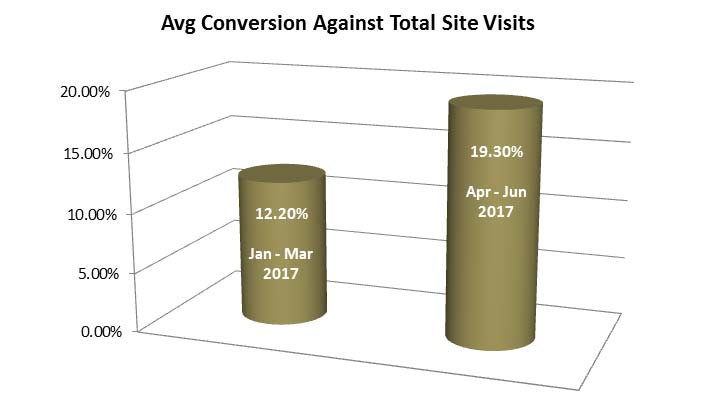 Let's now look at the area wise percentage of enquiries and bookings.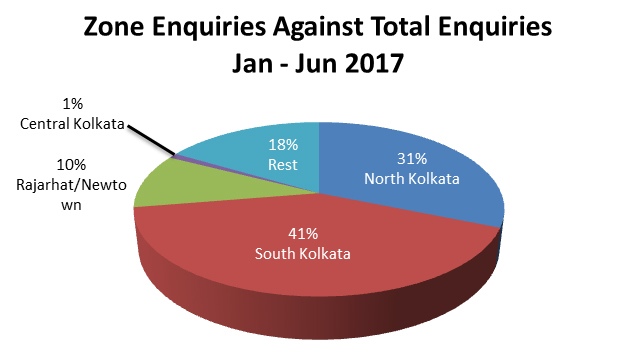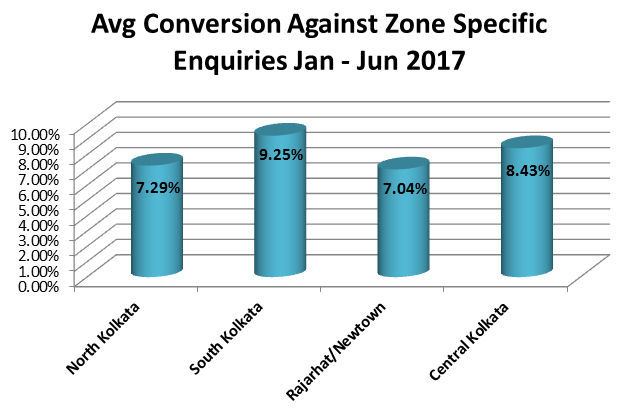 Clearly, the percentage of enquiries is highest in South Kolkata followed by North Kolkata. Whereas the booking percentage for South and North Kolkata is very close, Rajarhat and Central Kolkata are not far behind.
In absolute terms, there is a substantial growth of 9.19% in bookings in Jan – Jun 2017 half year over July – Dec 2016 half year.
We have helped launch 4 projects during Jan-Jun period. All of them met with interested buyers' response. They are located mostly at good areas for investment.

Is the Consumer Preference Shifting towards Higher Value Projects?
The enquiry data of Jan-Mar 2017 quarter, when compared to Apr-June quarter, presents an interesting picture. As we know, the maximum percentages of enquiries are in the 20-30 lakh and 30-40 lakh segments. The percentage of enquiries in 20-30 lakh segment increased from 29.34% to 38.43% whereas enquires in 30-40 lakh segment decreased from 48.57% to 32.59% on a quarter on quarter basis.


However, when we look at the booking data, it reveals deeper insights.
The percentage of bookings in Jan-Mar quarter in 20-30 lakh segment was 47.71% and it decreased to 35.12% in Apr-Jun quarter.
As you see the charts, you do not fail to notice the significant jump in booking percentages in 30-40 lakh segment from 24.43% in Jan-Mar quarter to 46.89% in Apr-Jun quarter.
Going forward, we might see some shift towards consumer preference for 30-40 lakh segment and some spillover from 20-30 lakh segment where flat prices are a tad less than Rs 30 lakh.
CLSS Scheme under PMAY is a Game Changer
As the government of India launched the improved Credit Linked Subsidy Scheme (CLSS) under Pradhan Mantri Awas Yojana, home-buyers started choosing new homes. The subsidy is quite lucrative on MIG 1 and MIG 2 segments.
Saving on LIG and EWS category is up to Rs 2.67 lakh while the same for MIG category is up to Rs 2.35 lakh.
The income and other criteria have been designed in such a way that a majority of flat buyers in Kolkata can take advantage of the schemes.
The scheme is valid for the current financial year only. This scheme has substantially improved home-buyers' interest to buy a flat now rather than postponing it for a later date.
Benefits under GST and Reduction in Interest Rate will Improve Demand of New Projects
The imposition of GST and the resultant availing of input credit by the builders will further benefit the home buyers as the input credit benefit is likely to be passed on to them. Moreover, the benefit of reduced interest rate on home loans will make it somewhat easier to pay EMI.
Many developers and banks are expected to pass on these benefits to the buyers and we expect this trend to continue.
It is obvious that the effect of these two factors on the property price in Kolkata is substantial, and we expect that home-buyers will majorly gain by availing of these benefits.
In the coming months, the trend of much-improved buyer interest for new flats is likely to continue.