You have always dreamt of a home of your own if you do not have one. It is not a luxury; it is your basic necessity. Your own home provides you with a security of a roof over your head, and your freedom from rented houses and the feeling of societal aloofness.
For a lot of home buyers, urban housing has become largely unaffordable, thanks to the high prices of flats in urban areas. A roof over your head can set you back severely in terms of financial investment.
Pradhan Mantri Awas Yojana CLSS MIG Scheme is Extended till March 2019
The Government of India recently announced that the benefit of interest subsidy of about Rs.2.60 lakh on home loans under Pradhan Mantri Awas Yojana (Urban) will now be available for beneficiaries belonging to Middle Income Groups (MIG) for fifteen more months beyond December 31 this year. The scheme is now extended till March 31, 2019.
This was announced by Shri Durga Shanker Mishra, Secretary (Housing & Urban Affairs), Government of India, while addressing the 'Real Estate and Infrastructure Investors Summit' organized by NAREDCO, in Mumbai on September 22, 2017. He said that the government decided to give more time for MIG beneficiaries to avail interest subsidy under PMAY (Urban).
A beneficiary family can comprise of husband, wife and unmarried son/daughter provided the family does not own a pucca house in his/her name in India. In the case of a married couple, either of the spouses or both jointly together will be eligible for a single house. An adult earning member, irrespective of marital status, will be treated as a separate household.
However, preference may be given to women applicants (with overriding preference to widows and single working women), persons belonging to SC/ST/OBC category, persons having disabilities and transgender.
Adhar Card is mandatory for availing of the scheme benefits.
Under the CLSS for MIG scheme, middle-income families are segregated into 2 groups, namely MIG – I and MIG – II.
MIG – I is defined as the households which are having an annual income of Rupees six lakh one to Rupees twelve lakh while MIG – II households should have an annual income of Rupees twelve lakh one to Rupees eighteen lakh.
Interest subsidy of 4% will be provided to the MIG – I while 3% interest subsidy on home loans will be provided to MIG – II families. The discount rate for net present value (NPV) calculation of interest subsidy is 9%.
In both cases, the maximum loan tenure is capped at 20 years.
The maximum carpet area (actual area to lay the carpet excluding the thickness of the inner walls) admissible under the scheme is 90 sq. m. for MIG – I and 110 sq.m. for MIG – II.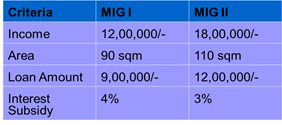 Subsidy will be Credited to the Borrower's Account Upfront
Under the CLSS for MIG scheme, the eligible subsidy will be paid upfront to the borrower's loan account, thus reducing the equivalent amount from the principal loan amount.
Maximum subsidy offered under CLSS for MIG -I is Rs 2,35,000 whereas for MIG – II it is Rs 2,30,000.
This is particularly beneficial to the borrowers as the EMI payable will be substantially less.
The extended scheme will substantially increase the number of beneficiaries in the urban areas. As the eligibility norms are quite relaxed, many more middle-income families now can buy the home of their choice without incurring huge financial burden on the family.
As we are entering in a benign interest rate regime, home buyers should now take advantage of this lucrative benefits under PMAY and look forward to acquiring the home of their choice.