With the top metros like Delhi and Mumbai displaying limited price appreciation, Hyderabad, with its consistent mention among the top 10 fastest growing cities in the world, witnesses a continuous surge in housing demand, especially in the premium segment, in the budget bracket of Rs. 1-2 Crores.
Keeping In line with Hyderabad's steady growth in the real estate sector, the city's property market is more disposed to the upper and upper mid-level housing projects which are growing at a faster pace in comparison with the mid-range or affordable segments.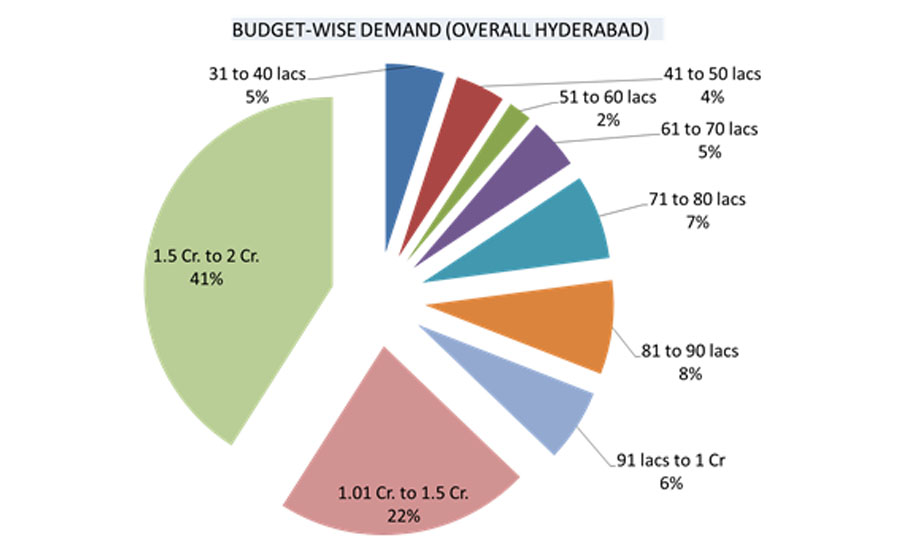 More People Want High-Value Homes
As our study reveals, out of the total buyer enquiries in Hyderabad, with 41% percentage, housings in the premium price bracket of Rs. 1.5 – 2 crores pulled in the most number of enquiries. This is followed by 22% of enquiries for the projects that come in the price range of Rs. 1.01-1.5 cr. While projects within 81 lakh to 90 lakh price range are the third most enquired category at 8%.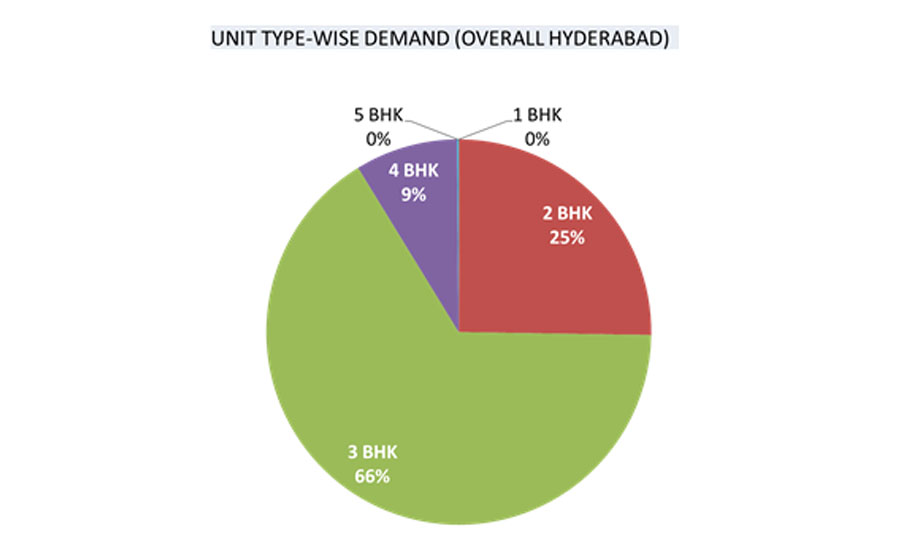 3 BHKs Attract the Maximum Number of Enquiries
 As more and more of the prospective home-buyers in Hyderabad are getting attracted to luxury, the demand for spacious housing in the Pearl City is skyrocketing. According to our survey, 66% of home buyers enquired for a 3 BHK property. With 25% of enquiries, 2 BHKs come in the second position and the third position is taken up by enquires for 4 BHKs at 9%.
Need for Spacious Homes is on the Rise
Hyderabad's real estate market is seeing a growth in demand for bigger homes. With factors like changing lifestyles and rising affordability coming into play, more and more prospective homebuyers in Hyderabad are looking for homes that are in tune with their evolving lifestyles.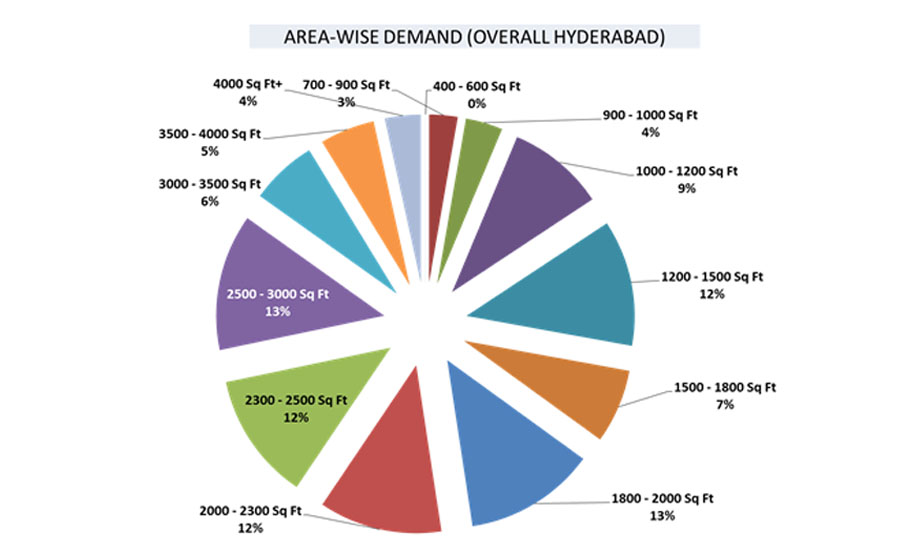 Our area-wise demand data show that out of the total buyer enquiries in Hyderabad are for properties within 2500-3000 sq. ft. accounted for a 13% attracting the highest percentage of enquiries, while 2300-2500 sq. ft. properties accounted for 12%. Properties that are within 700- 900 sq.ft. range generated the least interest with a 3% percentage of enquiries. There were no enquiries for properties which were less than 700 sq. ft.
Top Five Emerging Real Estate Pockets in Hyderabad
Our study reveals that the South and south-west parts of Hyderabad still feature as prime property choices among buyers. In terms of buyer enquiries, the south-western suburb of Narsingi topped the chart with 21% of all enquiries, followed by Banjara Hills (12%), Kondapur (11%), Gachibowli (9%) and Tellapur (6%). These five localities are our top 5 emerging property pockets in Hyderabad property market and come up as lucrative buyer-destinations this year, in our survey.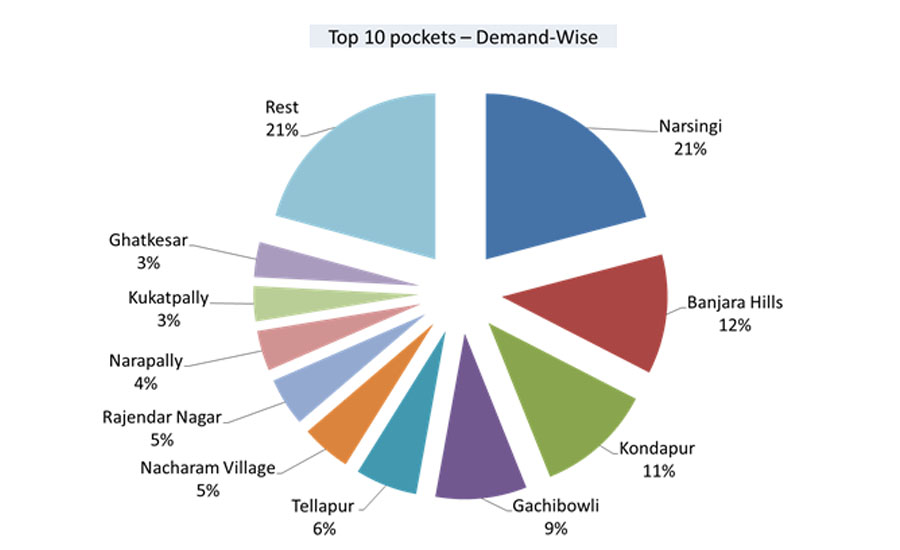 Out of the popular micro-pockets of the Hyderabad property market, Narapally had the leading demand in the budget ranges of 31-40 lacs and 41-50 Lacs with 43% & 28% respectively.  Whereas Nacharam had the leading demand in the budget ranges of 51-60 lacs and 61-70 Lacs with 35% & 78% respectively.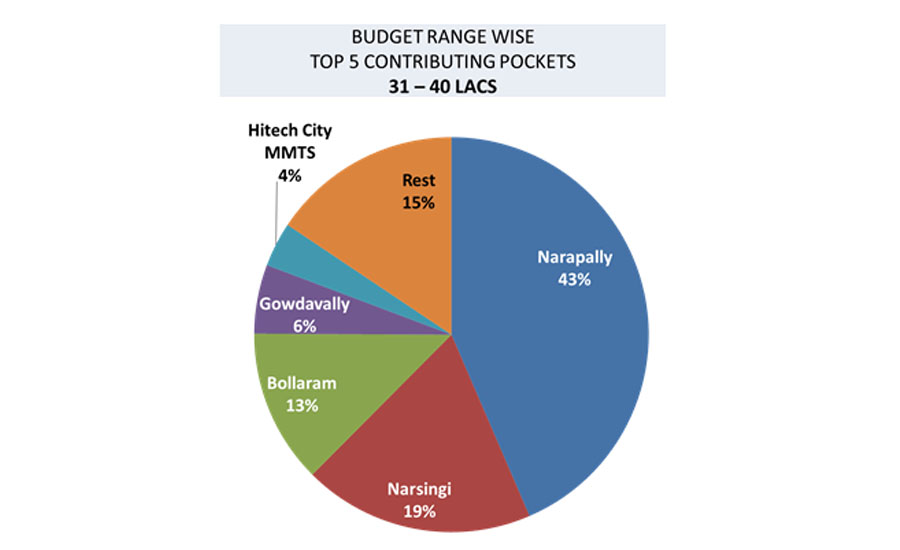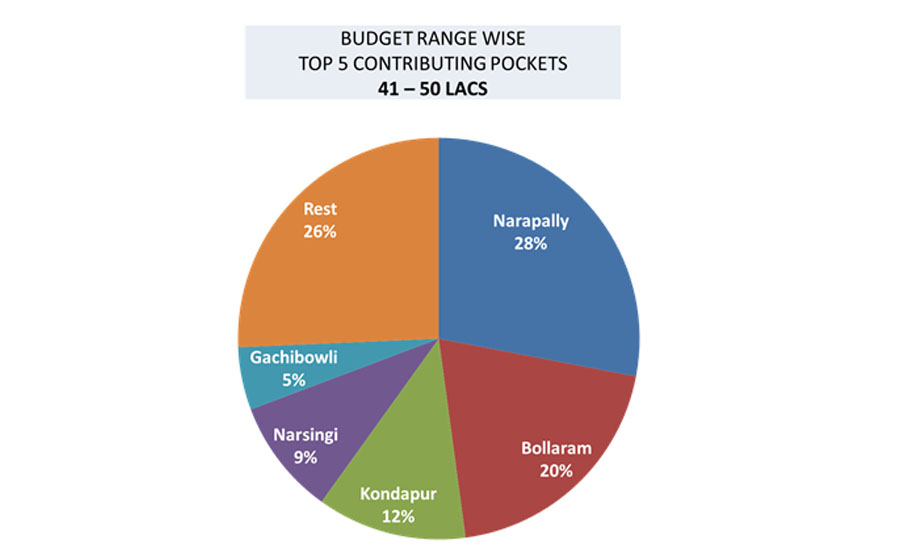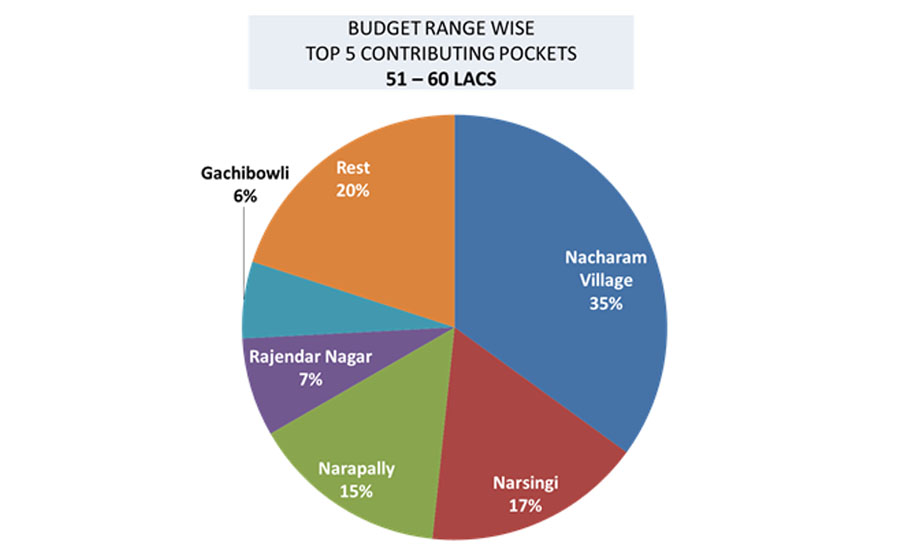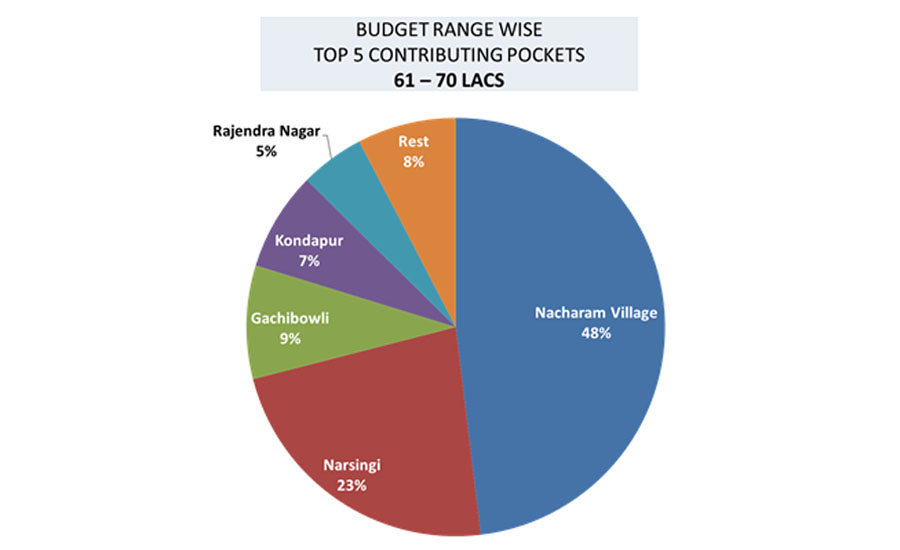 Fuelled by the ever-growing demand from the professional workforce in various sectors like IT, pharma, banking, insurance, etc, these pockets in Hyderabad are seeing a stable growth in demand for housing sales.
While these are the top 10 of the top-performing localities, let us take a look at the buyers' patterns and demands in some of these markets.
With improved connectivity, green cover and an overall increase in the liveability index, these areas are fast becoming the top-most choices of home buyers.
Narsingi – Located in the south-western part of the extended city, this micro-market, has so far been an untapped property market. In our survey, here 3 BHKs recorded 69% of all enquiries, followed by 26% enquiring for 2BHKs. While 39%of buyers enquired for properties that range between Rs. 1.5- 2 cr, 26% enquired for homes with in Rs. 1.01- 1.50 cr.  The area-wise preference remains for properties that are 2501 -3000 sq. ft among 15% of enquiries.
Kondapur – As another upcoming micro property market, Konadpur records 72% buyer enquiries for 3 BHKs and 20% for 2 BHKs. Here, 45% of buyers are looking at homes that cost between Rs. 1.51 – 2 cr followed by 23% of enquiries properties priced with the Rs. 1.01- 1.5 cr bracket. There were for 16% of enquiries are for properties that are 1801- 2000 sq. ft area wise, followed by 15% for 20012300 sq.ft.
Banjara Hills records a whopping 95% buyer enquiries for 3BHKs that range from Rs. 1.5 to 2 cr and more. 26% of enquiries have come for 2001 – 2300 sq.ft on terms of area.
Gachibowli records 58% enquiries for 3BHKs, followed by 37% for 2 BHKs in terms of Budget wise demand.
Tellapur, interestingly, attracts 25% of buyers-enquiries for 4 BHKs, highest among the rest of the top 5 localities in terms of BHK-wise demand. Here, 3 BHKs attract about 74 % of enquiries.  About 82% of enquiries for Tellapur are for premium housings that range between Rs.1.51- 2 cr.
A Brief Summary
Hyderabad property market bucks the trend when it comes to steady growth in the real estate sector. With increasing business activities, proper infrastructure that supports growth and soaring purchasing power among its buyers, Hyderabad shows a trend where buyers are inclined towards premium and bigger residential housings in emerging macro and micro property markets.
If you are looking for premium property in Hyderabad, this is the best time to invest in Hyderabad's burgeoning real estate scene! Contact us today and we will help you find your dream home.