As the President of his AOA (Apartment Owners Association) at one of the posh residential complexes in Kolkata, Pradeep Singh is having a busy time. As the number of coronavirus cases rises in India, and WHO (World Health Organisation) declaring this a pandemic, Pradeep is hurrying up with last-minute plans to keep his home and his neighbours' safe from the attack of the deadly coronavirus. He plans to keep his neighbours informed about the precautionary measures and the steps to keep every home free from the disease.
Current Scenario in India
An increasing number of people are getting infected in India and hundreds are under observation in the quarantine-facilities across the country. As a part of emergency response to the threat of epidemic, many states including Karnataka, Delhi, Maharashtra, Kerala, Bihar, Tamilnadu, and West Bengal have announced lockdowns of schools, colleges, cinema halls, and other public places. The Government is discouraging public gatherings and asking people to follow safety precautions. Meanwhile, Air India, India's official Air carrier has cancelled its flight to 6 nations till April 30th. The national cricket board, BCCI has suspended the Indian Premier League matches till April 15th.
What is the World Scenario?
First detected on the last day of 2019, worldwide, the virus has infected tens of thousands in China and other countries. While most infected patients show mild to moderate symptoms, so far, about 2% of those infected actually succumbed to the infection. The spread of the disease has triggered an unprecedented stock market meltdown, extraordinary quarantines, and global upheaval.
According to government sources, the situation is under control but the fear of the further spread of the disease looms large over India. Experts suggest that while the Government will take its preventive actions on a larger scale, the main fight against the virus has to be fought at individual levels by maintaining good respiratory and hand hygiene.
In such a situation, it is not for nothing that Pradeep and his team are working hard to keep their homes and communities safe.
With the virus being one that spreads easily, here are the following steps that Pradeep and you can follow to keep your homes safe and protected from the viral attack.
Keep Your Family Members Safe
As this new strain of virus (hence the prefix – "novel" coronavirus), related to other infectious respiratory viruses like SERS and MERS, is highly transmissible, it is important to follow basic sanitation procedures at home and at offices, gyms and community halls, etc.
Wash hands – Make sure all family members wash their hands with soap or alcohol-based sanitisers before eating and at regular intervals. It is better to leave their footwear outside the home. Keep a ready supply of sanitisers handy. School going children should take extra care and wear protective masks and carry sanitisers to school.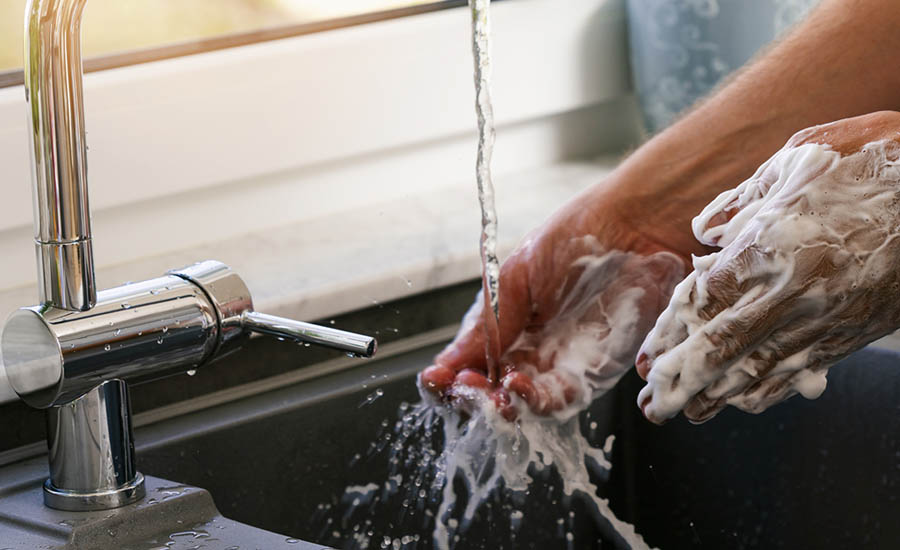 Separate rooms for sick – If any member shows any of the mild symptoms like headache or slightly runny nose, cough, and sore throat, it is better to keep him at a safe distance from other members. Keep a close check on him and call your doctor for an appointment if you feel he is not feeling better.
Monitor elderly with underlying conditions – Anybody, especially if elderly people with chronic diseases come down with fever and the above symptoms, should immediately be reported to the authorities and taken to the nearest health care facility.
The same applies to anybody who runs the risk of contracting the disease due to his travel history or his proximity to those who travelled abroad to infected countries.
For more quick tips on how to tackle the coronavirus, you can visit the WHO site at https://www.who.int/emergencies/diseases/novel-coronavirus-2019/advice-for-public
Clean Your Homes
Deep cleaning is the best way to keep your homes safe from germs. All surfaces that we touch often, like doorknobs, handrails, tables, and kitchen surfaces, as well as other furniture like sofas, centre-tables, and chairs, should be kept clean. Don't forget the switches and racks and decorative items, or handphones. Wiping these with a regular liquid disinfectant is enough. But these need to be cleaned every two-three days as reports suggest that the virus can live up to 48 hours on open surfaces.
You can also use homemade disinfectants by mixing baking soda, lemon, and vinegar and spray this across all kitchen counters. In fact, it is healthier to use kitchen-based products to clean your dining tables and kitchen area.
You can spray the disinfectant or sprinkle baking soda on your sofa and other sitting arrangements to keep them germ-free. Keep your rooms airy by leaving windows open or adjusting air-conditioners.
Keep Your Domestic Helps, Helpers, and Drivers Informed and Safe
It is very important for those who help us in our daily chores to keep healthy and disease-free. Keep your cooks, domestic helps, drivers and other helpers like cleaners, sweepers and gardeners informed about coronavirus. Encourage them to maintain basic hand and respiratory hygiene – like washing hands with soap, not spitting on streets, sneezing to tissues or their elbows, etc. From your end provide them with gloves, masks, and sanitisers.
Keep Community Halls, Gym, Pools Clean
While Pradeep plans to keep hand sanitisers handy at the community halls and at the gym of his complex, there is more that he needs to do.
Community Halls – The floors of the community halls should be kept clean with strong disinfecting floor cleaners. The chairs, tables, curtains, handrails, and doorknobs should be sanitised at regular intervals.
In fact, according to WHO advice, it is better to avoid public gatherings until further notice.
Gyms – People work out to keep up their health. It is important to keep gyms clean and germs free. Apart from regular maintenance, at these times extra precautions need to be put in place- like wiping down surfaces and machines and mats with disinfecting wipes. Spraying down every gym bag and medicine ball and encouraging members to wash their hands regularly are some of the steps that gyms at housing complexes can take. Sick members should avoid working out for 2 weeks.
Pools – Regular cleaning of the pool surface and water needs to be monitored. The pool area should also be germ free through basic sanitisation procedures.
Avoid Community Meetings and Public Gatherings
As the disease COVID19 (Coronavirus Disease) spreads from body fluids (it is not airborne) it is safer to avoid public meetings and transportation, crowded places like cinema halls, parks, etc and social gatherings. Community meetings and celebrations at housings should be restricted until the worse is over.
Organise Parties and Movie Nights at Home
While it is important to keep safe, it does not mean that you will have to forsake all entertainment. When lockdowns of cinema halls and shopping halls are an impending reality, make plans to organise parties and movie nights at home with family members and close relatives and neighbours. Just remember to keep a stock of hand sanitisers, disinfectant tissues, and hand wipes for visitors and guests.
While we can pray that the situation does not take a severe turn in India, it is better to be safe by following a few precautions and inculcating good hand and respiratory hygiene than having to worry later. Let's take these steps to remain safe and encourage others to do the same.