It was a Friday evening. Aruna was invited with her son Ritwik to a kid's party. Kid's parties were becoming quite a regular feature in her life. This was her fifth in this season.
Although her son, Ritwik, loves those parties, she felt guilty that she could not organise one at home. Ritwik always wanted to invite his friends to a party at their home. But Aruna felt a bit nervous organising one at home thinking about a plethora of work to be done to make it a success.
So she always called Ritwik's friends and their parents at restaurants and lounges. But they were not happy. There is nothing like home, really.
The mere thought of throwing a party was intimidating for Aruna. Still, she thought that she must arrange one, after all.
It often involves a lot of details and plenty of things to consider. What theme should you choose? What kind of food to serve? How would you entertain all those kids? Cakes, cards, invitations, photography…how on earth are you going to manage it all?
Planning is the key, as we know it. And, with little and creativity, you too can pull off the pe kids' party at your home with a smile on your face. To help you with this, we've put together a list of some helpful ideas that will make your party a success.
So, how did Aruna arrange a successful kid's party at home?
Aruna Took Her Time to Make the Guests' List
Space limitation was a concern as Aruna was organizing a party at home, but she could run into a similar situation in any other venue as well; so she didn't consider this a challenge. Rather, she spent some time to create a detailed list of guests. This was really important, as space management became a lot easier when she had a realistic number.
She took time to decide what type of party this would be. Would she be only inviting family and friends, or would it going to include her child's classmates too? Would it be a drop off party, or would she invite the parents as well? Would it be gender neutral, or would it an only-boys party? These were some questions that she needed to answer in order to effectively make a list of the guests she would like to invite.
After a lot of thinking and talking to Ritwik, she decided that it would be a mother and child party.
She Sent Timely Invitations
Done with finalizing the guests' list, it was time for Aruna to send out the invitations. These days, there are a number of apps and web-based platforms that are designed to take the hassle and headaches out of the process. These apps allow users to send and manage party invitations with easy tracking facility of RSVPs. Most of these services don't cost a penny, and you can also see whether your invitation has been viewed or not. What's more? You can include route maps with directions, and get an alert when someone leaves a reply.
She made sure to invite early, and also reminded the kid's mothers over the phone.
She Kept Some Provision for Extra Guests
Although she didn't expect the fathers to accompany Ritwik's friends, yet she kept some provision for any one of them to drop in. Although, she did not keep a separate menu for the parents but kept some food which was a little hot. She knew that Ritwik and her friends were not fond of hot food but preferred some soft drinks, chips and fries.
She Decided on the Party Theme
As Ritwik's friends were mostly boys, Aruna decided on a 'Pirates' theme for the party. She chose all the décor, the props, the lights, and the dresses according to the theme. The party rolled on with some mock fight among the boys. The cakes and the decorations were based on the same theme. She even organized some pirates' costumes for the kids to be dressed as different characters.
It was a grand fun as the children dressed as pirates. Probably "Pirates of the Caribbeans' was at the back of everyone's mind. There was even some theme music in an appropriately lit room to create the atmosphere.
But everything was not so smooth. There was some spillage of food and drinks. But Aruna thought about it beforehand and had extra disposable tablecloths, paper napkins, etc. to avoid any sort of discomfort to her guests.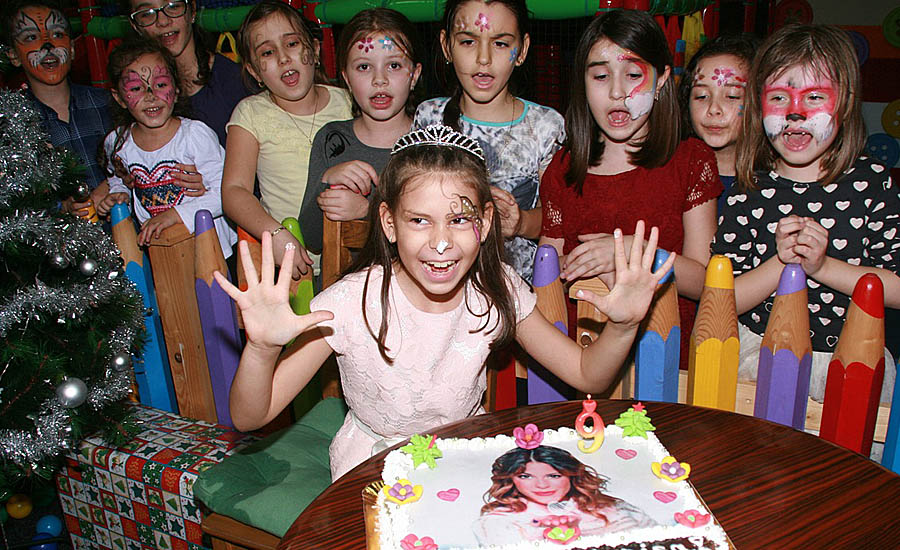 Loads of Activities Kept the Kids Busy
Kids like to be engaged in fun activities. So Aruna ensured a steady flow of games and other activities, as any breaks or delays could quickly turn messy.
Had boredom set in due to lack of interesting activities, it could make the kids go unruly or they might have started throwing tantrums.
A mix of lively games as well as interactive activities kept the kids busy and entertained right from the start to the end of the party. There were musical chair, kids' karaoke, puppet shows, and a photo booth—there were tons of ideas.
But the main attraction was the mock fight dressed as pirates. There were special gifts for the winners in packets similar to vintage treasure boxes. There was a lot of shouting and laughs to top it all.
She Was Creative (And Practical)
Aruna covered a table with paper table cover, and let the kids write or draw something on it. She let them write and draw on the tablecloth, and take selfies with it.
In fact, a lot of photographs were taken as well as a large number of selfies. These were posted on Facebook almost instantly and shared on WhatsApp. This created a lot of buzzes, and a couple of Ritwik's friends who could not come promised that they would not miss the next time.
The Timing Was Just Right
Aruna planned the bash on a weekend during the summer vacation. This made sure that pressures of school next day was not there for the kids. As for the duration, the ideal length of a home party is 2 to 2½ hour. The third hour could be lethal, and the fourth, Aruna knew, could be ridiculously exhausting and maddening for everyone, especially the hosts.
Aruna got quite detailed in planning for the party. She wanted to make Ritwik and his friends happy and made sure they talked about the party for quite a few days even after the party was over. As the party came to an end a friend of Ritwik started pricking the balloons. Everyone was sad and looked forward to the next party before taking their parting gifts.
With these tips in mind, you can also easily organize a memorable kids' party at your home. Remember, the whole point of the perfect kids' party is to have fun. So if you feel happy—instead of stressed—you will better at making your guests feel happy!