We always want the best of everything.
You and I. I am just like you on this.
Especially while buying a flat.
We want a green, pollution-free area, excellent connectivity, school, shopping mall, and healthcare facilities close by, and future value appreciation.
We also want to live in gated communities with all lifestyle amenities like an AC gym, swimming pool, and landscaped garden.
Above all, we want the price of the flat to be modest, affordable.
These days, we search for such flats a lot on the internet.
But we are often disappointed.
It is extremely difficult to fulfill all our desires, especially at a modest cost.
In Kolkata, flat prices in most areas have soared in the recent past.
Especially in the upscale areas like EM Bypass.
How can we realize our dreams of a decent flat in a decent area at a decent price?
Today, we will discuss an area in Kolkata I have found that ticks all the checkboxes.
Sounds too good to be true?
OK, find out for yourself.
It is Close to EM Bypass & Metro
Areas around the EM Bypass have become much preferred by homebuyers in recent times. Improved connectivity and better facilities are the main reasons for this preference.
Most places around the EM Bypass are now considered upscale areas. Properties in these locations are now commanding high prices which are beyond the affordable range.
But if you can stay within a short distance from the EM Bypass, you can enjoy all the benefits of staying close to the Bypass. The overwhelming benefit is that you get these benefits where property prices are relatively low.
Southern Bypass, which is connected to EM Bypass by Kamalgazi flyover, fits the bill perfectly.
You can access the EM Bypass within minutes from this place.
Hundreds of Families are Staying Here in Gated Communities
Cross the Kamalgazi flyover. Now you are in the area I'm talking about.
Southern Bypass is the property hotspot now. You cannot fail to miss various property projects coming up.
As more and more property projects get finished and apartments and bungalows are handed over, the community and the infrastructure are undergoing a radical transformation.
Already, more than 800 families have started living in various projects.
More families are expected to shift as more flats are handed over in projects under construction.
This is going to create higher demand for goods and services and supply will soon catch up.
Better connectivity, more schools, shopping centres, cafes and restaurants, and department stores.
Public transport has considerably improved recently. And is improving further.
Rapid Connectivity Development is Taking Place
The convenience of living at Southern Bypass is that you can arrive here in 4 different ways.
Metro
Shahid Khudiram and Kavi Nazrul Metro stations are easily accessible from here.
EM Bypass
EM Bypass is just a drive away, and you can reach there within minutes.
The double-lane Southern Bypass is now fully constructed by KMDA. This road, including the Adi Ganga Canal portion, is now being beautified.
NSC Bose Road
Southern Bypass is connected to NSC Bose Road at various points. It is just a short drive and you are here.
Rail
Sonarpur and Baruipur railway stations of Sealdah division provide another 2 ways to come here.
Auto-rickshaw
Added to all the modes of public transport stated above, there are also 1200 auto-rickshaws. They provide last-mile connectivity with Metro, EM Bypass, and Garia, day in and day out.
Public bus routes are also planned and are expected to be operational shortly.
Besides the transport infrastructure, a lot of other facilities are up and running to make life easier for you.
Facilities on the ground, not promises of distant heaven.
What are those?
We will talk about them in a second.
Fast Expanding Infrastructure
In a very short time, all facilities for a high liveability quotient came up in this area. There is no difficulty in living here with all conveniences nearby.
There are groceries, stationery shops, and a Reliance Smart outlet for all daily needs. Nearby medicine stores make sure you need not worry about essential medicines ever.
Even your dog is confident that he will never run out of his Pedigree.
Well, all these are fine, but what about spending an evening in a cafe? Or having a family dinner in an upscale restaurant?
Of course, there are cafes. And quite a few restaurants too. Even banquet halls if you wish to throw a party.
Now, isn't that interesting?
Living in an upscale place always is.
You can even indulge in some shopping at Galleria or Wood Square Mall.
Schools
If you live here, you haven't got to worry about premium English-medium schools for your child.
Swarnim International School, BD Memorial International School, Delhi Public World School, and Lyons Vidya Mandir are present in this area.
Healthcare
EM Bypass is considered to be the healthcare hub of Kolkata and you can access any of the hospitals mentioned below within minutes even in the case of any emergency.
Peerless Hospital
Hindustan Health Point
Medica Superspecialty Hospital
RN Tagore Hospital
AMRI Hospital
Fortis Hospital
Ruby Hospital
Deesun Hospital
Still Affordable, Still Wide Open, Still Green
Properties in Southern Bypass are still relatively affordable compared to EM Bypass. The area is still wide open and you can watch greenery at a distance without any hindrance to your vision.
A good number of large gated communities are being built in this area. These projects offer considerable open space and greenery within the projects.
The area is still green and pollution is also much less here.
High Probability of Financial Gain
When you buy a property early in an area that is on the threshold of massive development, you can expect huge financial gain.
Property prices in such a location soar fast as infrastructure development picks up speed.
Southern Bypass is one such area.
In the last few years, property prices skyrocketed in this location and early property buyers made a windfall. Prices of their properties zoomed, and the homebuyers made a lot of money.
But the opportunity isn't over yet. But you should make your move fast.
Southern Bypass is still to experience a lot of investment in infrastructure and as a result, real estate prices will get a boost.
Will I suggest a property which is extremely easy to afford?
Read on, it's coming up right now.
Sunrise Aura
When you buy a property, one of the key factors you must consider is the reputation of the developer. Construction quality in earlier projects. Timeliness of delivery. Checking such things ensures you don't regret it later.
Sunrise Aura is being built by Sureka Group, and they have the highest level of reputation in Kolkata. After all, they were co-builders of South City and Urbana, signature real estate projects in Kolkata.
Sunrise Aura is right on Southern Bypass (only 250 metres from NSC Bose Road).
This project is being built on 8.04 acres of land, and 8 lofty towers will be constructed in multiple phases. These towers will be G+18 and G+20 storied towers. There will be 924 apartments when completed.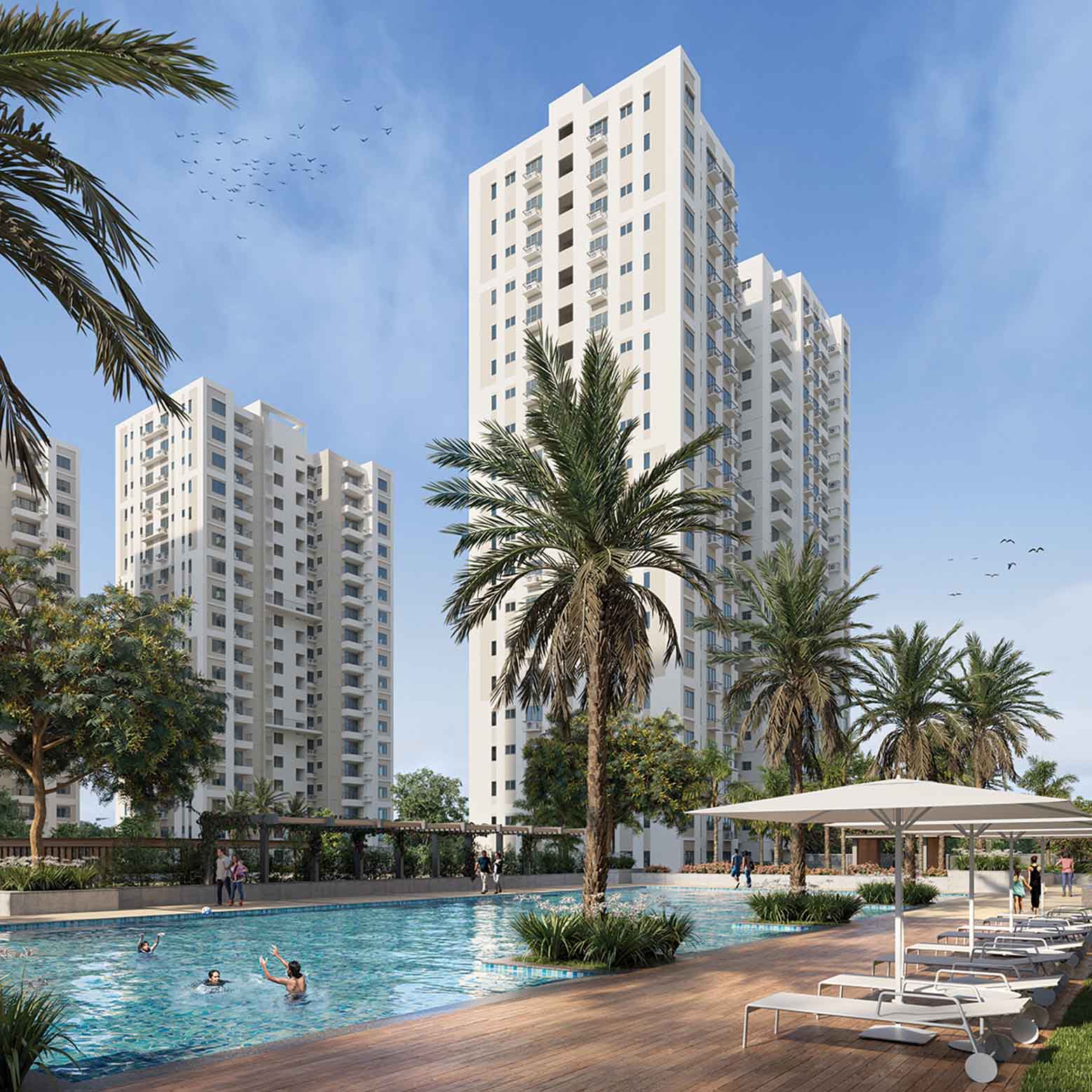 It will have all lifestyle amenities expected in a high-quality gated community today and 80% open space.
Amenities
There are all the amenities you can expect in a project like this but one key feature is the 63,000 sq. ft. landscaped elevated podium.
Swimming pool and baby pool
Gym
Yoga
Landscaped garden
Multipurpose court
Badminton court
Cricket
Jogging track
Roller skating rink
Indoor games
Indoor children's play area
Senior citizen area
Amphitheatre
Sundeck
Natural water body
Party plaza
Social gathering space
Shuttle service to the nearest Metro station will be available from Sunrise Aura.
Why Should You Buy Now?
This is always a pertinent question. Why hurry?
What are the reasons to buy now?
Yes, there are genuine reasons to buy your property now.
You are going to pay more for your property if you delay. Much more.
This is completely unavoidable. You should save as much money as possible.
Now let's see why you're going to pay more if you delay.
Real estate prices are inching up because of higher prices of raw materials like steel and cement. The same apartment will be costlier shortly.
Additionally, the home loan interest rate is also going up, making your EMI rise.
The demand environment of the property market is very robust, and this gives developers the confidence to raise apartment prices.
Booking your chosen flat today will surely save you a ton of money.