45-year-old Ambarish Ghosh, a photojournalist, recently moved out of his old house in Maniktala to settle into his new 3 BHK apartment near Acropolis Mall in Kasba. However, he wasn't so convinced about shifting to this location, until he visited the project site two years ago. He was surprised to find that the Kasba he knew of had undergone a sea-change — rows of food chains, multicuisine restaurants, new office buildings, residential complexes, hospitals, and of course, the Acropolis Mall. One visit was enough to erase the old picture of Kasba that he had in his mind.
Kasba, however, is not the only South Kolkata location to have gone through this transformation. Narendrapur, Garia, Thakurpukur, Joka, and Behala are some of the other South Kolkata areas that have shaken-off their "not so sought after" tag and are increasingly being hailed as some of the most coveted residential locales in the city. And together they are making South Kolkata the city's centre of real estate activity.
What are the factors driving this trend? Before we delve deeper, let's take a look at some current stats.
South Kolkata Property Market is Drawing Homebuyers' Attention
The percentage of bookings in South Kolkata property market during the quarter Apr-Jun has been 27.30%, which indicates a stable market, while the percentage of enquiries has gone up by 1.75% from the Jan-Mar quarter. Interestingly, the 3 BHK category has witnessed the maximum percentage of enquiries (39.55%) compared to 2 BHK (39.08%) and 1 BHK (32%) categories.

In the South Kolkata property market, areas like Garia and the stretch along Bypass in the South-East, and South-West localities in Tollygunge, Joka, Behala, and Taratala are at the forefront of this trend. Our data shows that, out of the total buyer enquiries in South Kolkata, the South-West localities attracted 71.32% of enquiries, while 28.68% of them were regarding locations in the South-East.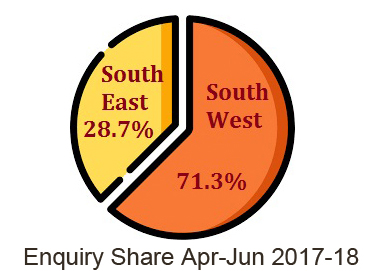 A similar trend was visible in terms of bookings too. South-East locations witnessed 40.17% of bookings, while 59.83% of bookings were made in South-West Kolkata.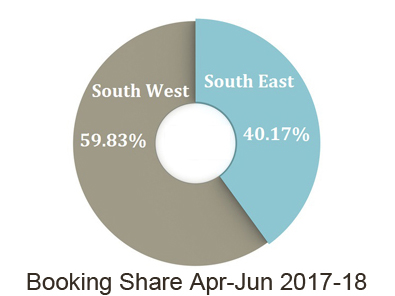 Clearly, South Kolkata property market is racing ahead in terms of attracting homebuyers' interest. While the demand and booking is stable now, we predict that things will pick up the pace going forward. Why? Because South Kolkata's affordable home prices and enhanced connectivity are drawing many purchasers and investors. This trend is intensified by the booming infrastructural growth activities happening in South Kolkata, which is bringing even more market entrants into the region.
South Kolkata Enjoys High Consumer Preference
Data from the last quarter shows that South Kolkata has witnessed more site visits 30.46% apart from enquiries. So why has South Kolkata emerged as a favourite among real estate buyers? Here are some reasons:
Locational advantage. South Kolkata is well-connected by metro, rail, and road. The expansion of metro lines from Tollygunge to Garia has further eased the traffic in the suburban parts of South Kolkata and seamlessly connected these areas to the other main regions of the city.
Cultural advantage. South Kolkata is not only the hub of Bengali Film and Television industry or 'Tollywood' (in Tollygunge), but it also has three of the city's most prominent heritage clubs, namely, Royal Calcutta Golf Club, Tolly Club, and Calcutta Rowing Club. Besides, there are numerous theatres, art galleries, and there's even the city's first art café. These factors make South Kolkata a hotspot for lovers of art and culture.
Retail advantage. Gariahat — one of the biggest street shopping destinations in the city — is located in South Kolkata, while the area also hosts some of Kolkata's finest branded showrooms, retail chains, and shopping malls such as South City, Metropolis, Forum, and Acropolis.
Educational advantage. South Kolkata has plenty of good schools and institutions for higher educations, which includes renowned names such as IIM Calcutta, Jadavpur University, Indian Institute of Chemical Biology, and Central Glass and Ceramic Research Institute.
The Future Looks Bright
 With the existing infrastructure being boosted by new and proposed development activities like the extension of the EM Bypass, the Garia-Airport metro link, Joka-BBD Bag Metro link, and construction of new flyovers, South Kolkata's appeal to property buyers is soaring high.
Clearly, the scenario looks extremely positive. And therefore, it's not difficult to predict that South Kolkata property market will continue to see increased demands from buyers and investors.