9-year-old Ritwick does not feel like indulging in any kind of physical activity, as the commute time from his school to his new home drains out every bit of energy from his little self. He feels lonesome and bored on weekends and holidays, as he hasn't yet made any friends in the new housing complex they have shifted to. Ritwick's parents have noticed a change in him — he remains quieter than usual and often gets angry. They are worried and wondering: what's triggering it?
As a parent, this is a scenario that you'd want to avoid for sure. However, you must understand that changing a home can be a life-altering event for your kid, even if it is from one address to another within the same city. In fact, moving, in general, can have a significant psychological impact on a child. This is why it's really important to consider your children's priorities when buying a new home.
Good news is, an increasing number of parents today are taking into account their children's views when buying a new home. Recent studies like the Harris Poll survey, show that children are now a key influencer in the home buying decision-making process.
That said, when it comes to giving the best to the children, every responsible parent should consider a few things before zeroing in on a new address. Here are some of them.
Is the School's Distance Invading the Personal Space of Your Child?
Providing the best education is the dream of every parent, but the same should not make your children exhausted to the extent that it interferes with well-being. To keep this situation at bay, do an extensive research of the locality in which you are intending to buy a property. Look out for educational institutions in the vicinity to make the daily commute hassle-free for your child. A school, easily accessible from home, should be your top priority.
Amenities to Keep Your Child Fit and Happy
It's important to ensure that your child will have access to ample activities. A kid's play area and indoor sporting activities are a must. Parents, these days, look for projects that incorporate amenities like clubhouse, gym, playground, and swimming pool. So should you.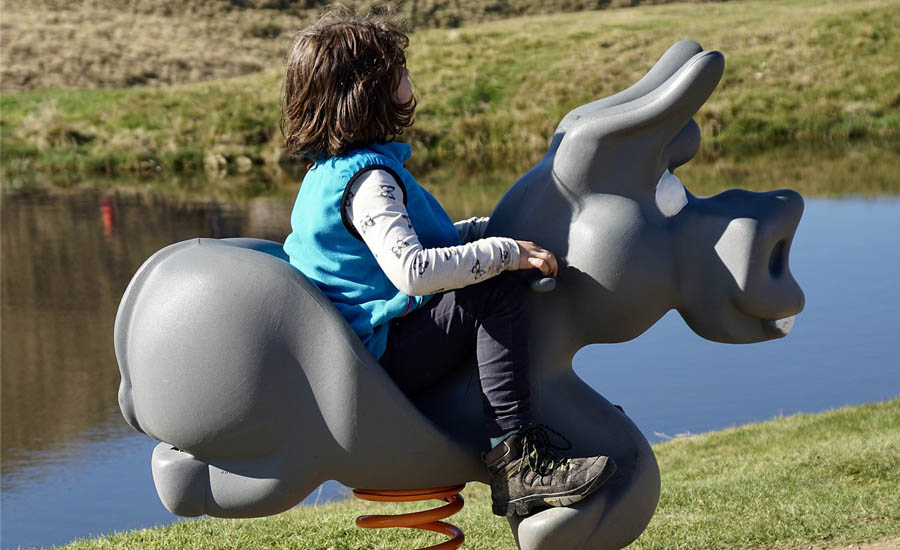 These kind of child-centric facilities are available in projects developed by reputed builders. Such complexes also have 24/7 surveillance systems, which ensure the safety of your children.
Open Green Spaces
The benefits of green spaces for a child's physical and mental growth bears no repetition. Therefore, the availability of open spaces is a factor that you should consider before buying a new home buying transaction. Your home, should not only be spacious in terms of carpet area, rather, it should also have outdoor spaces where your children can spend quality time. To gift your child with beautiful memories, always opt for a project that has ample green spaces like gardens and parks.
Your Child Needs Their Own Space
When buying a new home, make it a point to keep a separate room for your child, where they can play, study, and enjoy their time. For healthy development, it is necessary to allow some space for your growing children. If you have one or two kids, a 2BHK or a 3BHK property should be enough to accommodate your entire family. In case you are running on a limited budget, go for a living space that has multi-purpose areas, which can be later converted into playing room or study room for kids.
Warm Them Up before Buying a New Home
Relocation, for children, can be as overwhelming as a short-term shock, because the process abruptly separates them from people, places, and settings they are closely attached to for several years. In order to mitigate their heart-breaking experiences following the D-Day, break the news well in advance. This gives them adequate time to assimilate the fact that a change is on the cards, which, according to experts, helps children to stay prepared for the inevitable. Embed the 'relocation part' naturally between conversations, also, highlight some fun-facts about the new locality that your children might find interesting.
Get Them Acquainted With Their New Home
Take your kids on an advance tour of the property before finalizing the deal. Ask them how they want their new room to be decorated, or where they would like their favourite toys and trophies to be placed. It is a great way to make them feel like they are being included in the decision-making process.
Tell Them, Nothing Is Going to Change
Make sure to tell your kids that everything they possess will come with them to the new address. Such a statement of assurance means a lot to them. This takes out the apprehension of loss and makes them comfortable. Moreover, having the stuff they love, will help your children to speedily acclimate to the new conditions.
"I Don't Like the New Home"
If there is something that your child does not like about the new home, make an effort to understand the reason. There might be a dark corner that the child is scared of or a room they might deem boring if it has a window that stares into the opposite apartment and offers nothing else. Be patient. Talk to your kid, and explain what you can do to get it changed. For instance, you could put up extra lights to brighten up a dark space or let your child choose a room with a better view.
Find Out Ways to Make Your Child Like the Property
Point out the sites in vicinity that matter to them, for instance, the playground, the nearby ice-cream parlour, the library, and other entertainment zones. This will make them worry less, and wonder more about the new possibilities.
Assure Them, They Won't Miss a Thing
It is important to consider the hobbies of children, especially teenagers. If they are into extra-curricular activities like sports, swimming or music, they have to be close to places where such activities are held. This is why, most parents these days look for properties that incorporate amenities like kid's play area, clubhouse, gym, swimming pool, and other indoor sporting facilities. Usually, these child-centric amenities are integrated into projects developed by reputed builders.
Help Your Kids to Make New Friends
Modern complexes have gaming arcade, swimming pools, parks, gardens, and community centres. These are great places to find new friends for your child. Other places where you can find local kids are children's stores in the neighbourhood that specialize in kids' toys, clothing, or books. Also, check out events and friendly activities within the complex, or outside, where your kid can get a chance to meet and mingle with other kids. Children register new places and people at their own pace, so give them space and time to settle down.
Home buyers carefully consider factors like property papers, the building plan, and home finance options before buying a new home, but very few actually think about how happy their child will be in the new home. This shouldn't be the case. To give your children the childhood they wish for, create a healthy environment for their growth and enable a well-rounded development of their personality, it's critical to choose your home with care.