Sanchita had always dreamt of a nice cosy apartment since her marriage with Rajat. After staying in a rental flat for a few years, they mustered enough courage and sufficient money to take the plunge of buying their own flat.
Both Rajat and Sanchita shared their imagination with each other about how their flat would be. And especially after booking their flat, they were actually decorating their flat in their minds' eye.
"We should have a cosy chair in this corner, Rajat," Sanchita would say, "Where you would enjoy reading books while sipping your coffee."
"Let's choose the design of the dining table," Rajat might join in the conversation.
However, they agreed on one thing that they would invest in good quality wooden furniture, esthetic yet functional.
Solid Wood vs Engineered Wood
Good quality wooden furniture is made from solid wood. The lesser quality furniture – the lighter and cheaper variety – is made from engineered wood.
Engineered wood is made by fixing strands or particles or thin boards of wood together with adhesives to create a composite material. While this may look remarkably like wood, it has none of the features of real hardwood and can easily be damaged. It cannot acquire the sheen of real wood, does not age well and is not ideal for carving designs.
Solid wood on the other hand is natural hardwood or softwood, and the one you find in the beautiful pieces of furniture.  In simple terms, hardwood comes from flowering trees while softwood comes from conifers. Both types of wood are used for making furniture.
Why Your Furniture must Use Seasoned Wood
A log is usually cut into the required frame sizes and then left to 'season'. Seasoning is a process where the moisture in the wood dries to an optimal level. If the wood is not properly seasoned, then it will be easily susceptible to termites' attacks, and it would lose its shape easily in moist, hot, or cold weather. In normal dry, warm weather, seasoning for about one month is recommended.
Teak Wood
This is one of the finest woods that is used in furniture making and is prized for its strength, depth of colour and is resistant to rot and fire. It is often used for building door frames, cabinets and tables. Teak wood is resistant to decay and can outlast all other types of wood. Since it is a hardwood, it can also withstand extreme heat and cold and therefore, it is also used for creating outdoor furniture.
Teak has an abundance of natural oils and rubber inside the tight grain of the wood. Teak retains oils and its rubber even after being cut and processed. This allows teak to have extra weather-resistant properties than any other type of wood.
The inherent oils protect the wood from dry rot, fungi and parasites, which is a common problem in old wooden furniture. While other woods require applications of weather-proof oils and treatments, teak does not require any.
Some of the popular teak woods used in India are as follows:
CP teak wood: This variety is grown in Madhya Pradesh and is easily identified by close grain and deep colour. The name was derived because of its availability in the Central Province in the British Period.
Nagpur teak wood: Grown in Nagpur, this variety of teak wood is generally used to make heavy furniture.
Dandeli teak wood: This variety of teak grows in North Karnataka, has a dark brown colour, is rich in oil and has irregular straight and spiral grains.
Adilabad teak wood: This variety is grown in Adilabad, Andhra Pradesh.
Nilambur teak wood: Nilambur teak, available in Kerala, is famous for its quality. One of the world's most sought after woods, it has unique features like a large size, durability and distinctive colour. Nilambur teak is said to possess high resistance to fungal decay and also exhibit antioxidant properties. It is the first forest produce to earn the GI tag.
Imported teak wood: Imported teak wood available in India include Burma teak, Ghana and Columbian teak and teak from Indonesia, Malaysia, and Thailand.
Sal Wood
Sal wood is considered one of the best varieties of wood and is used for different purposes. It is widely used in making furniture and musical instruments. It is also used for several other purposes such as making door frames, staircases, or wooden flooring.
Sal wood has an excellent ability to withstand water and underground damp conditions. It does not require layers of polish to protect it. Sal wood has also very good termite resistance.
Some of its varieties are Gum Sal Wood, Indian Sal Wood, Malaysian Sal Wood, Red Sal Wood, Sal Wood Logs and White Sal Wood.
Indian Rosewood/Sheesham
It is also hardwood and can be used with different polishes and finishes. Although rosewood is the most expensive type of wood available in India, it is mostly preferred due to its termite-resistant quality, durability and versatility.
This wood has a distinctive colour that lends it exquisite beauty. It is so durable that is it considered ideal for intricate carvings, even the see-through styles like 'jali' work. Elaborately carved Sheesham wood furniture immediately enhances the look of any room.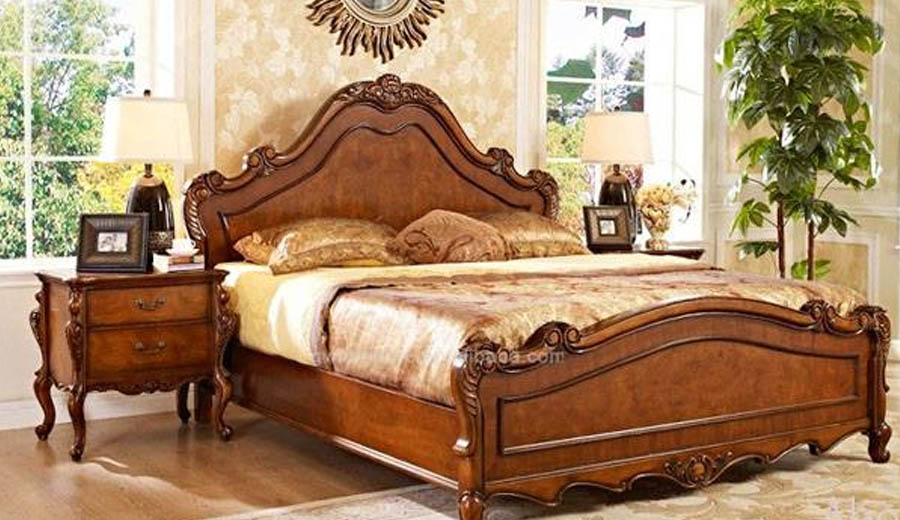 Mahogany
Mahogany is very durable and resistant to termites. Known as rich wood, its reddish-brown colour is unmistakable. Mahogany has a natural affinity towards polishes. It does not shrink, warp or swell due to weather changes.
It is the best choice for doors and indoor furniture like bed frames and crockery cabinets. However, it is one of the costliest woods in India.
Deodar 
Deodar wood is not very heavy like teak and has a coarse grain. There are knots at regular intervals and this wood does not have self-sheen. That is why it needs regular polishing. Deodar is a softwood which makes it an efficient wood for constructing Indian furniture.
This is a closely grained wood and like mahogany, it can absorb paint well. This sturdy and rot-resistant wood was used in building temples in the olden days. It is ideal for carved furniture.
Satinwood
Satinwood is quite affordable is hard and durable and can be given the desired finish by using different types of polish. However, it requires regular maintenance.
Satinwood furniture usually has a very lustrous look, since its grain is varied. Usually, satinwood furniture is bright yellow-coloured and in warm shades.
Apart from the above other types of wood that are used in India are White Cedar, Oak, and Cane.
Plywood and MDF
Although wood is extremely versatile for crafting designs and durable, it is quite costly these days. Plywoods and MDF (Medium Density Fibre-board) are, therefore, highly used for furniture making these days.
Plywood is engineered wood made by glueing together thin veneer sheets with a resin under high pressure. This creates a thick, strong and flexible flat sheet. MDF is also engineered wood but has lower stability and price.
Plywoods are lighter than wood and also has the beauty of wood. Available in softwood, hardwood and various finishes, this material can be used for roofing, flooring, furniture including wardrobes and cabinets, wall sheathing and even some DIY projects. The open edges can be covered with veneer or laminate and it can turn out to look quite sophisticated.
Although there are about 18 different varieties of plywood, MR plywood (Moisture Resistant Plywood), and Boiling Water Resistant plywood (BWR Plywood) are mostly used for making furniture. Plywood sheets are further categorised into grades based on quality (A-grade, B-grade, C-grade, etc.) and thickness (3 ply, 5 ply, multi-ply, etc.). Usage depends on the type of furniture and environment e. g. modular kitchen needs different types of plywood than bedroom furniture.
Once you decide to get your furniture made for your home, you must consider all your options and cost implications before taking the plunge.