Whenever Sumantra visits his uncle and aunt in Ahmedabad, which is generally a yearly affair, he buys a souvenir from Kolkata. His aunt, long residing in Ahmedabad, cherishes everything Sumantra brings for her from Kolkata. Probably, it induces a touch of homesickness and longing for her dear old Kolkata.
Sometimes, Sumantra is at a loss for choosing what to buy from Kolkata. Kolkata is so culturally rich that you are always spoilt with myriad choices. The craftsmanship of the artisans of Bengal, and particularly Kolkata, is also par excellence and is appreciated everywhere in India.
However, there are some items which you must buy if you are in Kolkata.
The Awesome Bengali Sweets
Kolkata is considered the sweetest part of India and there is a valid reason for that. The variety and depth of choice for Bengali sweets is just mind-boggling.
You must buy some iconic Bengali sweets such as rasagolla, ledikini, chom chom, misti doi, and many varieties of sandesh. It is easy to carry them for long distances now, thanks to modern packaging.
Terracotta, Essentially Bengal
Terracotta figurines and jewellery bear excellent craftsmanship and imagination. Derived from the practice of decorating temple walls with terracotta panels, terracotta craftsmanship has expanded to include statuettes, interesting art objects, and jewellery.
A notable example of terracotta folk art is Bankura Horse, as it is known worldwide. In fact, Central Cottage Industries Emporium, carries the image of Bankura Horse in its logo.
You must not fail to buy some terracotta items while in Kolkata.
Tant, Baluchari, and Kantha Sarees
The immaculate artisanship of Bengal has taken the form of sarees.  The skill and imagination have passed down generations and is now further accentuated by the modern design inputs of talented fashion designers.
Certain districts of Bengal are known for the specific styles and craftsmanship of sarees. For example, Nadia district is known for those crisp Tant sarees, while the artisans of Bankura can tell a story on a saree by weaving an excellent Baluchari saree.
Kantha stitch sarees, excellently embroidered with traditional motifs, have recently revived in popularity.
The Immortal Paintings of Kalighat
Originating in the nineteenth century near the iconic Kalighat Temple in Kolkata, these paintings have found their way into art galleries of America and Europe. Depicting several images from The Ramayana, The Mahabharata, Puranas and of Indian Gods, the Kalighat paintings, patachitras as they are known, have become a genre of unmediated folk art in the streets of Kolkata, loved by people from all over the world. With modernization, their theme nowadays ranges from religion to historical, even romance and contemporary Indian politics.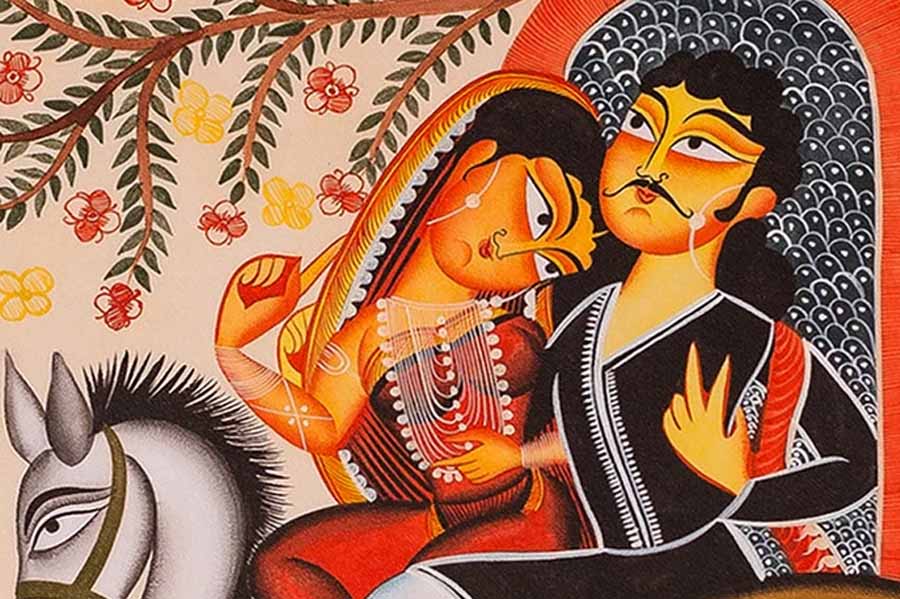 Sholapith Handicrafts
Sholapith or Shola or Sola is the dried core of a plant that grows in the marshy wetlands of the state. Milky white in color, it is soft and extremely lightweight. It is also called Indian Cork.
The artisans of Bengal found it to be the perfect canvas for crafting their imagination. Over time, Sholapith works became famous all over the world. The most famous Sholapith art which you will find in Kolkata is the famous garlands which are used during the grand Durga Puja celebrations. The best part, when finished, it radiates lustre like that of ivory.
Jute Items, Bamboo Crafts, and Putul
Jute, a natural fibre, has made a huge comeback in the form of attractive eco-friendly bags, shoes, table cloths, or napkins. The designs are great, and they are also extremely affordable. When in Kolkata, buy some of these to increase the style quotient of your accessories.
Even bamboo items can boast of a high level of craftsmanship.
Clay putuls are created by moulding soft clay in the form of gods, human beings, famous characters, musical instruments, and animals. They are not burnt but attractively painted.
Krishnanagar, near Kolkata, is one of the major areas where clay-modelling has flourished as a craft.
Darjeeling Tea — a Must Buy when You are at Kolkata
The incomparable quality of Darjeeling Tea is the result of its locational climate, soil conditions, altitude and meticulous processing. Since 2004, the term Darjeeling Tea has been a registered geographical indication referring to products produced on certain estates within Darjeeling and Kalimpong.
There are a number of stores where you can buy authentic Darjeeling Tea.  The unique aroma of Darjeeling Tea is certain to warm you up even on a cold evening.
Never leave Kolkata without buying some.