Living in a centrally located gated community in Kolkata is everyone's dream. But it is extremely difficult to get such an opportunity.
These opportunities come rarely and if you miss the chance, you never know when the next opportunity will arrive.
It is even rarer to find a project with various elements of nature and is built around a waterbody. You can relax beside it on a summer afternoon after a hard day at the office, or just hear the birds chirping on a lofty branch of a tree inside the project.
Environmental Concern is Paramount at Laguna Bay
The environment is at the heart of the conceptual foundation of Laguna Bay. Because of an array of steps taken in architectural planning, Laguna Bay has acquired the prestigious IGBC Platinum rating.
The project has 67% open space, and it is ensured that the rooms receive abundant sunlight and air. World-class landscaping will ensure massive green cover with a variety of plants and trees.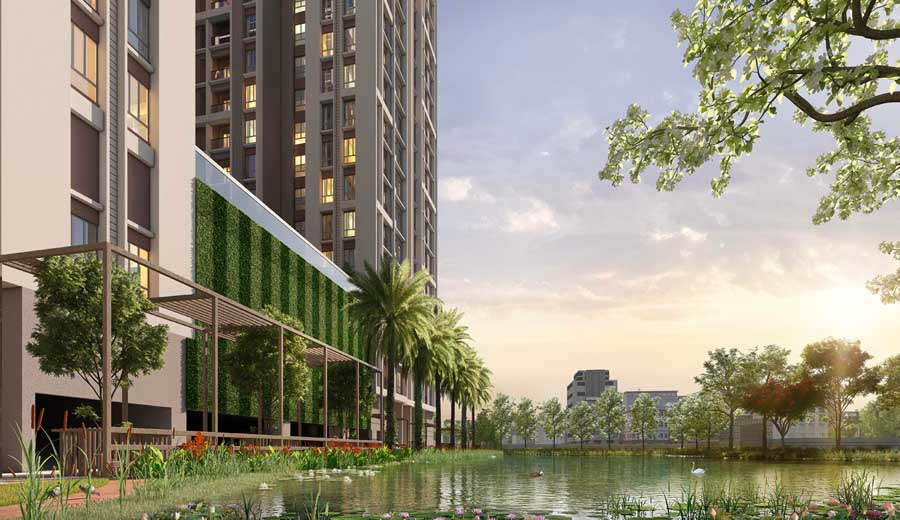 Laguna Bay is also installing a few facilities that will help it to be resource-efficient and promote sustainable living.
Rainwater harvesting: A rainwater harvesting tank is installed in the premises, to collect water and use it for other activities like landscaping and gardening.
Waste and garbage disposal: A sewage treatment plant and an organic waste converter installed at Laguna Bay will treat all water and other wastes to make them safe for reuse, such as in activities like flushing and landscaping respectively.
Solar-powered facilities: Laguna Bay has installed solar panels on the premises. The energy produced from them will provide for the lighting of the common spaces of the building making Laguna Bay energy efficient.
Electrical vehicle charging points: Laguna Bay will have new-age electric vehicle charging points.
Centrally Located, Well Connected
Laguna Bay is centrally located and well connected to all areas of Kolkata by road. In fact, the project is on an 80 ft. wide road.
It is so well located that almost all top schools, upscale shopping malls, office areas, entertainment centres are within a short distance away. Whether you want to reach EM Bypass or Park Street, you can reach in a jiffy.
When you stay at Laguna Bay, you have the privilege of reduced travel time because of its central location. This reduced travel through city roads hardly exposes you to city pollution.
High-end Amenities, Luxurious Life
Laguna Bay offers a truly luxurious and serene life unmatched in Kolkata. The presence of the highly beautified 32,000 sq. ft. waterbody within the premises inculcates serenity in the lives of the residents while the amenities provoke them to indulge.
A plethora of outdoor amenities ensures that your life will never meet boredom as long as you live here.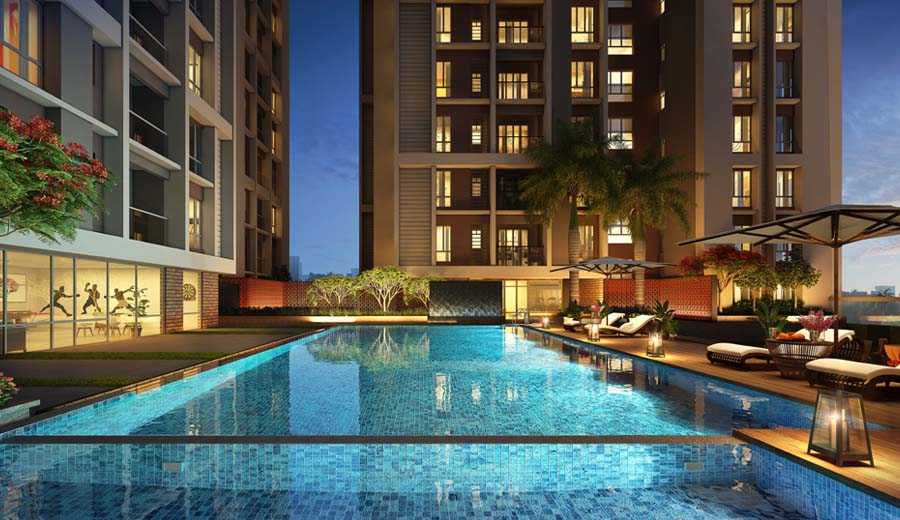 What are those outdoor amenities?
We will check them out right now. But before that, let's discuss the apartment blocks in a second.
There are 2 and 3 BHK homes in 3 towers of G+18 floors. There are 194 apartments to choose from. Apartment sizes start from 1016 sq. ft.
You can enjoy your out of home time in the
Adda zone
Aerobics and meditation deck
Yoga area
Wide central lawn
Multipurpose court.
You can also take a jog at the jogging track. For your children, there is an outdoor children's play area too.
When we talk of the great outdoors at Laguna Bay, we must also mention the skywalk and pergola sitting arrangements overlooking the cityscape as well as the barbecue deck on the roof.
Club Laguna Bay
Laguna Bay insists that you must have an amazing social life and this is how the residents develop their close-knit community. Club Laguna Bay is created with this idea in mind.
Club Laguna Bay is going to have a swimming pool as well as a baby pool. You can indulge your senses in steam, massage or jacuzzi.
There is also a well-equipped multi-gym and indoor games room. You can shoo away boredom on the weekends and have a blast with your neighbours and friends.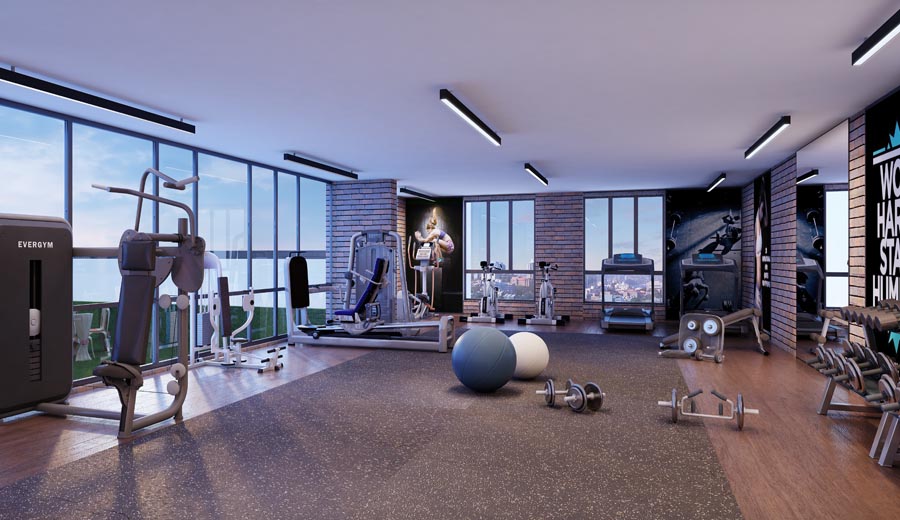 On a rainy day, children can play around in the indoor children's play area.
And for social functions, there is also an AC banquet hall.
In short, Laguna Bay is a rare opportunity to live in a small, exclusive community at the heart of the city.
Contact us if you wish to know more.
Rare opportunities don't last forever.