For Kolkata property market, 2016-17 and 2017-18 can surely be termed as the years of disruption. Because of regulatory policy changes, the real estate industry in India had to adjust to the new environment in these years. Demonetization, GST and the on-going RERA implementation created widespread apprehension about the industry.  Although Kolkata property market was surely affected, it adjusted to this disruption very well with resilience. Rather the market is marginally up in April-Dec 2017-18 as compared to the same period of the previous year.
Are the homebuyers confirming their purchases after showing interest? Yes, they are. The percentage of enquiry vis a vis bookings are decently up in Oct-Dec 2017 quarter compared to the July-Sept quarter of the same year.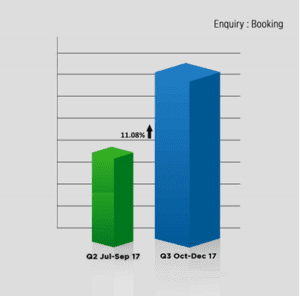 A little different trend is visible when we look at the site visit percentages vis a vis booking in these two quarters.
Some More Insights
The conversion from initial enquiry to physical meetings has shown an upward movement in the last quarter. Please note that the face to face data includes site visits & visit to buyers' place.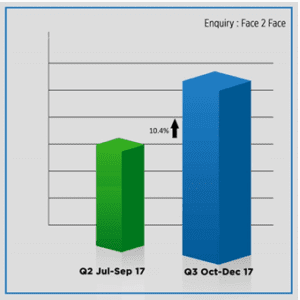 The quarter Oct-Dec has also yielded more bookings from physical meetings in comparison to Jul-Sep 2017.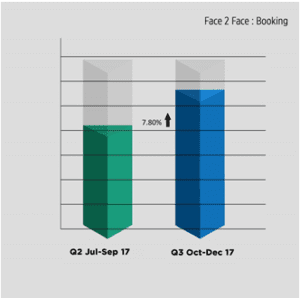 South Kolkata is Leading in Homebuyers Interest
South Kolkata is most attractive for the homebuyers and the percentage of enquiries from different zones are roughly unchanged in Jul-Sept and Oct-Dec quarters. Notably, there is a growing interest in the other areas apart from South Kolkata, North Kolkata, and Rajarhat/New Town.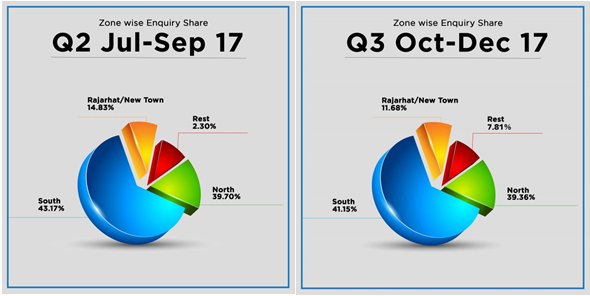 Zone wise composite bookings in the three main zones in Oct-Dec 2017 is stable overall but a shift is clearly noticeable. While bookings in North Kolkata came down by 10.65%, there is 8.49% growth in Rajarhat New Town zone and 2.37% growth in South Kolkata in Oct-Dec quarter as compared to the previous quarter.
Higher Price Bracket Homes is Meeting with Increased Buyer Interest
The Rs 50-60 lakh and 60-70 lakh segment is meeting with much-improved buyer interest while Rs 20-30 lakh segment is having reduced buyer interest. In fact, the Rs 20-30 lakh segment enquiries dropped by from 38.81% to 28.74% in Oct-Dec quarter compared to July-Sept quarter.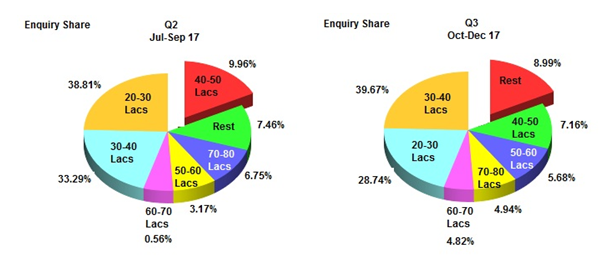 Increased bookings in the higher price brackets in core residential market substantiate the uptick in higher buyer interest in these segments in these two quarters. Let's look at bookings data for different slabs in these two quarters.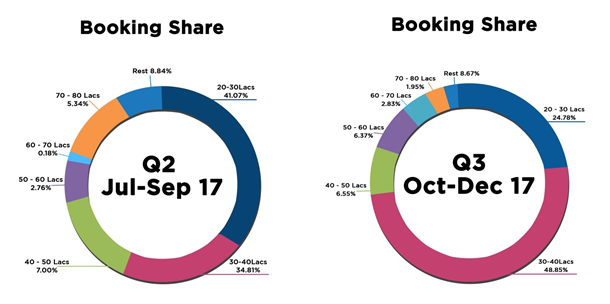 While bookings in the Rs 20-30 lakh slab has come down on a quarter on quarter basis, bookings in the Rs 30-40 lakh has gone up by approximately the same percentage. Is there a shift towards the Rs 30-40 lakh segment from the Rs 20-30 lakh segment? Subsequent quarters may offer a better confirmation of the trend.
More Bookings of 3 BHK Apartments
In the Oct-Dec quarter, there is more booking of 3 BHK apartments while there is a decrease in the booking of 2 BHK apartments. Interestingly, the drop in 2 BHK bookings approximately corresponded to the growth in 3 BHK bookings.

It is obvious from the charts given above that the Kolkata property market now has successfully absorbed the disruptive shocks. There is a growth of 8.89% in the average monthly booking in nine months of Apr-Dec 2017 compared to the same period of the previous year. Kolkata property market is set to grow further especially with the benign interest rate regime and the extended Pradhan Mantri Awas Yojana CLSS Scheme benefits.