Surojit was mad about the court. All he loved was a good game after he came back from school. He always enjoyed a tough game, dripping sweat from his eyebrow and a soaked t-shirt.
A boy from Siliguri, Surojit was very meritorious and came to Kolkata to study in Kolkata Medical College, ranking quite high in the medical entrance examination.
His love for badminton took a backseat after he came to Kolkata. There was no opportunity to play in his hostel. He was always wistful for playing a good game.
But that didn't really happen in spite of him doing well in exams and getting a well-paying job in a hospital near EM Bypass. He was staying in a rental flat in a standalone building with just a few amenities; a badminton court was not part of it.
Because of his love of the game, and his need for stress-busting and being in shape, Surojit started looking for a flat in a gated community with some sports facilities, a badminton court was a must-have in his list. And when he came across an ad on Facebook for such a property near Southern Bypass, he went ahead to visit the property. The guy from NK Realtors was really helpful, and Surojit actually decided to book a flat after a detailed discussion on property development trends in Kolkata.
Now, this is the advantage of availing of property consultancy from NK Realtors. You can get easy access to a huge repository of knowledge, trend study, and property market data.
For example, Kolkata Market Report (July-Dec 2021) revealed certain interesting trends about how the real estate landscape is evolving in Kolkata, Howrah, and Hooghly.
Let's dive deep into the report and see how the insights will help homebuyers.
South and South-West Trumps Other Zones
In the period under consideration, South and South West Kolkata have attracted major buyer interest in Kolkata. Although South Kolkata is generally ahead of other zones in enticing the homebuyers now these two zones are way ahead of other zones.
Among the top 10 pockets in Kolkata, Joka ruled the roost with 35% of all enquiries. Rajpur Baruipur (14%) and Behala Chowrasta (13%) together cornered another 27% of all enquiries. Add Southern Bypass & Surroundings (6%) to the above and 68% of all demand is in these zones.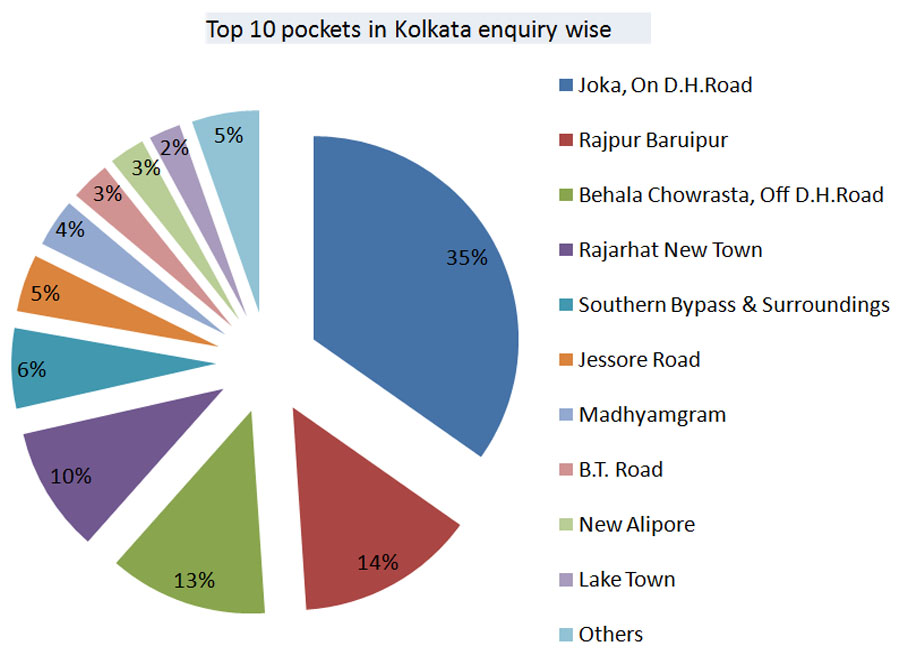 The demand for 3BHK (54%) has outstripped the demand for 2 BHK (40%). More and more homebuyers now prefer 3 BHK over 2 BHK for added space, privacy, and convenience.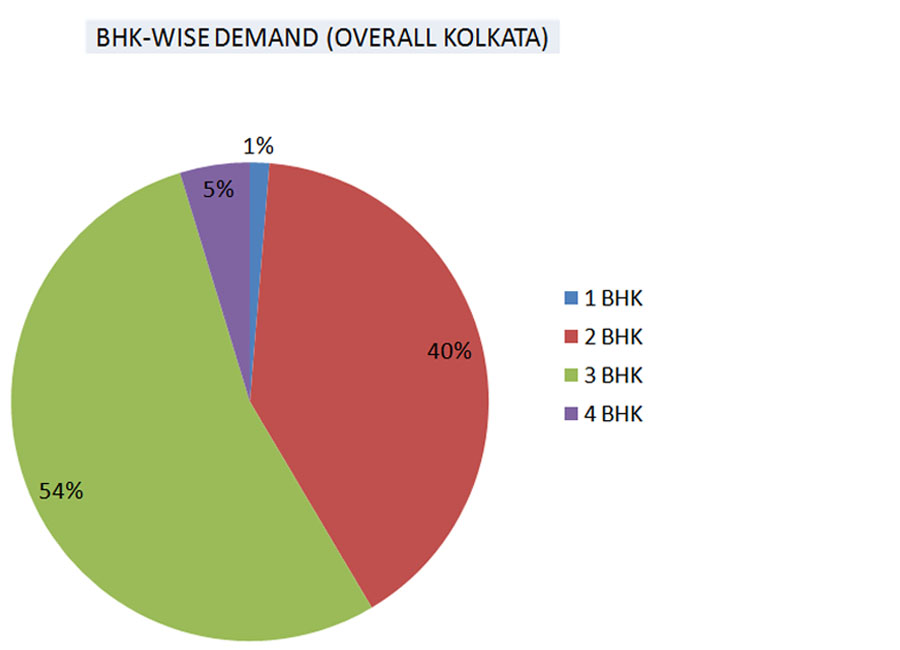 Area-wise, the highest demand (28%) is for apartments of 1000-1200 sq. ft. closely followed by apartments of 900-1000 sq. ft. (25%). 20% of demand is for 1200-1500 sq. ft flats whereas 18% enquiries are for 700-900 sq. ft. homes.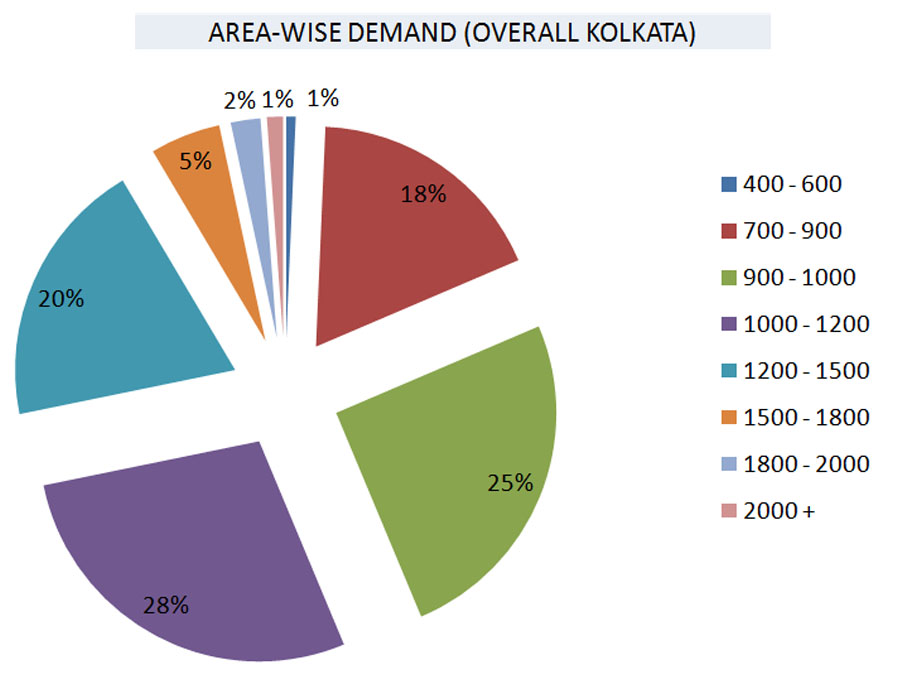 If we analyse the budgetary preference we come across some interesting insights. Let's look at them.
Maximum demand is the range of Rs 41-50 lakh (22%) followed by Rs 31-40 lakh (17%) and Rs 51-60 lakh (17%). As we go higher up in apartment prices demand moderates, as expected. Demand for flats priced between Rs 61-70 lakh is 10% while that of Rs 71-80 lakh is 8%.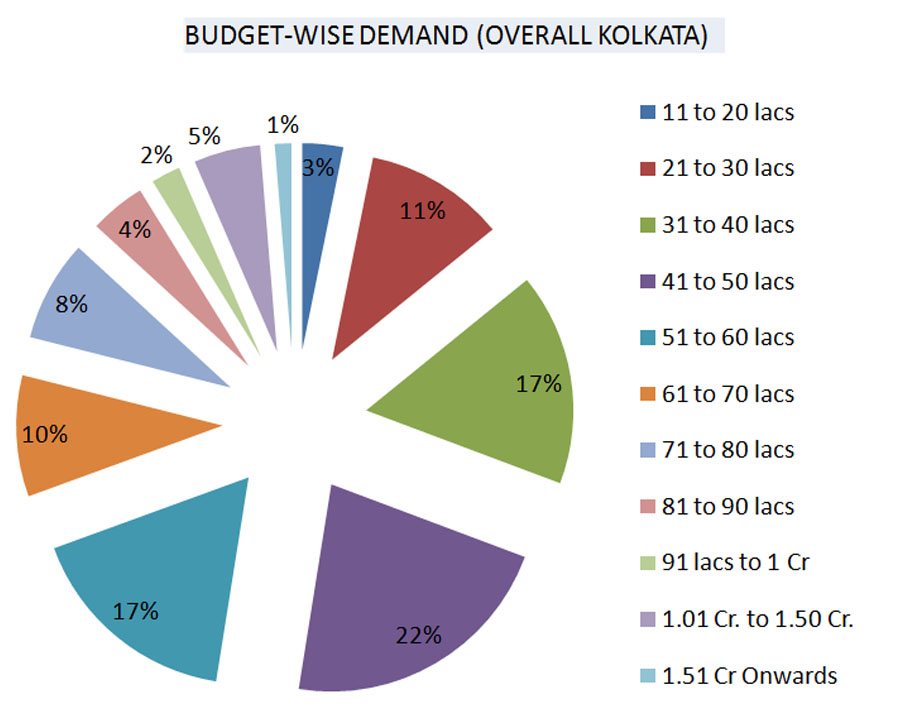 An interesting observation is that Southern Bypass & Surroundings has witnessed high demand (29%) in Rs 1.01-1.5 crore segment followed by Garia, EM Bypass (28%). Quite a few upscale bungalow township projects are coming up in this area.
Deep Dive in Zonal Data
Let's now look at some more data in specific zones. What kind of budgets, areas, or flat types are preferred by homebuyers in these zones?
There are interesting insights to consider.
In the case of Joka, the majority of demand arises from relatively affordable homes. 26% of the demand is for homes in the budget range of Rs 41-50 lakh, but there is substantial demand for other budget ranges too.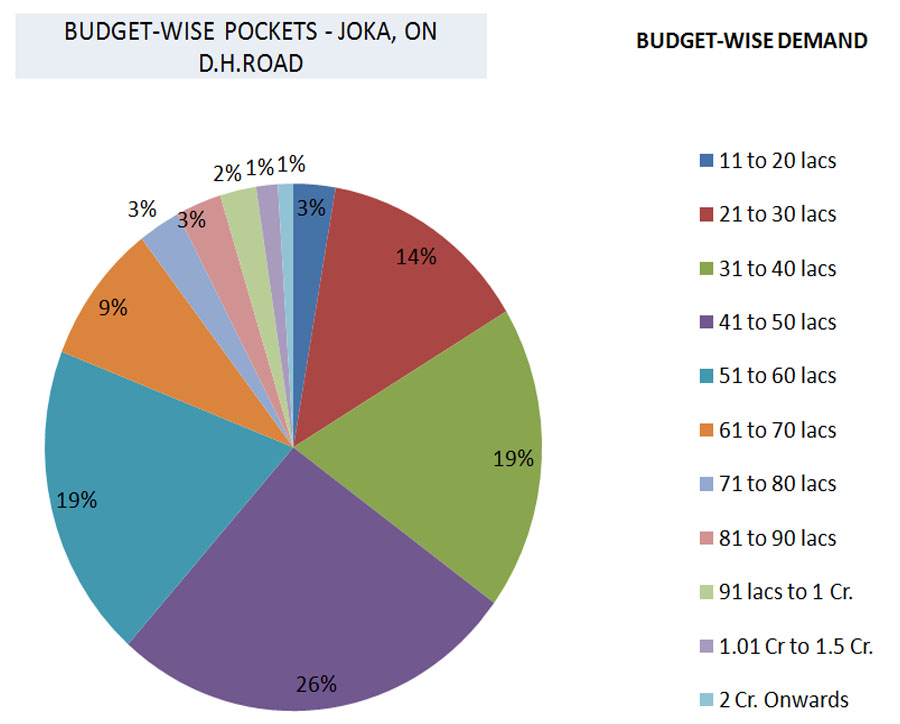 For Rajpur, Manickpur & Baruipur zone, it is somewhat different. 27% demand is for Rs 21-30 lakh homes followed by Rs 31-40 lakh (21%). There is also considerable demand in Rs 41-50 lakh (17%) and Rs 51-60 lakh (13%).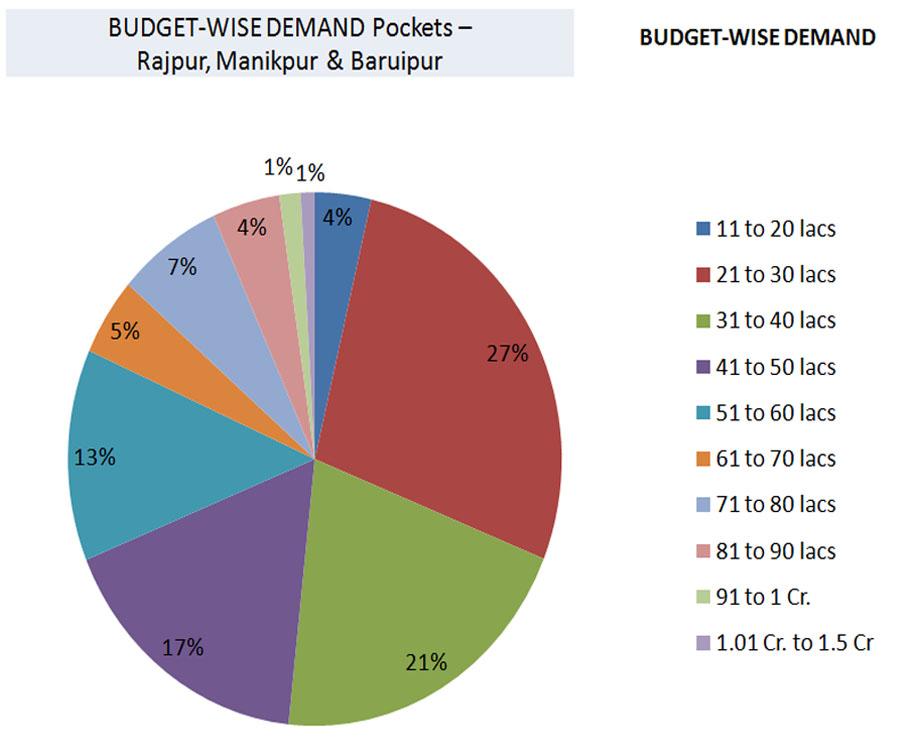 3 budget segments dominated the demand landscape in the Rajarhat New Town area. Rs 71-80 lakh (27%), Rs 61-70 lakh (27%), and Rs 51-60 lakh (24%) are major demand drivers.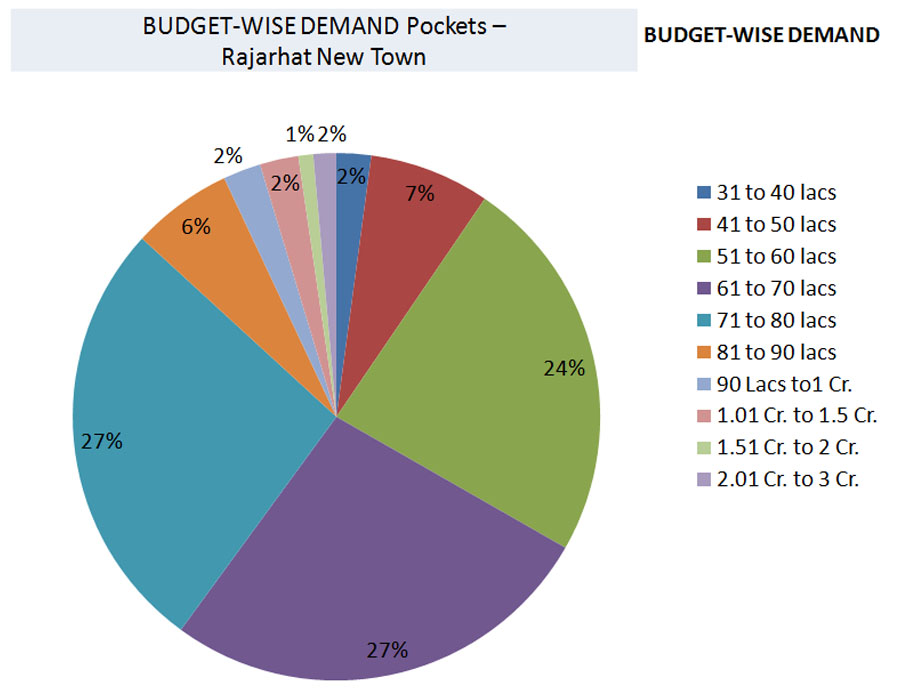 In Southern Bypass & Surroundings, 24% demand comes from Rs 1.01-1.5 crore segment although 26% demand is generated from Rs 51-60 lakh, and 27% demand is from Rs 41-50 lakh segment.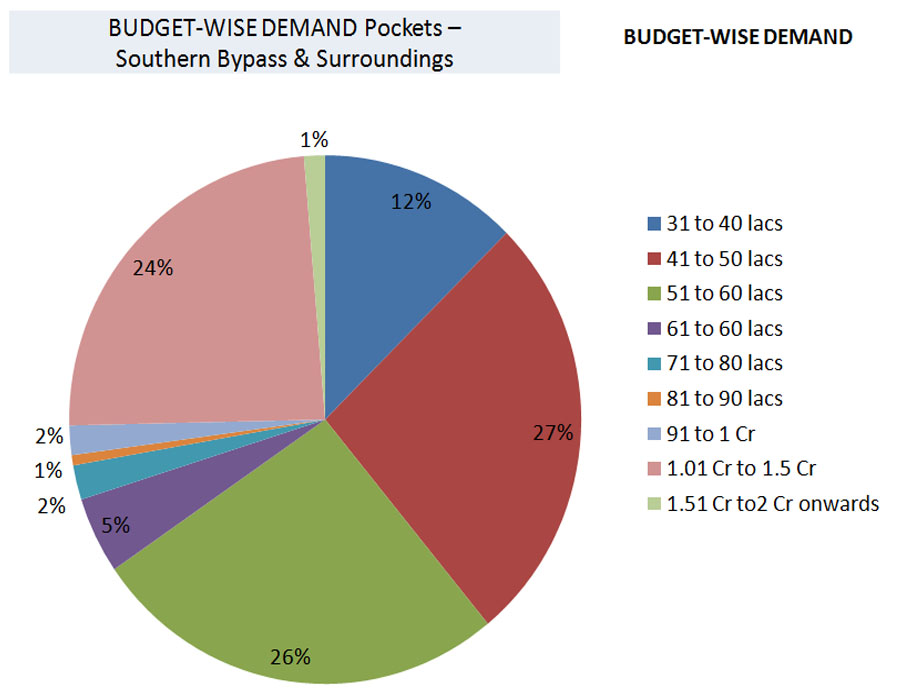 Howrah
BHK preference in Howrah follows the overall trend (52% 3BHK, 45% 2BHK). However, almost all budget segments generated demand, ruled by Rs 71-80 lakh (24%) and Rs 61-70 lakh (21%).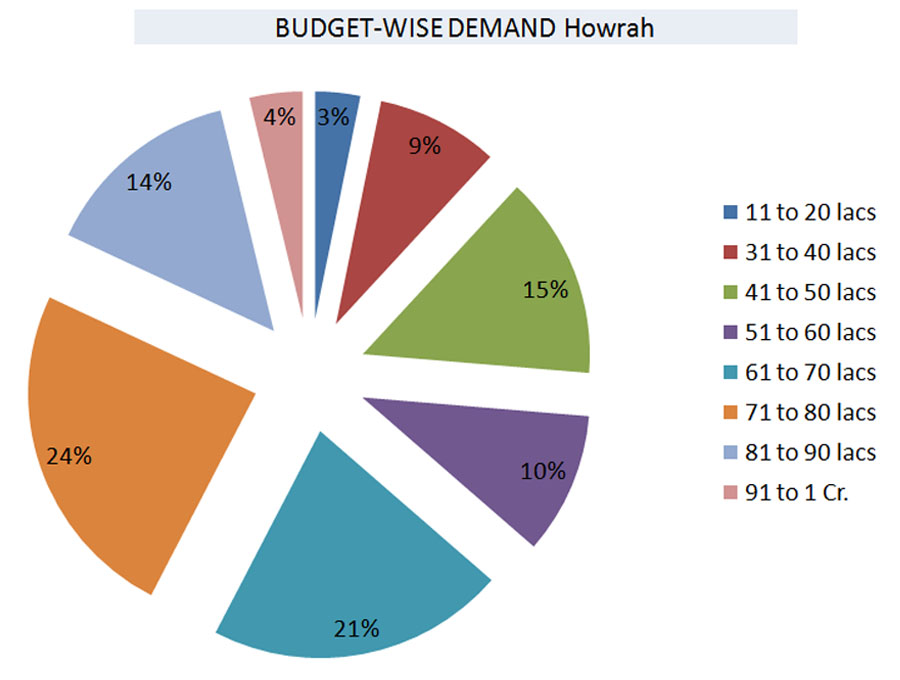 37% of demand is generated from 1200-1500 sq. ft. homes whereas 29% of homebuyers prefer 1000-1200 sq. ft. homes.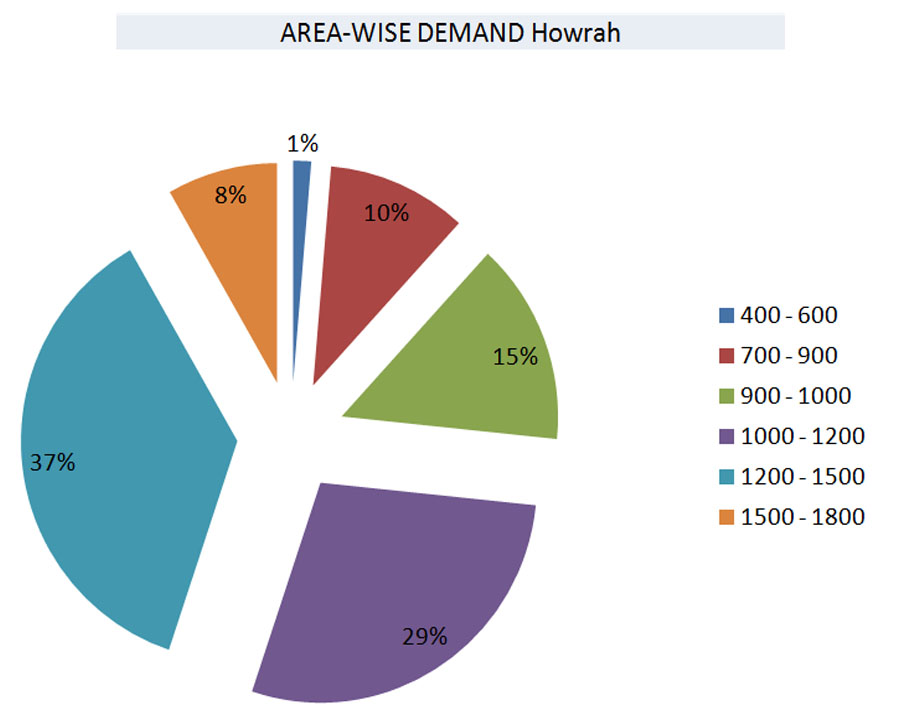 Hooghly
The majority of demand in Hooghly is for 2 BHK homes (44%), while 34% of demand is for 3 BHK homes. The demand for a 1 BHK home is also substantial at 22%.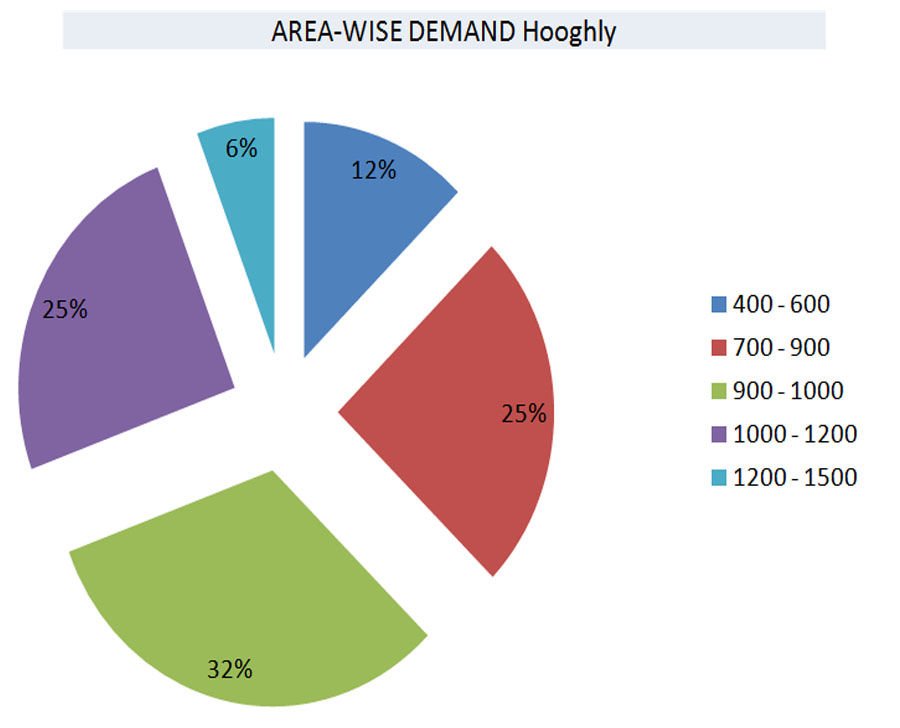 A whopping 60% demand is arising out of Rs 31-40 lakh segment. Areawise, 900-1000 sq. ft. homes dominated the demand (32%).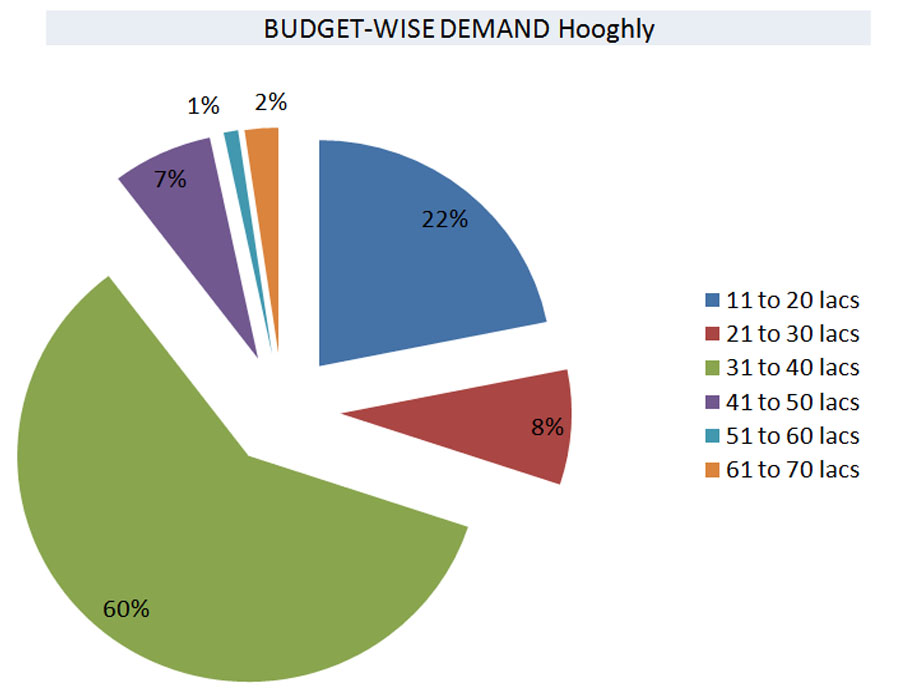 We can clearly see that the Kolkata property market is consolidating and the trend of the last 6 months is getting stronger with minor shifts in demand pattern. We feel that there will be strong stability in real estate demand in the Kolkata property market.