You return home after a long day's work, and the moment you open the door, the lights turn on automatically! It's close to 8 pm, almost time for your favourite soccer match to start. You take off your shoes and move towards the living room to watch the game…the television starts on its own. Just as you are about to sit on the couch, you are interrupted by a beep from the kitchen. It's your refrigerator reminding you that there are two perfectly chilled drinks inside. You grab one and shut the door. Oh no! The display on the refrigerator door says there's nothing for dinner. You tap a button on the display, and the refrigerator automatically dials the popular food joint from your cell phone. As you take your cell phone out to place the order, you see a notification prompting you that the home security system isn't activated. With a single tap, you activate it from your mobile phone and finally settle down to enjoy the game.
Is this magic or a science fiction movie? No, it isn't any of that. It's just a smart home powered by the Internet of Things. However, if you are under the impression that smart homes are only for millionaires, you might be highly mistaken. Home automation is a trend that's becoming popular among homeowners around the world.  Here are some ways to join the bandwagon.
Get Connected
The core fabric of smart homes is built on seamless connection, where all your appliances like televisions, security systems, dishwashers, and refrigerators are connected to a wireless technology that enables remote control from a single device. WiFi is probably the most popular wireless technology that you can use to trigger-off your home's smart features. Today, many portable WiFi hotspots are available on the market, so you can get any of those or simply connect a router to your regular broadband connection to access WiFi.
Smart Security Systems
Securing the most prized possessions of your house is of paramount importance, and nothing does it better than smart security systems. These security systems enable you to watch all the activities happening in your home remotely, 24X7, using your smartphone and apps. Get live feed on your mobile phone from indoor and outdoor cameras, motion detectors, window sensors, door locks, smoke detectors, water sensors and other devices that are connected to the Wi-Fi network. Also get alerts via emails, text messages, and notifications while on the go, so that you can immediately act if there's a security breach.
Samsung Digital Door Lock SHS-P718, Netatmo Presence, iSmartAlarm, Nest Cam Outdoor, and August Smart Lock are some security systems that you can consider for your new smart home
Interactive Environment
The incredible advancements in Artificial Intelligence (AI) and Machine Learning (ML) have revolutionized speech recognition technologies big time. Today, speech recognition technologies can indeed enable you to play your favourite music, book a cab, or prepare a scrumptious meal by just speaking to a voice-activated smart home system such as Google Home or Amazon Alexa. Just say – "Alexa, adjust the temperature" or "Alexa, turn on the lights" – and your job is done. According to reports, tech giant Microsoft's virtual assistant Cortana and Apple's Siri smart speaker will also make their debut in the home automation market soon.
Smart Lighting
You are sleepy. You don't want to get off the bed. But you have to because the lights in the corridor are still on. Frustrating! Isn't it? Not anymore. Now it is possible to switch on, off, or dim the lights in your home from a smartphone without having to move an inch from the bed or the couch. What's more? Smart lighting can automatically turn on the lights when you arrive home, or enter a room, and can switch them off when you leave. This not only enhances the comfort level of your home but also reduces energy usage, saving your electricity bills, and also the environment.
Some of the popular smart lighting systems that you can deploy in your smart home include Philips Hue, GE Z-Wave, LIFX Color 1000, and Belkin WeMo Light Switch, to name a few.
Cooking Is No More a Pain
How about a refrigerator that automatically dials the grocery shop and orders what you need? Or maybe an electronic fork that keeps a track of your eating habits and tells you what to eat for weight loss? Honestly, the Internet of Things has made life in the kitchen simpler. Thanks to the IoT revolution, there are tons of android-operated, smartphone-controlled appliances in the market that make cooking faster, hassle-free, and better than ever before. Some smart devices and kitchen appliances that make cooking painless for you include LG ThinQ Refrigerator, Anova Culinary Precision Cooker Wi-Fi, and Palate Smart Grill.
Robots Are Here to Do Your Household Chores and More
Keeping your home sparkling clean can be one of the biggest burdens on you as a homeowner. How about letting a robot dust and mop your floors — without you having to drop a sweat? Well, that's no longer a wishful thinking. Robots, especially with the abilities to clean your home, have entered the Indian market. These robots have improved functionality and performance and can be operated with only a touch on your smartphone or wearable device, making cleaning a breeze. Neato, iRobot Roomba, Milagrow Aguabot, and Exilient ReadyMaid are some cleaning robots you can purchase online.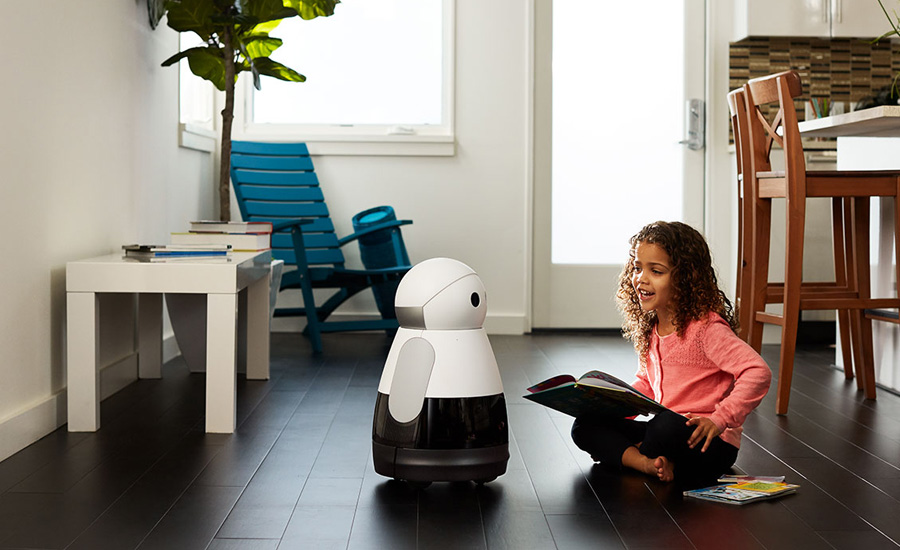 The entry of robots in the domestic space is also evident with India's first companion robot, Miko, arriving in the market recently. Described by its makers as "not just artificially intelligent, but emotionally sharp as well", Miko has the ability to communicate seamlessly with people and is being touted as the next best tool for educating children and keeping them entertained.
The home automation market is booming, with reports forecasting a market size of over 40 billion US dollars by 2020. Right now, the United States has the highest share of smart homes, followed by Japan, Germany, and others. Interestingly, builders and end-users of luxury homes in emerging economies like India are also showing a significant amount of interest in integrated smart homes. This is truly encouraging for tech companies and capitalists investing billions of dollars to drive new innovations in the smart home segment.