The Covid-19 crisis is spreading its tentacles through the length and breadth of India which has forced the Indian Government to extend its lockdown period for another 19 days till the 3rd of May, in order to contain further progress of the infection. The government, in fact, was left with no choice. With limited health care resources, the country would find itself in a difficult spot to tackle the crisis if the number of Corona cases rises rapidly.
Caught Between the Devil and the Deep Blue Sea
The lockdown which is necessary to save lives has taken away the livelihood from a large section of our society, rendering them jobless and thrown them into poverty almost overnight.
Prakash Singh's rickshaw stands idle outside his little shack. A rickshaw puller from Ghaziabad, he is one of the hundreds of millions of poor Indians who have been the worst hit by the world's largest lockdown.
"My neighbours and others are suffering the same plight. We have no work and no money left. I don't know how long we can go on like this!" His family of four and many others like Prakash are counting their days and waiting desperately for money and aid promised by the government.
Caught between the devil and the deep blue sea, the government is doing its best to ease out the effects of the lack of economic activities during the lockdown by allowing some sectors to start functioning.  But it is a Herculean task to reach out to the millions of less privileged people for the government alone. It is time that we brought out the best in us as humans.
What Individuals and Communities Can Do to Fight the Covid-19 Crisis?
Randeep Rai, a teacher in a private school, drives almost 120km every day amid the world's largest lockdown to distribute food to the very poor who have been hit the hardest. He is one among hundreds of volunteers who have put themselves on the front line to help the less privileged.
Amid the eerie silence, brought forth by the lockdown, the poor in this country can hear the rumblings of their empty stomachs, louder than ever before. Fear of dying of hunger has prompted millions of daily wagers, most of whom are migrant workers, to go back to their villages, many on foot.
"You can distinguish between beggars and those who are not used to begging. I have seen poor families gather at the nearby market, sitting silently, waiting for some kind souls to give them food. They have been starving for days, many of them children!" says a visibly aghast Agni, a Delhi-based journalist of a leading Bengali daily.
"The Covid-19 crisis is too big for any government to tackle alone. We, as a community and as individuals should do our bit. Even if you can manage staple rice and dal for people who are suffering from this crisis the most, do it! Every small bit counts."
Agni, his colleagues, and neighbours have organised a community kitchen, serving Khichdi and cooked vegetables to the hapless lockdown-affected families. "Many people have come up with their own programmes. Everybody is trying is his own way," he said.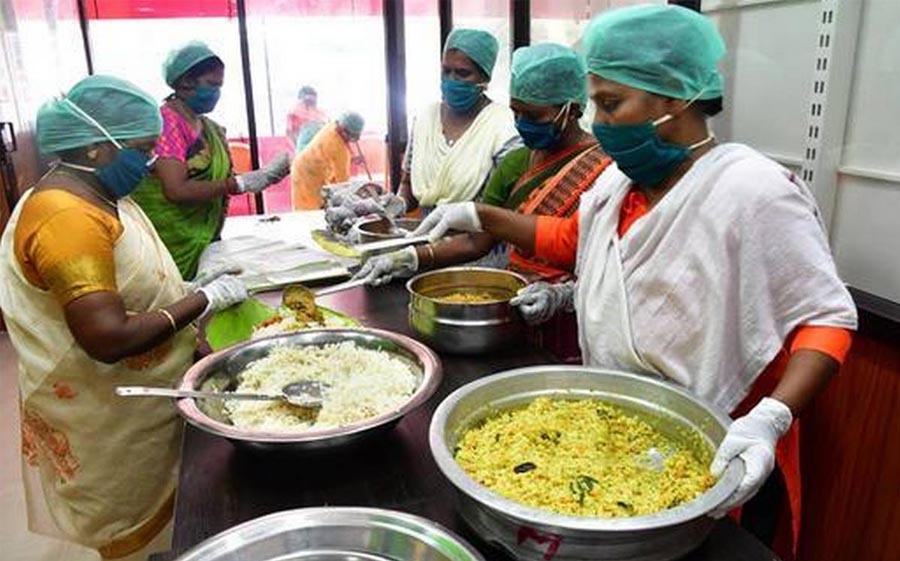 Many corporations, privileged high net worth individuals like film stars and regular people, in their collective entities and as individuals have stepped in to do their bit. Some have offered their uninhabited bungalows to be transformed into quarantine centres; some have donated large sums for medical equipment and other facilities. Still, others have helped to sew face masks; volunteered labour in community kitchens thrown open by civil society activists, and have fed street dogs and cats. The social media has been full of such acts of kindness that have kept alive the bright light of humanity amidst the dark dense cloud of Covid-19 pandemic.
What We, as a Community, Can Pledge to Do?
Lakshmi, Prakash's wife has been refused entry at the posh housing complex where she worked as domestic help." They have not promised to pay me for the days I remain absent." She cannot rely on her employers' abiding by the government's request of no pay-cuts for daily wagers and domestic help.
Much of our population, including caregivers, maids, drivers, and other large sections of our society, don't have the privilege of working from home and are reeling under abject poverty under the present condition. For them, this call for social distancing may seem unreal but for those of us who can afford to, we should continue to pay them their salaries to support our own need for social distancing.
We should ensure that social ostracism against doctors and nurses do not take a worse turn. Those of us who have rented our homes to doctors and medical and other emergency staff should be careful of not evicting them for fear of infection. Debt and rent moratorium should also be extended by landlords and lenders to the less privileged to help them tide over this crisis.
What Corporates Can Do for the Less Privileged?
The Covid-19 crisis has bought an unprecedented challenge for India and its people. The lack of prior experience in tackling such an unforeseen pandemic-led crisis and its sheer scale has sorely stretched the resources of governments across the world.
In places where government aid has been delayed or has failed to reach the poor due to lack of documentation, private individuals, and small private companies and MNCs have continued to try and fill the gaps.
Natural Resources MNC, Vedanta's promoter, Anil Agarwal, has pledged Rs 100 crore towards fighting the pandemic by helping daily-wage earners. Other industrialists and celebrities from the world of Bollywood and sports have also come forward to support self-employed artisans, small vendors, and others who have lost jobs and wages and who do not have medical insurance or any such social safety nets. They have all donated a few crores each. Reliance Industries Ltd has announced that it would be producing 1,00,000 face-masks daily and a large number of protective equipment like suits while PepsiCo Foundation has pledged to provide 25,000 Covid-19 testing kits and over 5 million meals to support hungry families. Many like Google Global Head, Sundar Pichai have pitched with large sums to help the government overcome the crisis.
How Corporate Philanthropy Can Help in Long Term?
While there is no better time for individual charity and large donations, the crisis now, however, desperately calls for lasting actions and calibrated philanthropic moves and innovative and kind-hearted leadership from the corporate sectors to ease this burden on humanity in the long term.
Jack Ma, Bill Gates, Zuckerberg and our own Azim Premji along with many other big names in global philanthropy have committed large sums of money to help those affected by Coronavirus.  Last month, Bill and Melinda Gates Foundation has committed up to $100 million to combat coronavirus and Wipro's Premji has donated Rs 50,000 crore.
Viruses existed before and will exist even after the Covid-19 crisis slides. The need of the hour is to spend on biotechnology to research on vaccines, create good response system using science and technology; build the global epidemic fund and a reserve medical corps to support and move medical facilities, men and resources during global medical emergencies.
The future world will be in need of increased capacity for advanced diagnostics, development of at-home testing kits, more efficient disposal systems for infected bodies and materials along with designing isolation facilities at minimum notice.
One hopes that at least some of the big money announced under corporate philanthropy will be used for forward planning to tackle future crises or similar nature and magnitude.