"Spring is nature's way of saying, let's party!" — Robin Williams.
This is essentially the emotion behind the festival of Holi. It is a way of celebrating the vibrant colours of nature that come with the arrival of the spring season. The 'carnival of colours' is one of the most prominent festivals in India, which transcends religions, communities, and castes, spreading friendship, harmony, love, and brotherhood. In the course of the day-long festival, people sprinkle coloured powder and water on each other, turning Indian cities into a canvas of vivid colours. And, the celebration of Holi in Kolkata is not an exception.
Interestingly, there are myriad of ways in which the city celebrates this festival.
For 50-year-old Biman Mukherjee, sporting a T-shirt with remnants of previous year's Holi colours to buy this year's Holi supplies is a ritual he has been following for many years now. "I take out my old tee that got spoiled playing Holi last year and wear it to the market to buy abir (powdered colours) and sprinklers a week before the celebration," confesses the Holi enthusiast. "You could say it's a way to usher in my favourite festival."
Interior designer, Smita Agarwal throws a big Holi party at her New Alipore residence every year. From the customary bhaang to all-white dress codes, she likes to celebrate the festival in true Bollywood style.
Model, Sweta Tripathi was one of those who avoided Holi for the fear of colours. "I would skip every Holi party because I have an allergy to colours…not just for my profession, but for my health, in general, I had to avoid celebrating it." Now, with the advent of natural-based and organic Holi colours in the city, people like Sweta are more open to participating. The government of West Bengal has even stepped up and has been distributing 100% organic colours through the Biswa Bangla stores to ensure that the city celebrates a safe and healthy Holi.
Ahana Sen, a class twelve student of a South Kolkata school, had her Board exams just a few weeks after Holi last year. But that didn't deter her from celebrating the festival of colours with her para (neighbourhood) friends. "I celebrated both Dol and Holi," smiles the teen. College-goer, Abhik Guha echoes the same sentiments — he celebrates Dol with his family and friends in North Kolkata neighbourhood, while playing Holi with college friends the next day.
A Tinge of Tradition Splashed with Cosmopolitan Colours
People in Kolkata and Bengal, in general, have the rare opportunity of celebrating the festival of colours on two days in a row, while the entire country wraps up the festivities in a day. And this trend is evident now more than ever.
Even a decade or so back, Bengalis — at least the more traditional ones — predominantly celebrated Dol, with Holi being reserved for the non-Bengali population. The day of Dol would inevitably start with applying 'abir' on the feet of the elderly or some would plan a visit to Shantiniketan to celebrate Basanta Utsav.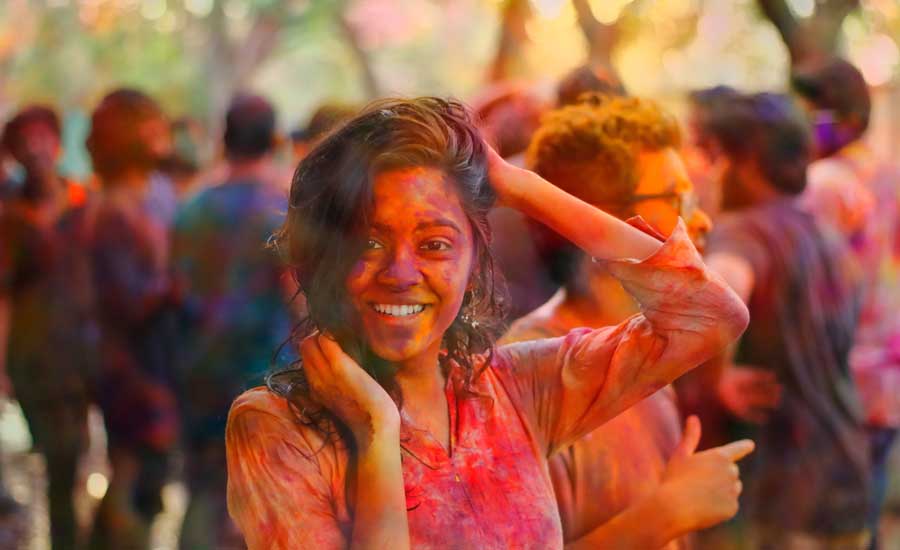 While many still preserve this tradition, others like to take the celebrations to the next day — when the rest of India celebrates Holi. In fact, like other metros, theme parties on Holi is now becoming increasingly common in Kolkata. Many venues and clubs organise these parties where people can not only play Holi but also enjoy a host of exciting events amidst foot-tapping music and an unlimited supply of food and drinks. Of course, this comes at a price — anywhere between Rs.1000-2000 per head or even above.
Going Back to the Roots
Like Holi, Doḷ jatra is also a festival of colours, but the festival differs in terms of mythos and tradition. The Doḷ jatra in Kolkata and Bengal is reminiscent of the divine romance of Lord Krishna and Radha.
According to the legends, Lord Krishna expressed his love for Radha on the day of Dol. In Bengal, there is a use of coloured powders, popularly known as 'abir' or 'phag' as opposed to coloured water to celebrate the love of Radha and Krishna. Devotees place the idols of Radha-Krishna on decorated palanquins and move around the city singing, dancing, and sprinkling abir on people, even strangers.
In many parts of Eastern India, including Bengal, this day is also celebrated as the birthday of Shri Chaitanya Mahaprabhu (A.D. 1486-1533). Particularly, ISKCON — which has global headquarters in Mayapur in Bengal's Nadia district — hosts a series of activities on the occasion of Dol, while also organising programmes on life and teachings of Mahaprabhu.
ISKCON's Holi is also a major draw for foreign tourists and witnesses more than 5000 devotees from all over the world.
Basanta Utsav in Shantiniketan — A Cultural Extravaganza
Shantiniketan, a mere 4-hour drive from Kolkata, is famous worldwide for its aesthetic Spring Festival or Basanta Utsav. Located in the Birbhum district of Bengal, Shantiniketan houses the internationally famed Vishwa Bharati University, founded by Nobel laureate Rabindranath Tagore.
Kabiguru started the annual festival of Basanta Utsav in his university to celebrate the magic of spring with songs, dance, and colours. Today, the Basanta Utsav is not only an intrinsic part of the Bengali tradition, but it is also a universal festival where people from all over the world come to enjoy.
Every year, on the day of Dol, students of the Vishva Bharati University, along with common people, celebrate the joyous festival of colours in an artistic way. The boys and girls of the local schools and university students, attired in yellow dresses, smear coloured powders on each other to express their festive wishes.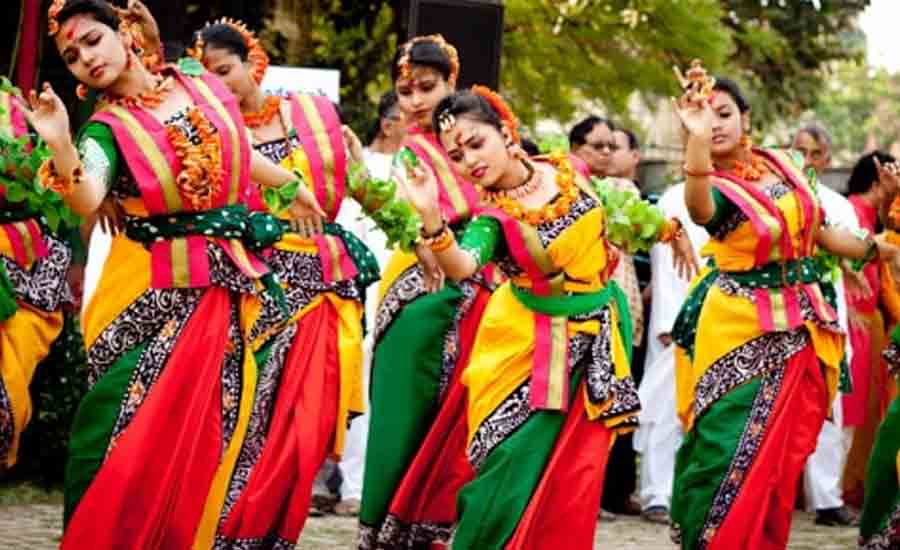 The festival day is packed with numerous cultural programs, such as songs, solo dance performances, group choreography, and drama. The university campus vibrates and pulsates with chorus songs, depicting the true spirit of new life that the spring season brings with it.
The Global Appeal of Holi in Kolkata
Kolkata welcomes foreigners with open arms and makes them a part of the colourful tradition.
ISKCON, which also has centres in Kolkata, witnesses some of the largest footfalls from foreign nationals who wish to participate in the festivities in a safe environment.
Even on Sudder Street — a hub for international tourists — one can see people from different countries and cultures playing with colours, enjoying themselves, and revelling in the celebrations.
The Basanta Utsav, not just in Shantiniketan, but also held in various city suburbs and neighbourhoods, is also another attraction for tourists.
Holi in Kolkata Apartments And Residential Complexes
Apartment complexes, gated communities, and housing societies in Kolkata are known to celebrate all the major festivals — giving opportunities to residents to mingle and interact with fellow members of the community in a fun and lively way.
These Holi parties are typically close-knit affairs with residents dousing each other in colours during the day and bonding over snacks, drinks, and jokes by the evening. Some societies even arrange fun events and cultural programmes.
Final Words
While metros like Mumbai and Delhi steal the thunder when it comes to Holi celebrations, there are multiple shades and hues in how the City of Joy rejoices in these festivities. No matter what's your type of Holi — whether you like to paint the town red with friends, have house parties, go full-on Bollywood, or whether you like it more traditional — Kolkata has it all.
Looking at the social aspects, the dual festivals of Dol and Holi in Kolkata reinforce the city's deep-rooted cultural diversity, and it helps to invigorate its secular fabric even more.