The image of a 'kumor' or an artisan sculpting a Durga idol in the inner courtyard of his family house, remains vividly planted in the 70-year-old Amalendu Roy's memory. Back in those days, artisans were invited to stay as house guests for weeks before the Durga Puja, during which they crafted the goddess, her children, and the demon lord, Mahisasura.
The arrival of kumors was a euphoric feeling, says Amalendu, a member of one of North Kolkata's elite families, since kumors were symbolic to the approaching festivities. Roy recollects, how he and his siblings used to gape in astonishment the making of Maa Durga, as the deft craftsmen, bit by bit, gave shape to a resplendent, larger-than-life idol from a handful of straw and a lump of clay.
The act of painting the deity's third eye was the most enchanting part of the entire process, he recounts. Ranjan Babu, the elderly senior artist, would usually gaze at the idol, sometimes for hours, and then, all of a sudden, with one brisk stroke of the brush, it would be there!
Though Kumortuli has been in existence since the inception of the eastern metropolis, its fame as the world's biggest idol market gained prominence in the era of Sarbojonin Durgotsav or community Durga Puja. This UNESCO World Heritage site, the abode of nearly 400+ idol makers and their families, is nestled in the labyrinths of North Kolkata's Sovabazar-Bagbazar area, close to river Hooghly.
Filled with the rich smell of wet clay, the essence of Kumortuli is its old world charm, which captivates onlookers as master craftsmen conjure the deity, as if by magic — a century-old legacy, passed on from generation to generation.
History of Kumortuli
'Kumor' means potter, and 'tuli' means place, so basically, Kumortuli is the potters' place.
The victory of British East India Company in the Battle of Plassey in 1757, led to the emergence of British colonization of Bengal, following which, the Company decided to develop a new settlement at Gobindapur village, the site, today known as the Fort William.
Most of the local rich and elite Babus shifted to Sutanuti, comprising of Jorasanko and Pathuriaghata, while separate districts were allocated for the working-class population under the supervision of John Zephaniah Holwell, the then Governor of Bengal.
Such districts, which can be easily referred to as 'old Kolkata', were assigned work-related names, for instance, 'Suriparah' was the place of wine sellers, 'Collotollah', the place of oil men, 'Ahiritola', the cowherd's quarters, 'Chuttarparah', the place of carpenters, and 'Kumortuli', the potters' quarters.
The potters of Kumortuli, forged clay sourced from the nearby Hooghly River into various potteries, and sold their products at Sutanuti Bazar (modern-day Burrabazar) to earn their living. With the declining demand for earthenware, these potters, with a prowess for creativity, gradually transformed into expert artisans, and took up idol making as their primary profession.
Nowadays, Kumortuli potters, not only manufacture clay idols of gods and goddesses that are worshipped in Indian cities, but they also export the idols on a regular basis for numerous festivals celebrated by Indian communities in foreign countries.
Kumortuli Idols Transcending Geographical Barriers
The demand for Kumortuli's innovative artwork is ever-increasing, and its supply list is growing at a rapid pace throughout the globe. From Nigeria to Malaysia, Sweden to Johannesburg, Washington DC to London, and the Caribbean Islands, today, Kumortuli's panoptic clientele of NRIs are spread across in distant lands, including the US, Europe, Asia, Africa, and Australia.
Every year, during the time of Durga Pujas, idols crafted by Kolkata artisans make their way to Durgotsavs arranged by Indian communities living abroad, such as Bay Area Probasee Inc in San Francisco, "Antorik" in Dallas, the USA, and London Durga Puja, organized by Indian steel tycoon, Lakshmi Mittal.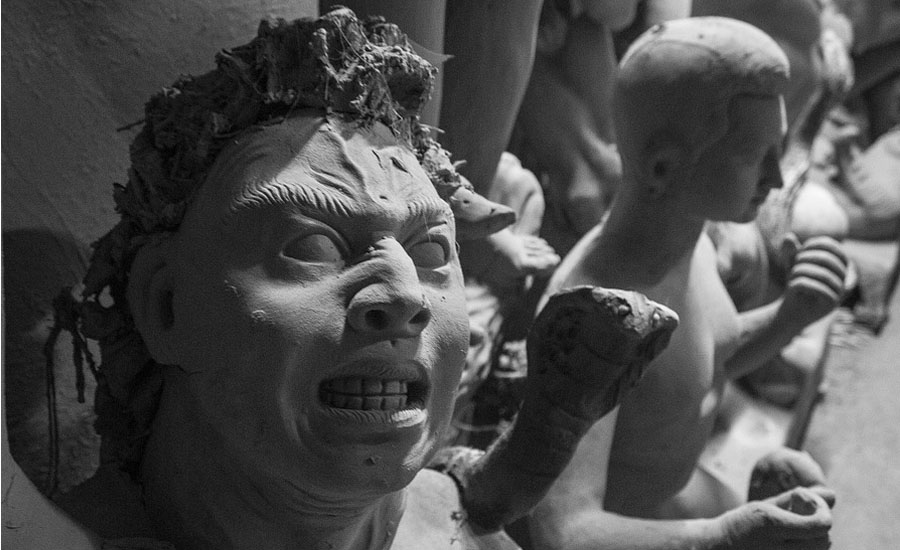 Each year, more than 12000 Durga deities, made of clay, fibreglass, thermocol, and paper pulp, are flown to as many as 90 countries worldwide, along with various other models of gods and goddesses celebrated by Indian communities staying overseas.
Over the past few years, Kumortuli is witnessing a deluge of export orders, which are helping many artists to sustain, said a famed artisan known for his impeccable artistic skills.
Not just that, the craft of idol-making itself is drawing interest from the global audience, and Kumortuli's artisans are doing rounds in various art weeks and exhibitions around the world. For example, last year, a clay idol making demonstration was held in University of London's SOAS South Asia Institute, while this in June, China Pal, one of the first women Durga Puja idol makers of Kumartuli, participated in the China-South/ Southeast Asian Art Week in South China.
Kumortuli Has Gone Online
The idea of e-selling idols struck the artisans in the year 2004. Starting with a humble beginning of one order in the first year, today, the Kumortuli artisans sell many idols around the year through the internet.
With the internet expanding at an exponential rate, now, more and more artisans are relying on online marketing to e-sell their products. The cyber world is also enabling the idol makers to explore new overseas markets, which is a good thing for this extraordinary art form.
Plus having a website facilitates buyers to view and book idols directly, which eliminates the role of middlemen surviving out of their hard-earned money, he added.
Project K2 — An Endeavour to Save the Iconic Kumortuli
Launched by journalist, photographer, and brand guru Kounteya Sinha, Project K2 is the first-of-its-kind fellowship program to save the centuries-old tradition of pottery and idol making. Fear of this age-old heritage getting wiped out, due to lack of interest from the younger generations, has prompted Sinha to launch the 'Sarba Mangala Fellowship of Arts', named after his late grandmother.
Under this innovative initiative, five youngsters, aged below 20 years, will be paid Rs.5,000 each per month between May 1 and October 1, so that they can learn and master the art of idol making from their parents who are associated with the trade for decades. Five big Durga Puja committees across Kolkata will be approached to purchase the idols sculpted by these children, which will motivate them to continue learning when they see their work being appreciated and sold at an acceptable price.
Sinha feels, if the next-generation is not motivated, they will shy away from the trade in search of office jobs, like it is the case in most labour-intensive trades, such as farming. He believes that as citizens, it is our duty to push these children to follow their ancestor's footsteps, otherwise, Kolkata will lose its epicentre of art and culture.
Kumortuli, besides being a popular spot for photography, is loaded with historical facts and events. Those not acquainted with the chronicle of Kumortuli can participate in heritage walks, arranged by different clubs, associations, and agencies — it's certainly worth it.
Especially at this time of the year when Durga Puja is just around the corner, it's a treat to watch the artisans create magic with their bare hands. As you amble down the old alleys of Kumortuli, it's rather natural to feel that if Kolkata has a soul, it probably lies here.