The very thought of decorating a room triggers all our desires and creativity in one go! And when it comes to decorating the child's room, there is no end to the possibilities that seem to hover in the mind.
However, it is always a good idea to keep in mind that a child's room needs special decoration; something that is simple yet attractive. But simple does not mean that you keep it to the bare minimum essentials.
With the right tricks and tips, you can make your little one's room truly amazing.
Let us start with the living room first.
Decorating the Living Room
While sprucing up the child's room, there are certain things to keep in mind. You must take care to ensure that no breakable décor items or objects with sharp corners are placed there. Besides, you also need to allow that much openness for your kids to run around.
Firstly, choose the wall shades that are appealing to you as well as them. You can always ask them about their preference of colours for the living room and see what they have to say. Encouraging kids to decide will enable them to be confident as they grow up.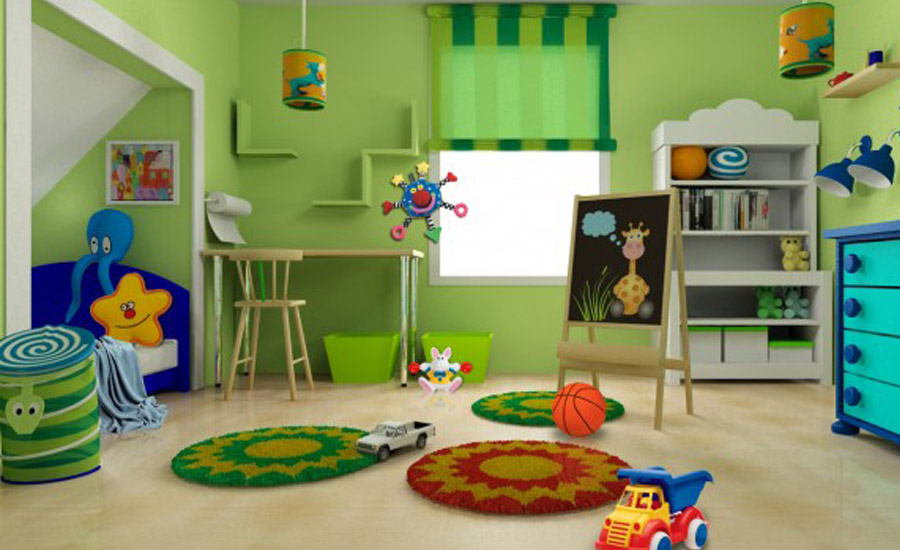 Next, while selecting the furniture, choose items that will allow them the liberty of moving around in a carefree manner. Restricting kids from playing around will only deprive them of their natural liveliness – and that is never desirable. And in this respect, bean bags in the child's room are a wonderful seating option. These are not only cosy but also serve their purpose very well. And no matter how mischievous the kids are, bean bags will endure them all.
Moving onto the Play Zone
For kids, no space can be more important than the play zone. Yes, they can give up on their food and sleep, but nothing can keep them off from playing. So, needless to say, you must be extra mindful, when it comes to decorating their play zone.
The games zone for kids must be painted the most vibrant of shades that ooze loads of energy! Kids love vibrant colours and the use of bright walls in the play zone will only add to their glee. If you already know their favourite colour, then give them a loving surprise! Considering a mix and match of all their favourite colours for the play space is also a brilliant idea.
For the floor, choose a cover or mattress that is easy to clean. You can teach them how to simply wash the mess off the floor, and in turn, make them grow up into responsible citizens.
Then it's time to choose a theme to fill up the walls. While fairies and princesses appeal to the small girls, the boys are usually more into superheroes, cars, and robots. You can also buy stickers or the more contemporary wall tattoos to fill up bare walls in an interesting fashion. Place their entire favourite toys inside the room; buy boxes in which they can easily put back their belongings all by themselves.
Keep the Study Area Neat
Keep the study area neat and minimalistic. Choose a sober shade of walls for the study, but do pay close attention to buying a chair and study table that are comfortable for them. The size should be appropriate so that that they do not outgrow in a few days. Moreover, the chair must be ergonomically designed to support your little one's posture.
Study tables with shelves are a good idea to keep things organized. And you can train your kids to take care of their books and other stationery by keeping them back on the shelves.
Subtle Colours for the Sleeping Zone
After running around all day, your kids do need sufficient sleep to replenish the lost energy. (It is also your chance to get some time off on your own, isn't it?)
For the walls, select from colours and décor that have a calming effect on their minds. You can plan to use strings of fairy lights strewn across the wall over their bed for that magical ambience or even stickers that glow in the dark.
And when it comes to selecting the furniture, go for the modern multi-purpose items. If you have more than one kid in the house, get a nice bunker bed. That adds to their excitement and also effectively uses space inside a child's room. Do make sure that the bed is sturdy, comfortable and big enough to become a cozy retreat for the small ones.
Give Your Kids the Space they Deserve
These were some interesting points to help you redesign or decorate your child's room. But the way to make things most interesting is to use these tips as starting points and then, go along with the flow of your imagination. Also, involve the children in the process — ask them for ideas and opinions, which will make them feel important. In this way, their room will turn out to be both amazing and interesting.