The COVID-19 pandemic has put existential pressure on the Indian workplace. As dramatic changes drive wedges through our lives, they reverberate through the corporate corridors, triggering sweeping changes in our workplace and forcing organisations to recognise the need to accept newer ways of working, adopt new technology and welcome increased flexibility.
When the COVID-19 pandemic recedes, the workplace, it seems, would be left with an indelible mark. As multiple cities and countries across the world enter a state of lockdown to prevent the spread of the COVID-19, a growing number of people are working from home, learning afresh to how to stay productive in such circumstances and stay connected while doing it.
Suddenly corporates are waking up to paid sick leaves issues and realising that all this brouhaha about work-life balance was only a façade. When it takes a minuscule virus to force open our eyes to the already-existent issues at the workplace, it is almost impossible to fathom what the downstream effects of COVID-19 will be on corporate culture, productivity, creativity, and personal well-being.
Leveraging Technology to Escape Disruption
Rajiv is waking up in the middle of the night to video conference with his offshore clients, as he tackles to work from home. Under normal circumstances, he would have travelled for work to the country his clients come from and held face to face meetings. "With a 3-month child at home, this becomes all the more difficult. I had to shift to the guest room and all this affects my productivity. I am anxious about what the future holds."
Amid the recent health scare, video-conferencing has come to be a viable option to travelling for work. Many companies have asked their employees to install video chat apps on their laptops and phones so that they can be accessible in person, albeit virtually, for meetings. According to a report, 53% of the companies who participated in the research globally, say that meetings are now mostly remote.
As organisations look for safe and viable options to continue business in the present circumstances, technology companies are looking to revolutionise the ambit of remote collaboration solutions. They claim that technology has made striding advancement in the field of video conferencing where remote meetings will become as intuitive as face-to-face ones. These companies are aiming to enhance the adoption of remote collaboration solutions and simplify the experiences of hosting video conferences from personal devices.
Working from Home – Is it Here to Stay?
While not every job can be done from home, it will be difficult to put the genie back in the bottle once the world settles down to the new order, post-Corona. With a better promise of work-life balance, many families are finding this prospect of working from home appealing. Some experts believe that work-from-home will be the new normal.
"I love the flexibility it offers. I almost forget how it felt to be a father of two lovely kids. I love the fact that I can give them enough time and emotional support as I also go on with my work from the comfort of my home. It's a healthy balance and I would love to continue like this." –Mandar who works in an ITES enterprise, says.
Many will realise that the difference between dressing up in formals and commuting for an hour to the office or efficiently working from home was always just as simple as downloading and installing a few apps plus the willingness of and permission from their corporate bosses. Once corporates get their remote work policies sorted it will harder and more expensive for them to deny employees this option. Putting curtly, a lot many meetings (along with doctor visits and tutorials) could have been just an email! Hopefully, post-Corona, they will be.
For employees, the pluses of WFH are saving on commute and flexibility and for the corporates, it's establishment cost-saving and enhanced productivity.
And those companies or bosses who will stand as barriers to online tools will soon be swept away by the radical changes being enforced by this on-going infection scare. In reality, companies that being forced to work remotely for longer periods now are focusing on reorienting organisational resources to get their system fit for the purpose and smooth functioning of a business.
New Age of Greater Emphasis on Employee Well-being, Insurance, and Leaves
As leading business houses are readying their business continuity plans, they are also revising their approach towards employee well-being, focusing more on protecting the health of employees, their physical safety and the immediate community they work and live in.
This pandemic has forced businesses and governments to consider and adopt new pandemic related social security measures for employees in the future. These will now include better insurance benefits, contracts, revised paid leave structure and more efficient HR management. On the back of the COVID-19 scare, offices will be cleaner and employers and governments will mandate stricter personal hygiene routines in offices and public places.
Offices Will Focus on Protecting Employees' Health
We expect that due to fear of infection offices will be repeatedly sanitised; biometric scanners will be replaced by thermal scanners; ambulance-ready functional medical centres will be set up. Some employers will ensure better last-mile connectivity to ease out travel woes between home and office for employees.
It is unlikely that these basic amenities that the companies are now planning to extend towards the physical well-being of their employees will stand to be revoked once the COVID crisis slides.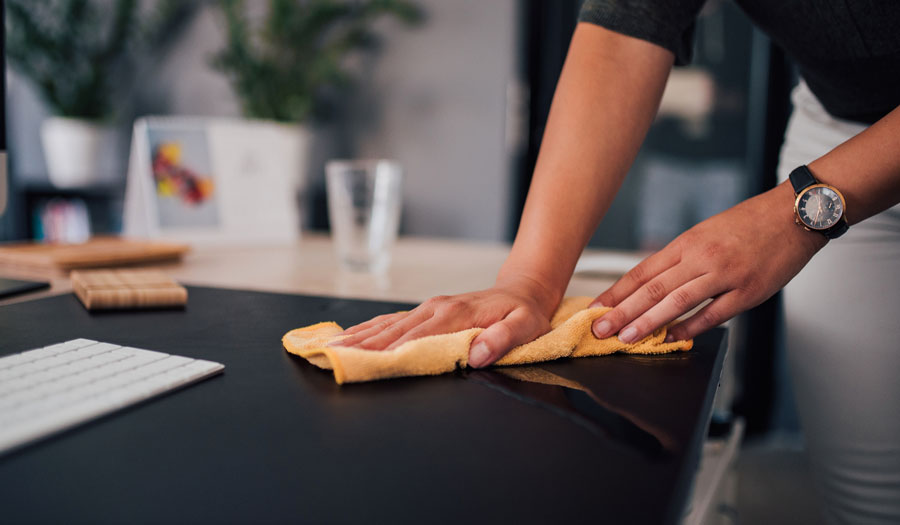 Offices from now on will lay greater stress on personal hygiene of employees, perhaps allowing them to stay at home when they are sick and introduce paid sick leaves realising that even one person infected with common flu-like symptoms can set off a series of infection among a number of other employees.
Special Employee Benefits
In fact, moving into the future, companies will want to offer better health benefits in forms of insurance and leave structure and better compensability to attract better talents.
Some companies who wish to join the bandwagon of the "work-from-home" culture, may put in place a separate budget for this option, providing allowances to employees to set up a separate work-corners in their homes, suggest healthy eating habits and work-out practice as part of HR policies and give them better IT support.
Stress on Emotional Well-Being Even After COVID-19
Some companies are also engaging mental health experts to ensure the emotional well-being of their employees in these hard times of isolation and economic turmoil. Many of them fear of losing their jobs or suffer pay-cuts. Social distancing is also having an adverse impact on many as humans are hard-wired for connection. Many corporates plan to continue with this tradition to diffuse work stress among employees and to equip them to tackle any other professional or financial debacle they may face.
Co-Working Spaces Face Temporary Slump; Will Bounce Back in Healthier Avatar
Experts suggest that the Indian realty sector, particularly the commercial property market which has seen an exceptional boom in the last 3 years, will only witness an initial setback on the back of the COVID-19 pandemic. There will be delays in deals but the country's economy is resilient enough to help the office property market to recover and bounce back within a couple of quarters. However, the infection scare seems to have adversely affected the co-working firms. The COVID-19 pandemic has seen the business of co-working spaces come down by 50 %.
Though these firms have been forced to amp up their maintenance to ensure better hygiene, there is a strong possibility that they will continue with these healthy practices even after the virus scare wanes and come up with a cleaner and more sanitised version of themselves.
Corporates and Governments will Become More Compassionate
Perhaps the pandemic will teach us to stand together even when alone. The average working Indians have been forced to navigate the Coronavirus crisis alone without much corporate or government support in terms of financial or emotional security. Along with this large workforce, those dependent on them, have been equally exposed to the uncertainties that current events bring. For many working parents it is becoming difficult to manage the cost of children's creches and daycare for their elderly parents. Kids are being deprived of quality time as parents are busy saving their jobs in the competitive market.
We hope this pandemic will make businesses and governments realise the need to change this situation and work jointly towards creating a more compassionate workspace. A workspace which will value work-life balance, accept companies' role in supporting its employees to stand in for their families, not only at times of crisis but even under normal circumstances.
As we keep contained in our homes during the COVID-19 lockdown, the world outside is shedding many old habits. But this crisis also presents us with opportunities to imbibe positive use of technology in our lives; flexibility in how we are perceived productivity; and appreciation for others' needs. Armed with this forced wisdom, we hope to have better workplace experience in the future.