Neeta was tired. Very tired.
She was returning home from her parental home, where she spent the Puja days, and she was already tired.
After 5 days of a pleasant stay at Nagerbazar, Dum Dum, where her parents live, she was refreshed. But this long journey to return home at Barasat made her as tired as a trekker in the afternoon.
Because of the distance, she cannot visit her ailing parents as frequently as she would like to, and this is a perpetual point of accusation of her mother.
Yet there is no need. There is absolutely no need to stay so far away from Kolkata. They can surely afford a decent flat near Kolkata. After all, Neeta's husband was promoted in office and can afford to buy a flat near Kolkata.
Neeta and Arun, her husband, grew up in Dum Dum and they want to live in North Kolkata. All of their friends and relatives live in North Kolkata, and they do not want to buy a flat elsewhere.
Neeta Takes an Action
Well, how about giving a call to the most reputable property advisor in Kolkata?
After Neeta went home, she just called them up for an appointment.
Once she started the discussion, she was pleasantly surprised after knowing about upcoming gated communities near Kolkata airport.
She can buy a flat there. With elements of comfort and luxury, her lifestyle will completely change. Living in a gated community with so many amenities is what she always wanted. She will be happy to provide a good quality of life to her son, Aditya. She was already dreaming.
"Why didn't I call them earlier?" Neeta asked herself.
Living near Kolkata Airport
Areas near Kolkata airport have fast become centres of high quality living in recent times. This transformation was partly assisted by the widening of Jessore Road, and partly by the construction of gated communities, swanky malls and shopping centres, and impending Metro connectivity.
Madhyamgram, conveniently located near Kolkata airport has experienced a major transformation. In fact, Madhyamgram is one of the top real estate hotspots in North Kolkata today.
Madhyamgram has almost all infrastructure benefits available elsewhere but is still relatively affordable. But this is fast changing as the livability quotient is increasing fast.
The transport network not only links Madhyamgram with the rest of the city very smoothly but also connects it with the Central Business Districts of Kolkata such as BBD Bag, and Sector 5. The Metro connectivity from New Garia to the Airport in addition to Noapara station via Madhyamgram station, presently under construction, will soon be launched to enhance the transportation facility.
What about Schools, Shopping and Entertainment, and Healthcare?
Madhyamgram already has a good number of upscale schools to make migration easier for families with school-going students.
Some of the prominent schools at Madhyamgram are:
Julien Day School
Indira Gandhi Memorial School
Auxilium Convent
Delhi Public School
Sudhir Memorial School
Madhyamgram now boasts of a good number of swanky shopping centres and malls. Some of them are:
Star Mall
MORE Hypermarket
Reliance Mall
Spencer's
City Mall
Madhyamgram has good healthcare facilities and there is a mix of public and private sector hospitals and nursing homes. Moreover, there are quite a few reputed nursing homes on Dum Dum and VIP Road which are easily accessible from Madhyamgram.
Gated communities at Madhyamgram have already enhanced the lifestyle quotient. There are a few projects by renowned developers that offer a plethora of high-end amenities. Solus is one such project, located beside Star Mall opposite Madhyamgram Telephone Exchange.  Solus is located just on Jessore Road.
Solus — Right on Jessore Road
Solus is being developed by Srijan Realty, which has developed other highly appreciated projects in the locality such as Eternis and Srijan Midlands.
Solus will have 7 towers of G+10 and G+11 with 55% open space offering comfort to the eyes with greenery. There will be 2, 3, and 4 BHK options from 453 boutique homes. World-class landscaping and ergonomically designed homes with superior natural light and wind circulation are big pluses for Solus.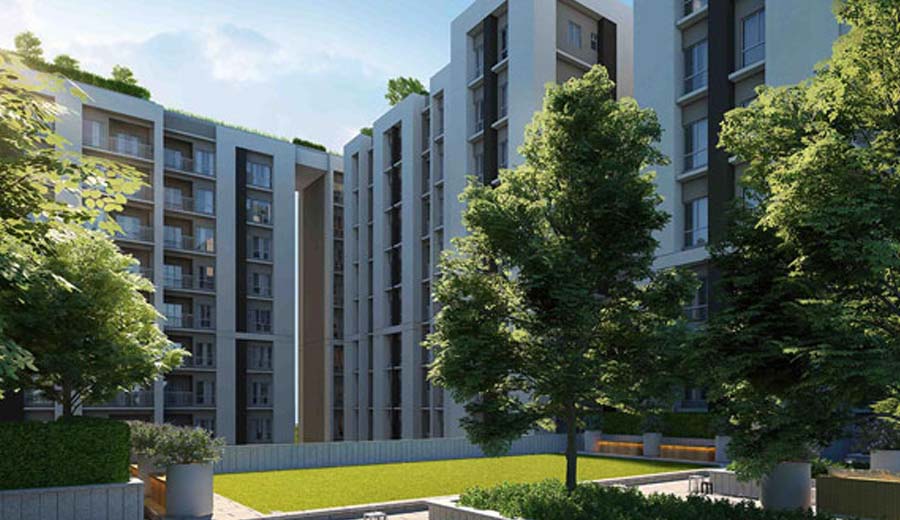 72700 sq-ft hyper retail within the project caters to all your shopping needs.
Solus is thoughtfully designed as an aspirational abode for homebuyers who will appreciate high-end luxury, recreation, wellness, and sporting amenities.
In a first in North Kolkata, the landscape of the property has been designed into 4 level Recreational Hubs.
Lifestyle, Recreation, Wellness, and Sky Sports
Solus has a number of lifestyle amenities for the residents to have a complete experience much beyond the four walls. Some of the prominent features are: pool with jacuzzi, kid's pool & play area, event lawn, topiary, amphitheatre, treehouse, cafe, activity lawn for yoga, and picnic.
Solus will encourage its residents to have an active lifestyle and a lot of provisions for sporting activities are added. Some of them are: multipurpose play area (for football, badminton, volleyball, cricket, etc.), infinity jogging track, stretching court.
Wellness is a key theme at Solus and certain amenities are added towards this end.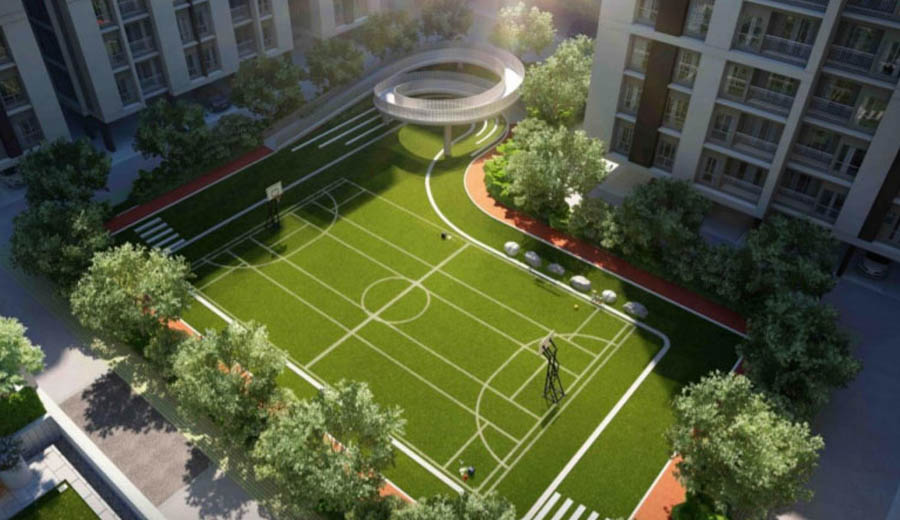 The sky sports hub is a unique feature of this project. There will be an autumn garden, yoga deck, jogging area, relaxation deck, sun lounger deck, and skywalk.
Solus will have a grand lounge with a youth entertainment centre, a cineplex, and a co-working station.
There is a high priority for the environment and many 'green' principles are added. Rainwater harvesting will ensure better water resource management while solar power facility for common area lighting will ensure lower power consumption from the grid. Sun reflective flooring on the rooftop will help to keep the building cool.
Get the Best of North Kolkata at Madhyamgram
The locational advantage of Solus is undoubtedly its star attraction. It is located in an emerging real estate hotspot with massive connectivity infrastructure coming up. Upcoming Metro connectivity will further augment property prices here.
Investing now is likely to offer hefty future returns on investment. Moreover, real estate prices are relatively affordable currently and acquisition cost is lower because of low home loan interest rate, and PMAY CLSS benefits.
If you want to get the true advantages of living at Madhyamgram, Solus is a home that will let you experience the comforts and conveniences of living here.
To know more or to book your spot, visit https://www.nkrealtors.com/property/overview/solus or call us.