As December approaches, Subirbabu first became irregular and finally stopped his otherwise regular morning walk sessions at Rabindra Sarobar as air quality started deteriorating.
Mrs. Roy in Salt Lake used to take an evening walk in the neighbourhood park. In the winter, her breathlessness worsens because of poor air quality and she avoids venturing out as much as possible.
Dr. Chatterjee used to enjoy his stroll at Tala Park every evening. He used to sit down under a tree and munch a cutlet in heavenly happiness. He is still enjoying them but within his home.
Subirbabu, Mrs. Roy, and Dr. Chatterjee are senior citizens and are particularly vulnerable due to poor air quality in Kolkata. Even the younger population is affected now. The increased number of cases of pulmonary diseases in the city hospitals in the winter months is testimony to it.
How Polluted is Kolkata?
Kolkata was shown to have a PM2.5 reading of 59.8 as recorded in 2019, as a yearly average. This puts it directly into the 'unhealthy' bracket rating, which requires a PM2.5 reading of anywhere between 55.5 to 150.4 μg/m³ to be classified as such. This reading places it in the position of 61st most polluted city worldwide in 2019, and coming in at 28th place out of all cities ranked in India. PM2.5 is a serious health hazard and Kolkata recorded the highest number of strokes due to it.
The Reasons for Air Pollution in Kolkata
Kolkata air quality vastly worsens during the winter months mainly because of the lack of air current, lower temperature, and humidity because of which smoke and pollutant fine particles create a haze nearer the ground.
This year, the expectation was of some improvement in the air quality but after unlock from lockdown and the return of vehicles in the roads the situation quickly went back to the usual.
Apart from vehicular pollution which emits dangerous nitrogen dioxide along with carbon compounds, Kolkata and its suburbs have numerous small factories with coal-fired boilers and power systems. This burning of coal increases smoke emissions.
Construction activities in and around the city also contribute to poor air quality by adding suspended fine particles such as PM2.5 and PM10 to it.
Is Air Quality in Kolkata Improving?
Kolkata air quality is definitely showing signs of improvement on a year on year basis. There is a marked improvement in levels of PM2.5 recorded in 2019 as opposed to the few years prior to that. In 2017, the yearly average of PM2.5 was 76.7 μg/m³, still in the unhealthy rating bracket but considerably higher in number than more recent times.
2018 came in with an even worse reading of 85.4 μg/m³, before finally coming to the improved reading of 2019 at 59.8 μg/m³, representing a drop of 25 μg/m³ of particulate matter in the course of a year.
This year, the quality of air in Kolkata was pretty good in most areas and most days during the April-October period, presumably because of lockdown, fewer vehicles on the road, no puja pandal-hopping, and cracker-free Diwali. But the situation started worsening from November with a vengeance.
Restoration of Green Cover after Cyclone Amphan
In recent years, there has not been any other natural disaster that created more environmental damage than cyclone Amphan. It uprooted more than 15,000 trees, most of the large and fully grown-up ones, depleting Kolkata's green cover massively.
Hopefully, Kolkata environment warriors and KMC planned to restore the green cover in the right earnest. Kolkata launched a massive drive to replant uprooted trees as well as planting new trees. KMC unveiled a plan to plant about 40,000 saplings. In a little over 2 months, KMC has already planted over 10,000 saplings.
What Else is Being Done to Improve Kolkata Air Quality?
One of the significant ways the authorities have decided to fight the pollution menace is by improving public transport solutions. Kolkata started to invest in and improve its public transport options. The city plans to deploy 5,000 electric buses and fully electrify the ferries on the Ganges River by 2030.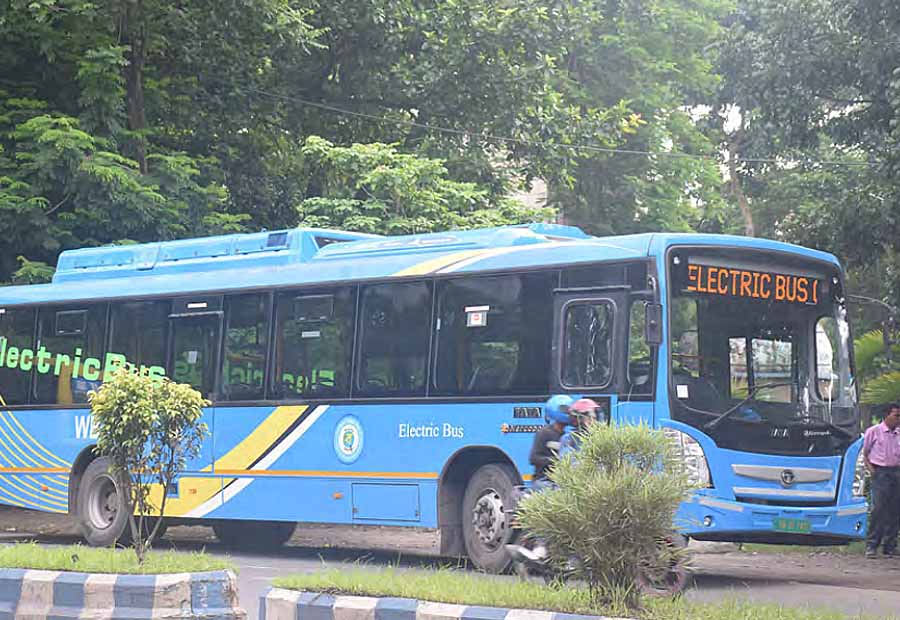 As of 2019, 80 electric buses have been introduced to the city, with another 100 planned for 2020. These 180 electric buses will lead to an annual reduction of 14,086 tonnes of CO₂ emissions.
Besides steps such as this, Kolkata authorities are quite conscious of the need to protect the environment. Controlling vehicular pollution, saving waterbodies (especially the East Kolkata wetland), expanding the Metro network are some of the steps Kolkata is working on.
The good news is that Kolkata is one of the few cities which are reducing their pollution levels.