Tista Sanyal finds it much easier to go to her office at Salt Lake, Sector 5 these days.
Earlier it was a painful struggle.
Now, going to the office is rather a breeze.
Her home is at Barrackpore, and she used to travel to Bidhannagar station, also known as Ultadanga, and go to her office by bus or auto-rickshaw.
The buses are usually choc-a-block, and auto-rickshaws are often unavailable. In any case, she had to wait in the long queue for those auto-rickshaws, and she was often late to the office.
Her co-workers advised her to look for PG accommodation near the office, but she didn't want to live without her family.
Almost always, she used to arrive at the office sweating profusely, and already tired before the workday. The situation is worse in the rainy season. In addition to the paucity of auto-rickshaws, the fare also goes up as the drivers please.
She always suffered from performance anxieties. Getting some dressing down from her boss was also not infrequent.
It used to take quite some time to be able to focus on her work.
Every morning she started with a prayer so that she could reach her office on time, without any problem.
It seems that finally, her prayers are answered, although in a different way.
Her commuting troubles ended.
Crowded buses and auto-rickshaws are things of the past.
She comes to the office fresh, full of energy, ready to take on the challenges of a new workday.
Yes…
Salt Lake Sector 5 to Sealdah Metro service has completely changed her life.
Nowadays, she is rarely late.
She doesn't travel from Bidhannagar Station anymore. She reaches Sealdah by local train and takes the Metro to her office.
She also goes home in the same way.
And she goes home much earlier than before.
Metro is a boon to her, and many like her.
Metro Coverage Expansion in Kolkata
Salt Lake Sector 5 to Sealdah Metro has influenced the life of many people quite far away from the Metro line.
People like Tista Sanyal who stay at Barrackpore or people staying at Jadavpur or Garia, as travel to Sector 5 is rather smooth now.
The convenience of Metro is further amplified because it is connected to the local train network to and from Sealdah. The effect of the interconnected network comes into play.
Areas adjacent to the Metro line are direct beneficiaries of improved connectivity. Traveling by Metro is fast and comfortable because all rakes are air-conditioned these days.
The real estate market takes the cue immediately when an area gets Metro coverage. Property prices go up for Metro-connected locations.
It happened earlier in Dum Dum, Tollygunge, Garia, Dakshineswar, and adjoining areas.
In the case of Sector 5 to Sealdah Metro, a similar effect will be visible.
When a Metro line reaches a particular area, a massive zone in and around each Metro station is benefited. Last mile connectivity is usually provided by auto-rickshaws and buses and even if you live a few kilometres away from a Metro station, you get the full benefit of Metro.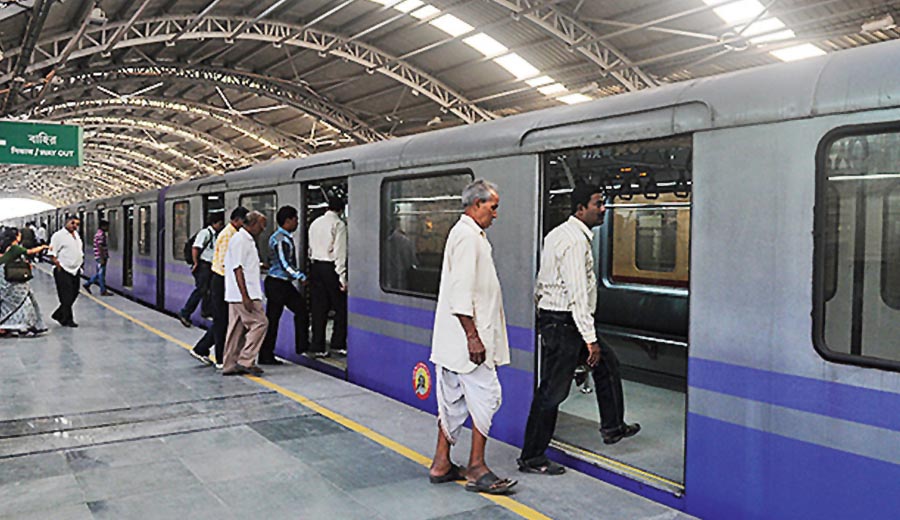 In cases like Tista's, even people who are not residing close to the Metro line also immensely benefited.
Sector 5 to Sealdah Metro to Help Homebuyers
Salt Lake Sector 5 to Sealdah Metro will finally get extended to Howrah. It is going to be the first underwater Metro in India as it will pass under the Hooghly river.
As and when that happens, Sector 5 will be far more accessible to people who live near the local train network originating from Howrah.
But we have got to wait some more time for that to happen.
Nevertheless, this partial operation is also going to help a massive number of people.
For example, it will be much easier for anyone residing in Beleghata, Phoolbagan, or Lake Town to catch the Metro from Phoolbagan station and reach the office at Sector 5.
There are quite a number of locations that are connected by auto-rickshaw or bus to Phoolbagan or EM Bypass stations.
So even if you stay near Kankurgachi, going to Sector 5 now is not troublesome at all.
Areas around Sector 5 and New Town to Benefit
As we can see, Metro lines directly or indirectly benefit a whole number of areas even if they are not close to the Metro stations.
Both Sector 5 and New Town will directly benefit as connectivity with the rest of the city is going to significantly increase.
One particular area which is going to considerably benefit is Mahishbathan. Mahishbathan is close to Sector 5 and New Town and this Metro line is another way to fast access Kolkata proper.
For quite some time, Mahishbathan has become a preferred choice of premium realty. Homebuyers love the wide openness of the massive 1000-acre natural lake. Currently, Mahishbathan is a relatively new location and premium properties are available overlooking the huge waterbody.
The Expected Effect on Property Prices
Obviously, real estate prices are likely to go up near the Metro stations. In fact, property prices have already gone up in the areas close to the Metro line.
Property prices will further go as this Metro line is completed. Moreover, Airport-Garia Metro will further impact the property prices in New Town and adjoining areas.
However, there is still time to invest in these areas that are near Metro stations. Property prices will further increase from here.
If history is anything to go by, areas around Metro lines have offered the best return on investment in Kolkata.
Apart from residential real estate, superior connectivity will also support commercial properties in Sector 5 and New Town. It is clear that prices of offices will also witness an upward trajectory in these areas.
If you are looking to buy a home or invest in commercial real estate right now, contact your favourite property advisor today.