Aditi had her heart set on the fabric upholstered dining table for six but Shayon was dead against it. 'Aditi, I understand that it is trendy and fabulous looking but imagine investing in this now. Let's make do with our old one until the financials get settled a bit,' he said. Although it made sense, Aditi just couldn't think of having the shabby old set in her brand new home. Besides, the whole room would look dowdy.
Many first time homebuyers are sailing in a feel-good wave and the desires of setting up their very first owned home is quite strong. However, it is also true that the financial situation after the down payment and home loan instalments is quite delicate as well. So, how should you balance your taste for interior decoration and financial stability?
The answer lies in 'renting furniture' option. Recent investments should not mean that you give up on a comfortable and stylish lifestyle. For the first-time homebuyers renting furniture can be an easy and logical way to set up their new homes.
Pre-owned Furniture is Financially Viable
Renting furniture makes sense if you are still finding your feet after your home buying event. Furniture is among the heaviest of investments when setting up a home. But, the happiness of owning your home includes fond wishes of decor options and furniture. Therefore, renting furniture is an extremely cost-effective option for first-time homebuyers. Furniture rental websites also offer good deals if you plan to rent for a longer duration.
Kolkata residents can explore these furniture rental shops for handcrafted and even custom-made pieces, some of which have even graced the sets of iconic films!
However, if you live in Delhi/NCR, Bangalore, Pune or Mumbai, you can try CityFurnish for manageable monthly subscriptions and other lucrative deals like furniture sets, packages, and bulk order, etc.
For those who live in Hyderabad and Chennai, check out Furlenco and Rentomojo for some great options.
You can Experiment with the Décor
An interesting advantage of renting furniture is that you experiment with a variety of décor options. Rented furniture does not call for a long time commitment. So if you're unsure about what décor style you want for your home, renting furniture could save you from spending on something you might not want in your home forever. You can change the furniture whenever you want to redo your interior decoration.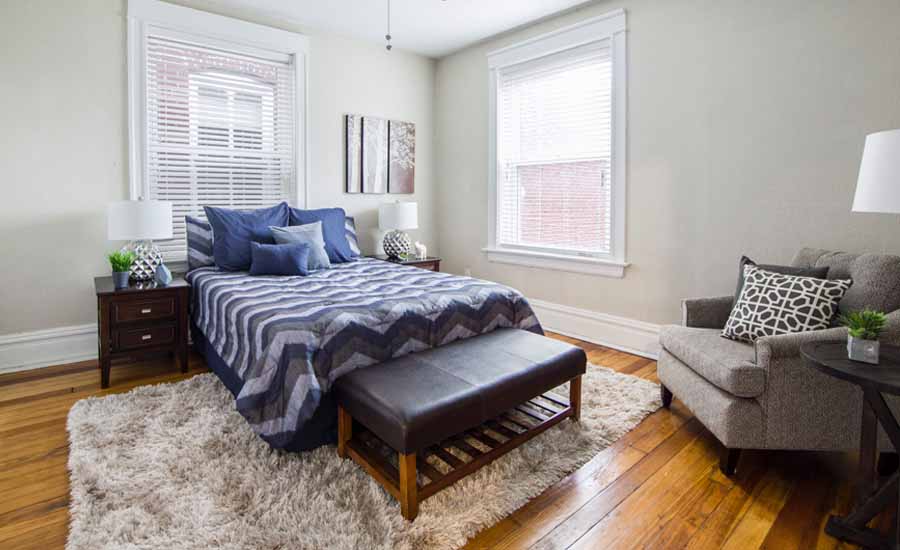 The focus of lifestyle in this day and age is to own experiences instead of owning things. You do want to end up stocking your first home with furniture that may end up being an eyesore down the line as trends change. Fabrento has an amazing catalogue as well as longstanding service history that will help you furnish your cherished new home.
Hassle-free Furnishing
A first-time homebuyer is embarking on a new journey and of course, they want a beautiful home. Now, apart from the financials, the time investment is another challenge for most people. Imagine the logistics of furnishing your house with store bought furniture — finding new furniture, bargaining for prices, handling logistics, delivery, labour, installation — it's a commitment nightmare!
Online furniture renting takes care of all these hassles and what's more, even helps you in deciding the best fit. The rental portal, Rentickle, for example, provides free home delivery, installation, etc. and also provides maintenance services.
Flexibility and Convenience
Renting furniture offers flexibility and convenience that purchasing furniture just does not provide. This option allows you to upgrade to the latest goods frequently and avoid the inevitable wear and tear leaving your home furniture looking brand new always.
Besides, furniture rental companies like Furlenco and Fabrento have a wide range of prices alongside a wide range of available variety in furniture that lets you choose the right product fit according to your settings.
It's Not Just about Renting Furniture Anymore
Many furniture rental companies are not just stopping or limiting the rental experience to just isolated pieces of furniture. The furniture rental trend has now moved on to renting the complete interior décor at budget-friendly prices.
As furniture rental companies work with high quality, large stocks they are capable of providing basic and extensive home furnishings at convenient and feasible options. Besides, first-time homebuyers can get access to competent professional suggestions in furnishing their homes with the furniture matching their aspired décor.
For the first-time homebuyers, renting furniture is a good idea as the advantages of doing so cover a lot of areas both, financial and aesthetical. Apart from this, the services provided by furniture rental companies these days far outweigh the option of purchasing furniture. Just think of the host of amenities furniture rental includes — right from delivery, installation, and transportation to styling, insurance, removal, and other services.
There are a lot of homebuyers who can (and have) benefitted from renting furniture. While this may not be a permanent solution to furnishing dilemmas, it does at least give owners the option to get the furniture they want and need at the fraction of the cost of what they would have spent if they were buying them. Considering these factors, furniture renting is definitely a good idea!