In 2017, when 32-year-old Smita Sinha moved to Kolkata from her hometown Ranchi to join a reputed MNC, she thought she was moving into a crowded and noisy city that she'd find difficult to adjust to. Yet, it was an opportunity that she couldn't afford to pass up.
Smita, however, was pleasantly surprised to discover that her office in New Town was nothing like she had imagined. Clean roads, peaceful environment, planned community centres, parks, open spaces, and water bodies — it wasn't the Kolkata she had seen and heard about.
After working and living in the area for three years, Smita, who was engaged to her colleague and boyfriend, Mayank — also a migrant from Haryana — decided to tie the knot and make New Town, Kolkata their permanent home.
Smita and Mayank are not alone. Over the years, New Town has become one of the most sought-after housing destinations in Kolkata. And why not? As you drive into New Town, the noise and congestion of Kolkata gradually fade away. You leave behind densely-packed buildings and broken encroached footpaths. Instead, you're welcomed by clean, wide roads, barrier-free pedestrian-friendly footpaths, and frequent stretches of greenery. Gated communities, parks, hotels, hospitals, and enormous office complexes appear one after the other.
The only urban centre in West Bengal to cinch the 'smart city' tag, the planned satellite city is developing at a fast pace. Add to it the fact that New Town, Kolkata is also a gold-rated green city and what you have is a rare combination of urban and green living benefits. Some of the factors that contribute to New Town's 'green city' status are:
Open spaces in residential units: Many of the residential properties across New Town are being developed following the 'green living' approach. Keeping this in mind, most reputed developers set aside nearly 15% of the total area vacant to serve as landscapes and open spaces for the residents to enjoy fresh air, a healthy environment, and soothing views.
Green spots in public places: Having grabbed the 'gold-rated' tag, New Town is now eyeing a platinum tag by the Indian Green Building Council. The township features lush green covers, which help reduce pollution and add to its aesthetics. To make the area greener, the New Town Kolkata Development Authority (NKDA) is planning vertical gardens and encouraging the building of more green spaces.
Cutting-edge green practices: New Town boasts of many green initiatives such as advanced rainwater harvesting, waste conversion to generate energy from the solid waste, GPS devised solid waste management, battery-run three-wheelers, and battery-operated electric buses. These developments are turning this township into a modern urban ecosystem.
Besides greenery, New Town, Kolkata is also big on infrastructural developments and excellent connectivity.
Infrastructure and Connectivity
The transport network not only links New Town with the nearby locations very smoothly but also connects it with the Central Business District of Kolkata. As an area that was initially considered as cut-off from the main city, New Town has developed enormously as now it is well-connected with all key locations of Kolkata through well-maintained roads and the under-construction metro line. The metro connectivity from New Garia to the Airport is presently under construction and will soon be launched to enhance the transportation facility. There are plans for extending the circular railway system as well.
An expressway has also been developed, which serves as the bypass for major traffic on an elevated level. The 'Green Corridor', which stretches across 10.5 kilometres, connects the Major Arterial Road to Sector V and is the first road to be fully supported with Wi-Fi connection.
These factors work together to make New Town an immensely liveable location. As such, real estate construction here has gone into overdrive, with residential complexes coming up faster than ever before. However, few of them truly respect the 'close to nature' vibe that New Town seems to embody.
One such project is Rishi Pranaya — a luxurious and soulful apartment complex just 1 minute away from DPS Megacity.
Rishi Pranaya: Where High-tech Meets Soulful Living
Developed by the trusted RISHI Group, 'Pranaya' is a lifestyle residential complex in New Town, offering a soul-nurturing living experience with efficient layout and all modern, luxurious amenities. This HIRA certified project is spread across 5 acres and incorporates two 23 storeyed towers.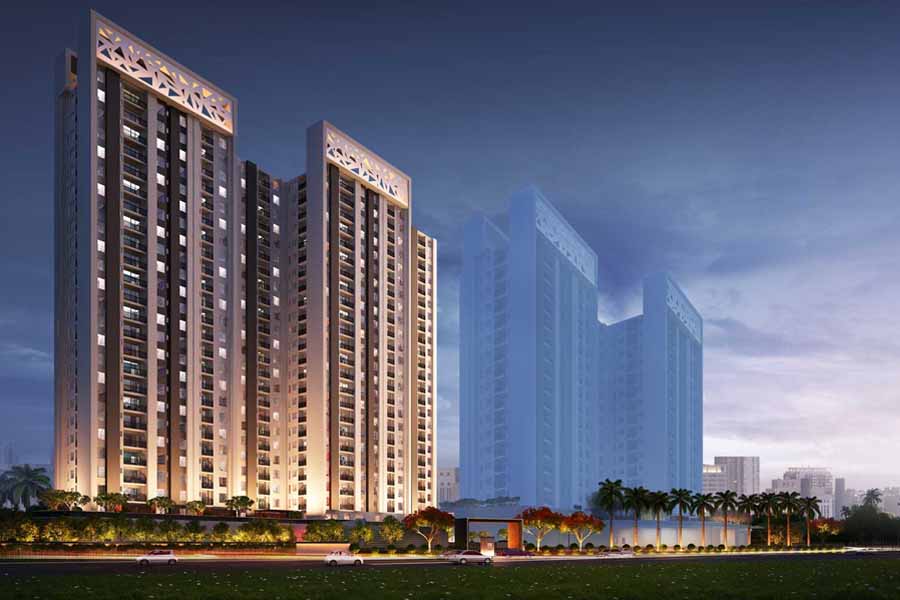 With 74% open spaces, the project offers a blend of nature and modern amenities, giving residents the best of both the worlds.
The IGBC Gold Rated project is strategically located within the New Town Planning Area (NTPA), which focuses on organized development of the area with an eye on natural ecology to ensure sustainability. So it's not just a modern, aesthetically-pleasing residential construction but one that's built with an eco-friendly approach.
Plus, living in these apartments allows you easy access to major IT parks, so you can forget the hassles of long commutes.
Enhanced Lifestyle
Pranaya's living quarters are architected to beautifully mesh a modern and luxurious living space with ample inclusion of natural elements. Some of its standout features include a designer lobby, bedrooms with dedicated wardrobe space, gourmet kitchen, and beautifully-designed modern bathrooms.
High-speed elevators make sure that your daily experience of going to and from your apartment is as seamless as possible. CCTV with central security surveillance and intercom ensure a high level of safety to residents.
Pranaya offers a plethora of other premium facilities, including a grand community hall, best-in-class gym and fitness studio, swimming pool and kids pool with open deck area and Jacuzzi, cricket pitch and kids play area, and chess court, to name a few.
Another striking feature of this residential project is its eco-living spaces, well-landscaped and outfitted with planters and cabanas. The 'adda' zone with sculptures and sitting areas is as unique as the Tagore-inspired walkways, jogging track, and reflexology pathways that run across the project.
Every Amenity in the Vicinity
The location advantage of Pranaya is undoubtedly its star attraction. Just a minute away from DPS Megacity school, the project shares proximity with major IT parks like Eco Space, Unitech, DLF and Candor Tech Space, while all major malls, shopping centres, and entertainment spaces are located within a distance of 5-15 minutes.
The project excels in terms of connectivity too. The Eco Space bus stop is merely 3 minutes away from these apartments, while it is 20 minutes from Kolkata Airport and the upcoming metro station is 5 minutes away, which once operational, will take the project's connectivity to other parts of the city to a whole new level.
Besides DPS, the project has schools like Narayana School and the Newtown School within a few minutes' reach, while its proximity to Aliah University, AMITY University, Techno India College, Presidency University, University of Engineering and Management and St. Xavier's University ensure fast and easy access to higher education institutes for the residents.
Super-specialty hospitals and health care facilities like Ohio Hospital, Tata Medical Centre, Bhagirathi Neotia Woman and Child Care Centre, and Apollo Hospital, Newtown are all within 5-10 minutes' distance, so when living in Pranaya, you can live with a peace of mind knowing any medical emergency can be handled promptly.
With several 5-star hotels, multi-cuisine restaurants, cafes, shopping malls, parks, and recreation centres in the vicinity, Pranaya offers a complete experience to its residents. The project's proximity to City Centre II, DLF Galleria, and Axis Mall means your weekend shopping plans are sorted!
Get the Best of New Town, Kolkata
If you want to get the true advantages of living in New Town, Kolkata, Pranaya is a home that will let you experience the comforts and conveniences of living here. As a project approved by leading banks and financial institutions, Pranaya comes with considerable GST benefits too.
To know more or to book your spot, visit https://www.nkrealtors.com/property/overview/rishi-pranaya. Or, you can give us a call.