The Ganges is revered and loved as a mother in our country.
She is the source of life, energy, and purity and from time immemorial, we have considered the Ganges as the river of rivers. Even the water from the Ganges is thought of as holy water.
Fortunately, Kolkata is situated beside the Ganges.
It is part of city life in Kolkata. In fact, the banks of the Ganges have a life of their own.
It comes alive at the crack of dawn. The Ganges is especially pleasing in the afternoon and evening. The view of the sunset and the kiss of a cool breeze on your face is extremely enjoyable.
However, there was no place where you can live on the bank of the Ganges and enjoy the benefits — until now.
But that has changed now.
You can now live beside the Ganges and also get the best of city life.
The Royal Ganges — Why It is a Unique Housing Project
A mere 20-minute drive from New Alipore, and just 35 minutes of launch ride from Millennium Park jetty, The Royal Ganges is taking shape.
We will discuss the various luxury elements of the project shortly.
The most striking feature of The Royal Ganges is the 1 km long private track on the waterfront — an astounding idea you will never find anywhere else along the Ganges.
As you spend quality leisure time on the riverfront regularly, the Ganges becomes a part of your soul.
Imagine watching clouds gathering over the Ganges. Hearing the pitter-patter of raindrops on a rainy day.
Think about jogging on the waterfront and soaking in the openness and pollution-free air.
How about just sitting beside the Ganges on a hot evening after a tough day at the office?
The amazing benefit of staying at The Royal Ganges is that you will get a view of the Ganges from every apartment, every villament, and every bungalow.
Apart from the proximity to the Ganges and the city proper, The Royal Ganges has a plethora of amenities for high-quality living.
We will discuss them but before that let's know about the massive 70,000 sq. ft. residents' club.
The River Club — Live the Hi-Life
If you love swimming, you will love the Olympic-size swimming pool at the club. An attached kids' pool will also lift the spirits of children.
That's not all. you will also enjoy the jacuzzi and aqua gym.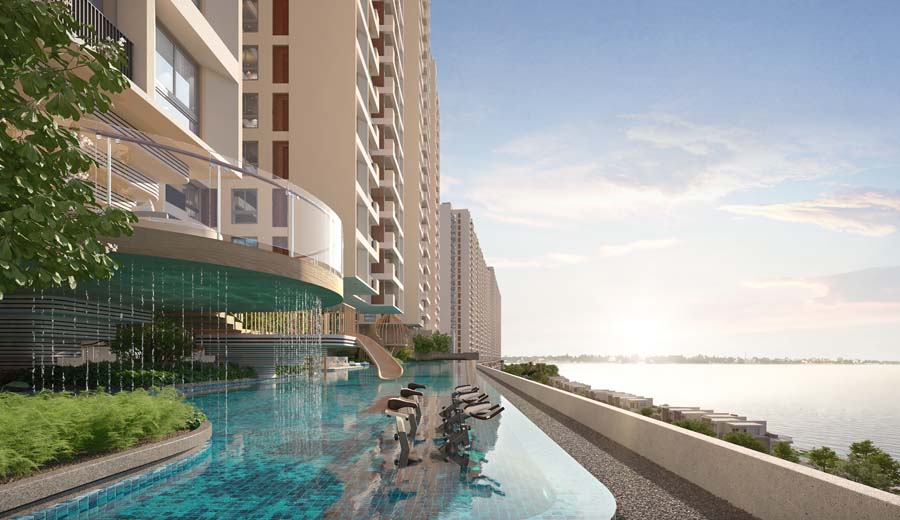 Moreover, there will be various indoor and outdoor sporting facilities.
The indoor games room will have a pool, snooker, and table tennis tables, air hockey, carrom, dart board, and other board games.
There will be opportunities to play the big game too. There will be spaces for playing cricket, football, basketball, volleyball, and badminton.
Lavish five-star lounges and banquets will also pamper you in more ways than one. There will be a cafe and al-fresco dining area as well as a party lounge.
You can immerse yourself in a thriller movie on a rainy evening in the Cineplex with surround sound. There will also be a Yoga/meditation room and ample outdoor open spaces to relax and unwind.
Environment-Friendly Building Practices
The Royal Ganges was conceptualised as an environment-friendly housing project.
It will have provisions for rainwater harvesting, water disposal system, sewage treatment plant, intelligent use of natural light, and use of low energy consuming LED lights and solar power in common areas.
The Royal Ganges is recognised as IGBC Platinum-rated project.
The Royal Ganges is also committed to riverbank protection and is taking every necessary step as per Kolkata Port Trust rules to protect the Ganges.
An Abundance of Amenities
The Royal Ganges will have plenty of amenities to cater to the various needs of the residents.
Apart from various leisure, recreational, indoor gaming, and outdoor sporting facilities for adults and kids, the developer, Srijan Realty, has kept in mind the need for medical facilities.
There will be a 24×7 ambulance tie-up, medical centre, diagnostic centre, 24×7 medicine shop and emergency treatment facility, and even a pet clinic.
Besides, every imaginable amenity will be there in The Royal Ganges.
There will be:
Walkaways
Jogging and cycling tracks
Mini golf putting area
Riverview deck
Central lawn
Sloped riverfront grand lawn
Bar-be-cue space in the lawn
Amphitheatre
Outdoor cinema, and even a
Pet park.
Well-being is a major area of concern these days and The Royal Ganges will have adequate facilities in this regard.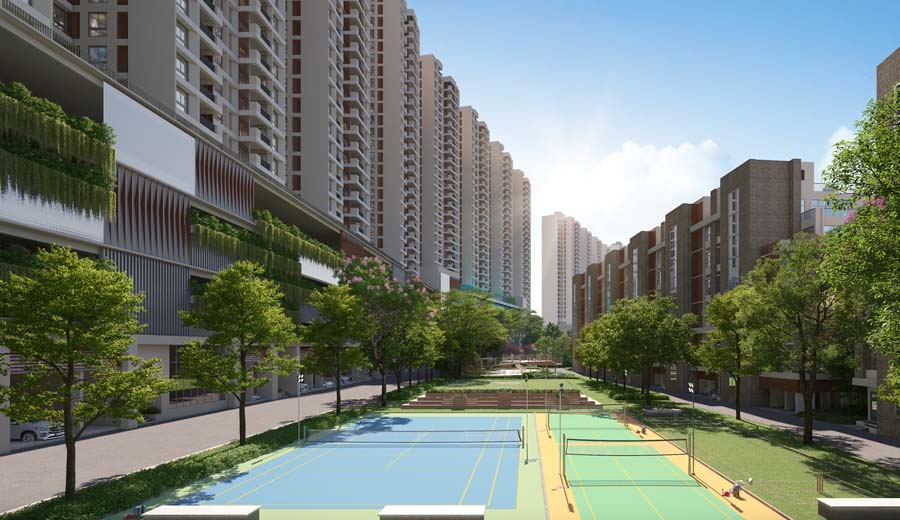 Well-being amenities:
Health club with steam, massage and jacuzzi, and sauna
Well-equipped multi-gym and aerobics facility
Yoga/meditation area
Senior citizens' park with meditation zone
Senior citizens' gym
Outdoor gym
Calisthenics, and
Aqua gym
Srijan Realty has given special consideration to river-centric amenities. They will be the unique benefits of this project.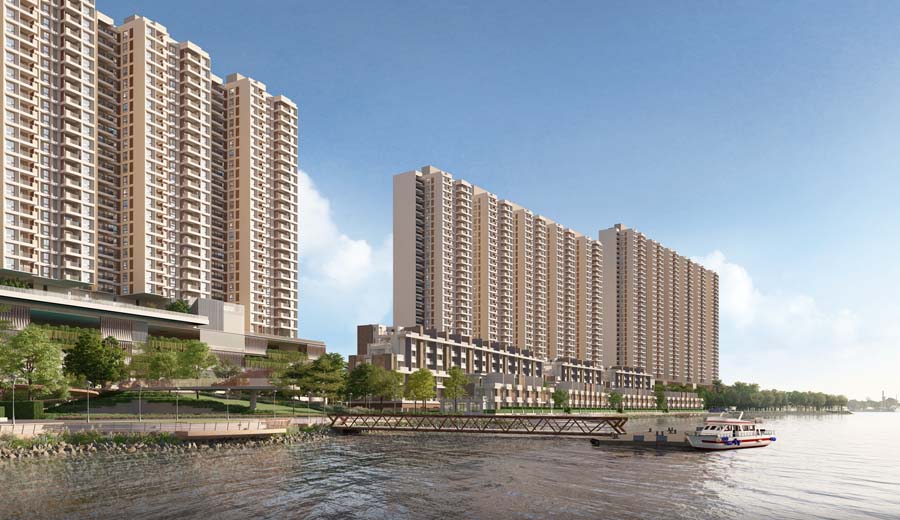 There will be these riverfront amenities:
Promenade
Dry fountain/Splash play
Riverfront cabanas, and
Jetty
Some other riverfront facilities are also planned and will be built subject to the approval of KoPT authorities.
Comprehensive Infrastructure
The Royal Ganges is conceived as a one-of-its-kind residential real estate project in Kolkata.
Every consideration was devoted to creating an amazing infrastructure in and around the project.
What are those infrastructure components?
Let's see.
There will be an enormous 39 lakh sq. ft. of development that will consist of ultra-luxury bungalows, sophisticated villaments, and more than 2300 apartments in 22 towers.
There will be G+30, G+31, G+32, and G+35 sky-kissing towers. Imagine looking at the vast openness of the Ganges from one of the top floors.
There will be in-house transport service to and from Bata and Taratala crossing. There will also be fast connectivity with BBD Bag through the in-house launch service.
Let's look at some of the added facilities.
Adequate water supply
Stormwater clearance system
Staff quarter for drivers/maids/staff at extra cost
Efficient fire detection and firefighting arrangement as per WBFS norms
Dedicated doctors/vendors/visitors' parking
Intercom
CCTV
AC guest rooms
24×7 power supply with power back-up
Multipurpose AC community hall

Now let us consider the locational facilities like schools, markets, and healthcare centres near the project.
A Good number of Schools Nearby
A crèche and playschool are coming up inside The Royal Ganges premises.
Kidzee (900 m)
National Day School (2.3 km)
Narayan School Maheshtala (2.7 km)
Saini International School (4.4 km)
Carmel School (5.3 km)
St. Stephens School (7 km)
Amrita Vidyalayam (7.1 km)
R P Goenka International School (14 km)
Sourav Ganguly Sports Centre and School is also proposed at Calcutta Riverside, just beside the project.
Reliable Healthcare Facilities Close-by
There are quite a few hospitals/healthcare centre in and around the project.
B P Poddar Hospital (4 km)
Kasturi Das Memorial Superspecialty Hospital (5 km)
Gems Hospital & Medical Research Institute (5.8 km)
Narayan Memorial Hospital (14 km)
Calcutta Medical Research Institute (15 km)
Woodlands Hospital (16 km)
Apollo Institute of Medical Sciences & Research is also coming up at Calcutta Riverside.
You Need Not go Far for Shopping
An evening of shopping and entertainment is not far away.
Department stores, bars, salons, and a movie theatre are coming up inside the project area.
Easy Day Club (Calcutta Riverside)
Highland New Market (Calcutta Riverside)
Esplanade Supermarket (Calcutta Riverside)
More Department Store (3.3 km)
Spencer's (4.8 km)
However, you need to travel a bit for a shopping mall experience. A shopping mall is proposed at Calcutta Riverside.
Phoenix Mall (Upcoming — 15 km)
Lake Mall (17.3 km)
South City Mall (18.3 km)
The Ganges is Forever
The Royal Ganges will always have the flowing Ganges by its side. There will always be the openness, the cool breeze, and the mesmerising sunset.
Investing in The Royal Ganges is as good as investing in a home that will never lose the proximity to the river.
Living beside water will always keep your mind refreshed and healthy. Contact us today to know more. Units are selling fast in this unique project.