The Bengali spirit is versatile and they celebrate their festivals in many ways. In fact, their festivals mean different things to different people.
It is the same with Poila Boishakh (Bengali New Year).
Everybody celebrates this day in different ways.
It is the day of religious fervour (mandatory puja), socialising (long adda sessions), indulging in traditional food (the ardent biriyani lover enjoys mochar ghonto on this day), listening to Bengali songs (especially Tagore songs), and wearing traditional Bengali dress (panjabi pyjama and tanter saree).
The day starts with a sprint to the market for 45-year-old Sanjay Choudhury, a resident of Garia. This is a special day and the best fish and meat will be flying off the market at record speed and he needs to get them before that happens. This is not a day to take a leisurely stroll to the market like every other day.
Every year on Poila Boishakh, Sougata Mitra, a resident of Salt Lake, travels to Tarapith temple and offers his prayers to the Goddess. This is a tradition he has been following for many years now.
Even for Bhagyashree Menon, a class X student of a reputed city school hailing originally from Kerala but now settled in Kolkata, Poila Boishakh has its own significance. Every year she looks forward to the invitation to her Bengali friends' homes to celebrate the day. The food, of course, is of particular interest to her.
Poila Boishakh also means a lot of fervour and enthusiasm for Bengali families living outside of Bengal.
Bengalis just need an excuse to indulge in long adda sessions and Poila Boishakh is no different for London-based doctors, Ratul and Jayashri. The day starts with a gathering of friends joining the duo at their Wembley apartment. Music, poetry, adda is followed by generous helpings of authentic Bengali dishes that Ratul lovingly cooks from an old recipe diary of his grandma.
65-year-old Sadhana Chakraborty wakes up at the crack of dawn in her Gachibowli apartment in Hyderabad. Then, she starts preparing the customary payesh (kheer) and a special breakfast of luchi-alur dom-chholar dal for family and guests. In the evening, the family heads out to enjoy the cultural festivities organised by the Hyderabad Bangalee Samity.
Ruchira Sen has been living in Delhi for years now. And her husband's Poila Boishakh morning routine also remains unchanged for years now.
Her husband, Sanjib, rushes off to the CR Park fish market in the morning to lay his hands on the best golda chingri (jumbo prawns), the freshest pabda (Indian butterfish) and chitol (clown knife fish), while he manages to get the best cuts of mutton ready for him. Come evening and Ruchira will roll out a lavish spread of Bengali delicacies for guests at the dining table.
As a day that holds such significance for the Bengali community, there's an interesting history as to how Poila Boishakh came to be.
How Bangabda Started
Some historians stated that during Mughal rule, land taxes were collected from Bengali people according to the Islamic Hijri calendar. This calendar was a lunar calendar, and its new year did not coincide with the solar agricultural cycles.
According to some sources, the festival was a tradition introduced in Bengal during the rule of Mughal Emperor Akbar to time the tax year to the harvest, and the Bangla year was therewith called Bangabda.
However, there are alternative theories also regarding the origin of the Bengali calendar.
Heatwave — Caution Warranted
Bengalis prefer to go out on this day. They visit friends and relatives or go out to watch a movie, or just take a lazy walk beside the Ganges.
However, the weather this year is very harsh with heatwave conditions persisting. The Met Department has warned of a heatwave, and the doctors have advised against venturing out in the sun.
Of course, you can watch a movie in air-conditioned comfort, dine out in an AC restaurant, or explore a shopping mall.
Also, there should not be any problem with taking a stroll beside the Ganges near Prinsep Ghat or going to Millennium Park in the afternoon.
There is a distinct advantage of living in a gated community in such scorching weather. A get-together can be quite pleasant in an AC community hall, or a long adda session with friends in the residents' club is rather inviting.
Song and Dance, Going Back to the Roots
Even if you cannot do without your jeans and tees all through the year, you cannot do without traditional panjabi-pyjama and saree.
Often there are cultural programmes in gated communities where you will find young boys and girls singing Tagore songs in a chorus.
'Byartho praner abarjona nisheshe aaj puriye fele…'
Or you may hear the rendition of 'Esho hey Boishakh…'
Many Bengalis visit the temples for offering prayers to the deity.
Businessmen start their accounting book this day with a puja offering to Goddess Laxmi and Lord Ganesha. Poila Boishakh is significant for businessmen in terms of Halkhata (or opening of a new ledger). Traders consider this an auspicious day to start new accounting books.
Nabo Barsha starts, and nearly every Bengali household gets a new almanac (Panjika).
A Special Focus on Bengali Cuisine
Bengali cuisine consists of hundreds of recipes. The variety of Bengali cuisine is unparalleled.
And the food is integral to any Bengali festival.
On this special day, every Bengali household focuses on traditional fare starting from luchi-alur dum/chholar dal.
Lunch is usually quite elaborate, what with fries, dal, vegetable curry, fish and meat curry, finished off with mishti doi and sandesh.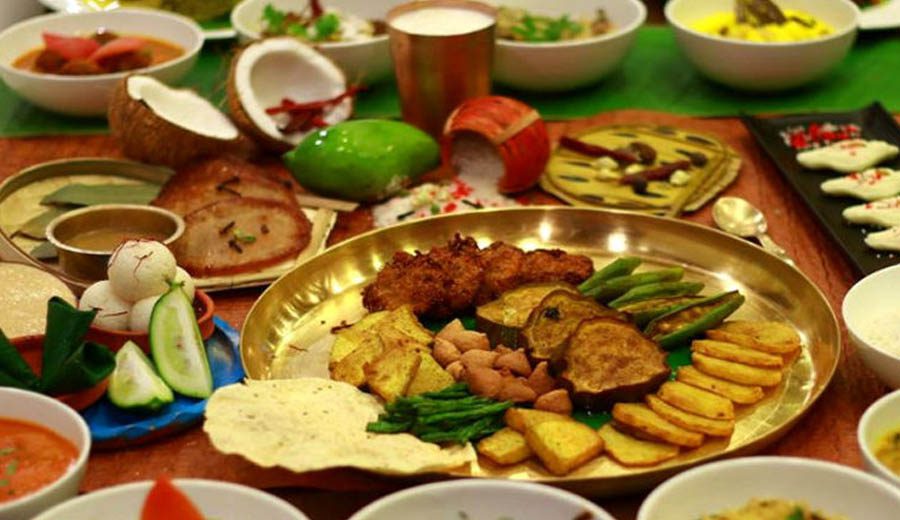 Top restaurants in Kolkata lay out a special menu of irresistible Bengali preparations for Poila Boishakh, such as Mutton Kosha, Shorshe Ilish, Daab Chingri, Bhetki Paturi, accompanied by fragrant basanti polao, and fluffy luchi. Not to forget an array of vegetarian delights like Shukto, Mochar Ghonto, Chhanar Dalna, Dhokar Dalna, and a variety of unforgettable desserts such as Aam Doi, Chhanar Payesh, and more.
Poila Boishakh — Essential Bangaliana
Bengalis are a cosmopolitan race and you will find a Bengali community in many countries.
Bengalis living in the USA, Canada, UK, Australia, and Tokyo also celebrate this day.
Even the US President extends his warm wishes to the Bengalis living in the US. Poila Boishakh is a revisit to the roots, rich culture, and heritage that Bengalis, no matter where they are, keep close to their heart.