Homebuyers always prefer locations where there is adequate infrastructure, comfort, and convenience. Joka fits the bill in every respect.
It is no wonder that about 30% of all inquiries received by us for new homes are for Joka.
The largest number of inquiries received by us in Kolkata is for Joka as you can see (here, here, and here) in our last 3 half-yearly Kolkata Market Reports.
Why is Joka the top draw among homebuyers?
There are valid, justifiable reasons.
Apart from the fact that Joka has a comprehensive infrastructure and is undergoing a significant transformation, it has provided one of the best returns on investment.
In fact, in one year, December 2021-December 2022, the average price per square foot of new and resale properties has increased by a whopping 16.13%.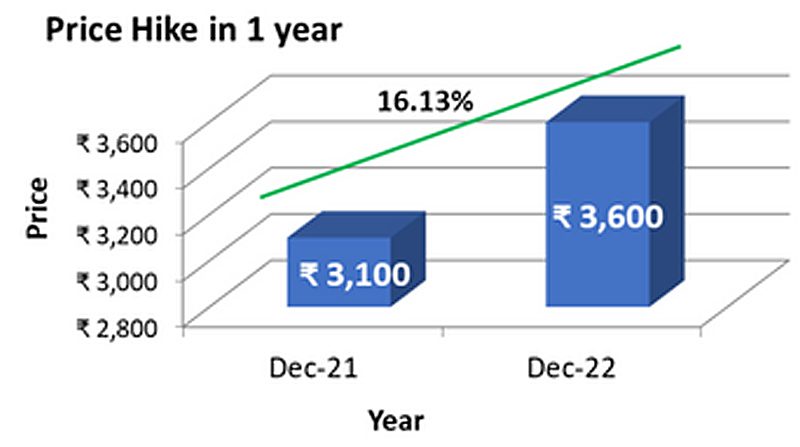 Is the charm of Joka as a preferred location sustainable?
Is it the right move to buy a property in Joka now?
How is the demand-supply equation taking shape?
Let's consider these questions and answer them.
Robust Property Demand, Adequate Supply
It is amply clear from the Kolkata Market Reports as well as our market intelligence that the demand for new, resale, and rental properties is increasing in Joka.
In fact, property demand has gone up by 32% in the last 6 months to 1 year.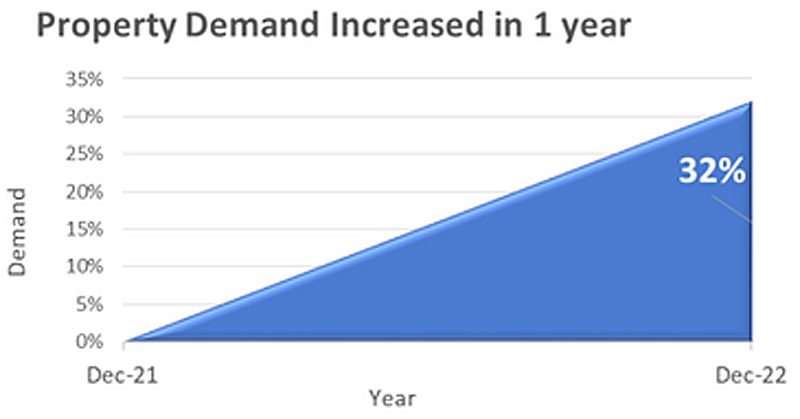 However, the supply of properties also kept pace with a 50% hike during the same period.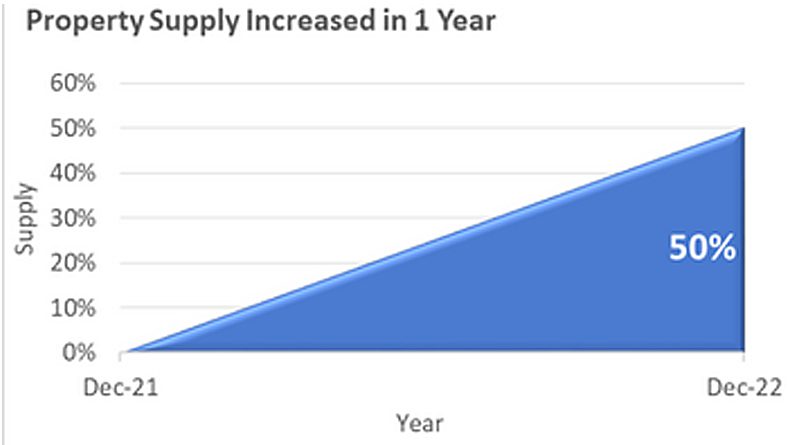 This has happened because new phases are launched by the developers in addition to completely new launches.
As the Joka-Taratala section started operating, homebuyers have increasingly attracted to the area.
It makes sense to buy a property in Joka now, whether for living or for investment purposes for a variety of reasons.
We will explore the reasons but before that, let's see how the ongoing Joka-Esplanade Metro will improve connectivity.
Joka Esplanade Metro will Revolutionise Connectivity
Joka Taratala stretch is already operational and this has helped to enhance connectivity. This will be further improved once more number of trains start to ply.
Taratala is conveniently well connected to Rashbehari and Tollygunge by autorickshaw.
We now look forward to the residual part of Joka-Esplanade Metro.
Although we expect that the project will be completed in phases, the opportunities it will open up in every phase is huge.
Let's imagine how that can be really transformational in terms of connectivity.
As the Metro extends up to Mominpur, Khidderpur, and Rabindra Sadan area will have better connectivity.
It means superior connectivity with hospitals like CMRI, BM Birla, and Woodlands. It also means easier access to the Rabindra Sadan area and the Camac Street-Minto Park area. It will a boon to office goers who regularly travel to these areas.
But the real benefit of a networked Kolkata will accrue when you can reach Esplanade from Joka in a matter of minutes. Not only will it enhance travelling comfort but will open up easy commutes to all areas of Kolkata and beyond.
Joka-Esplanade Metro will connect with the main Metro line at Park Street. It will be convenient to travel to the business districts of the Park Street area and BBD Bag quite comfortably.
Even traveling to the Airport and Howrah Station will be easier once the entire stretch of the Metro is fully operational. All you need to do is to change lines.
Joka has High Livability Quotient
There are good options for homebuyers to buy apartments as well as bungalows in Joka.
There are properties with ample lifestyle amenities you can choose from.
Although properties in Joka are relatively affordable, still they have high-end amenities within them.
These projects offer a better quality of lifestyle and hence attract IT professionals, engineers, doctors, advocates, chartered accountants, scientists, government officers, and businessmen to buy into them. 65% of all homebuyers prioritise on a good set of amenities before choosing an apartment.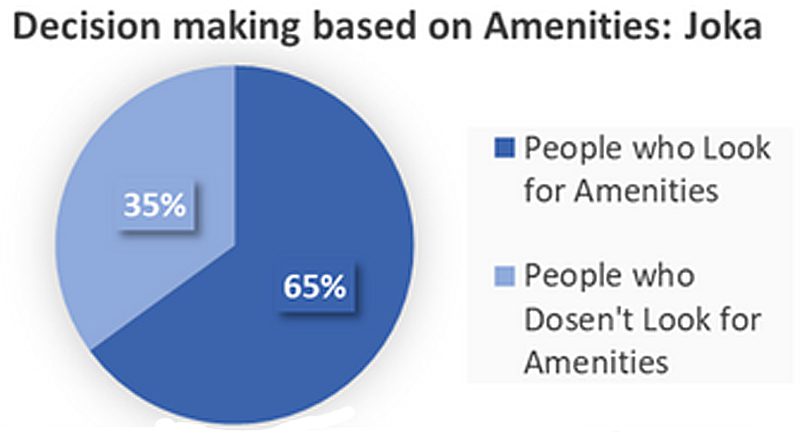 Increasingly, 3 BHK homes are being preferred compared to 2 BHK. 51% of all homebuyers look for 3 BHK while only 42% prefer 2 BHK flats.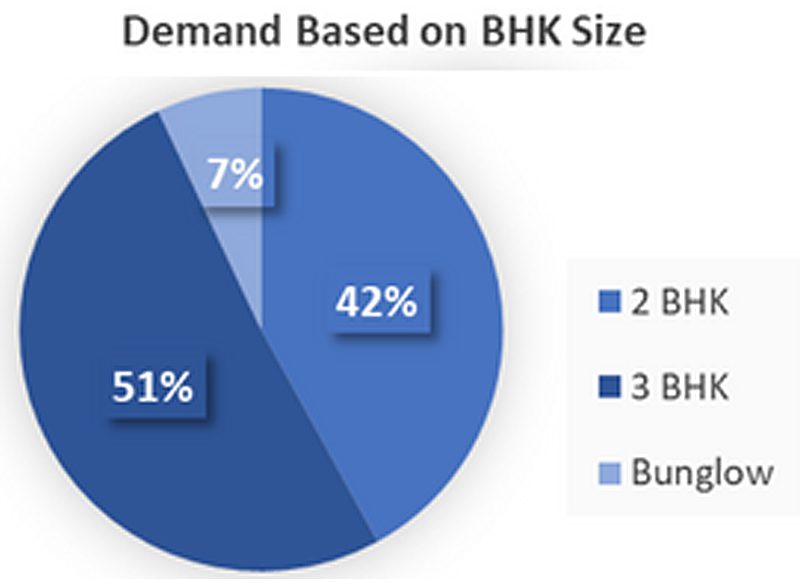 Additionally, Joka has adequate educational, healthcare, shopping, and entertainment facilities nearby.
Let's see which are these.
Awesome Educational Infrastructure
DH Road area is dotted with various schools. While there are schools with affordable fee structures, there are also premium schools.
And of course, there is the IIM, Joka.
Some of the prominent educational institutions are:
National Gems Higher Secondary School
BD Memorial School
Orient Day School
St. Mary's School
Vivekananda Mission School
MP Birla Foundation Higher Secondary School
Pailan World School
Shaw Public School near Behala Blind School
KE Carmel
Vidya Bharti
Gems Akademia International School
DPS Joka
RP Goenka International School
IIM Joka
Pailan College Of Management And Technology
Dream Institute of Technology
Praxis Business School
Joka is Close to a Healthcare Hub
Joka is close to top-class nursing homes and hospitals nearby and because of the Taratala flyover and Metro, even CMRI and Woodlands are easy to access. Travel time will further reduce once Metro connectivity is extended with more trains.
CMRI
Woodlands Hospital
BM Birla Heart Research Centre
Kothari Medical Centre
Balananda Brahmachari Hospital
Narayan Memorial Hospital
Vidyasagar State General Hospital
Karnapat Hospital (Behala)
Kasturi Medical Center Pvt. Ltd.
Disha Eye Hospital
Bharat Sevasharam
ESI Hospital (Joka)
No Dearth of Shopping & Entertainment Facilities
Joka is not devoid of modern shopping and entertainment centres also. There is a good number of shopping centres and department stores.
Some of the most popular markets, multiplexes, and entertainment centres located in and around Joka are:
Reliance Mall
Behala Market
Thakurpukur Bazar
Ajanta Multiplex
Ashoka Cinema Hall
Bazar Kolkata
Max Fashion
M-Bazar
Laxmi Narayan Temple
Swami Narayan Temple
Why Joka is Much Preferred by Homebuyers Now
Joka has given above-average returns on investment to homebuyers and it is expected that the trend will continue.
All comforts and conveniences of living in gated communities with a lot of amenities are available in Joka.
An adequate number of schools, healthcare facilities, and shopping centres are close by.
It is conveniently connected to major business hubs of the city, infrastructural facilities, and the buzzing hotspots of Kolkata.
Joka has flawless road connectivity with all parts of Kolkata.
Joka is the bright new spot in Kolkata's real estate landscape. The social infrastructure is also evolving fast.
Affordable apartments, luxury homes, and bungalow townships are promising a high livability and lifestyle quotient.
Call us to take part in the evolution today.